Performa Sonishield
Antimicrobial Ultrasound Gel
Backed by scientific and clinical research, the Performa Sonishield Antimicrobial Ultrasound Gel is a one of a kind ultrasound gel trusted by healthcare professionals.
The ultrasound gel provides safety and infection-control and can be used for a broad range of transmission frequencies.
Effectively prevent infection in your clinic
Backed by extensive clinical research
Free of paraben and propylene glycol
FDA approved
Ultrasound Gel Uses
The Performa Sonishield Antimicrobial Ultrasound Gel is the ideal ultrasound gel for healthcare professionals working in a clinical or hospital setting. This gel works for either diagnostic or therapeutic purposes.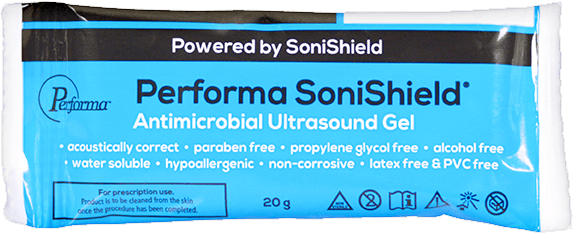 Antimicrobial
Current products on the market are considered to be bacteriostatic - meaning they're only capable of inhibiting growth of bacteria, but not killing it.
The Sonishield formula contains Benzalkonium Chloride, an antimicrobial that helps kill bacteria while ensuring the product still remains both skin and equipment safe.
There is no other antimicrobial gel on the market – Performa Sonishield Antimicrobial Ultrasound gel is a one of a kind ultrasound gel that provides extreme safety and reduces the risk of any contamination or possible infections.
Clinical evidence shows bacteria (S. aureus, P. aeruginosa, E. coli, S. aureus (MRSA) and K. pneuomoniae) showed a log reduction greater than 4 from the initial count, at 14 days and 28 days.
Infection Prevention
The antimicrobial features of the Performa Sonishield Antimicrobial Ultrasound Gel can play an important role in infection prevention in hospitals and other healthcare facilities. Infection prevention regulations are demanding, with strict guidelines to reduce the risk of healthcare associated infections.
PerformaSoniShield Antimicrobial Ultrasound Gel adds a layer of protection to reduce the risk of cross-contamination. It is the most dynamic ultrasound gel for keeping facilities clean and safe for every patient or client.