Performance Health is passionate about helping Veterans and the VA. That's why we offer the largest selection of standard and specialty rehab products, Direct to Vet delivery, dedicated VA customer service, GSA contracts, clinical education, and more.
And now we're adding another helpful benefit, Performance Health at Home.
What is Performance Health at Home?
It's a catalog filled with the information your Veterans want and products you trust. The catalog includes trusted brands like TheraBand, Homecraft, Biofreeze, and Rolyan, so you know your Vets are receiving high-quality products.
Why is this catalog helpful for Veterans?
1. Great Products at Great Prices
From the Lacura Cushions to TheraPearl Hot and Cold Packs, this catalog includes excellent products to help Veterans through rehab, recovery, and daily life.
2. Sample At-Home Exercises
Veterans can get started right away by following the exercises in the back portion of the catalog. Instructions and photos illustrate how to perform exercises using products like the TheraBand CLX and TheraBand FlexBar.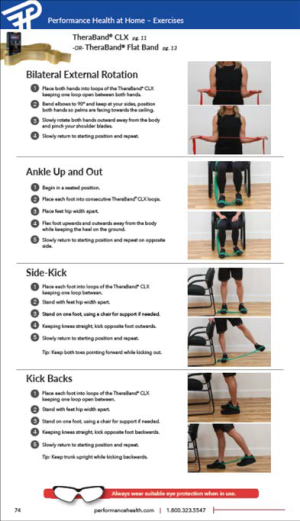 3. Extra Information and Tips
The catalog also includes answers to common questions and tips on topics like:
When to use hot vs. cold therapy

What to look for in a safe shower chair

How to choose the right wheelchair cushion

The difference between a rollator and a walker
Supply your Veterans with the information that they want and need with this catalog.
What products are in the catalog?
A variety of products are in the catalog, including products for exercise, pain relief, activities of daily living (ADL), bath/shower/toilet, mobility, positioning, and lymphedema.
How do I receive catalogs to share with Veterans?
Request free Performance Health at Home catalogs for yourself or your Veterans by filling out this simple request form.
You can also contact your sales rep or call customer service at 800.323.5547 to order the catalogs.
Medical Disclaimer: The information provided on this site, including text, graphics, images and other material, are for informational purposes only and are not intended to substitute for professional medical advice, diagnosis or treatment. Always seek the advice of your physician or other healthcare professional with any questions or concerns you may have regarding your condition.