As you age, it may become more difficult to cook and eat independently. Whether you have arthritis or Parkinson's, are a stroke survivor or just growing older, these dining aids can help you continue to live independently.
Learn more about the utensils, dishes, cups, and other aids that can make your life easier!
The Best Utensils for Seniors
For people with arthritis…
Arthritis can make gripping objects difficult and even painful. Silverware with a larger handle is easier to hold and requires less grip strength.
While you could add foam tubing to your existing silverware, we recommend this set of build-up foam utensils. The utensils are lighter (only 2-4 oz.) which makes them easier to use for people with less strength. Plus, they have a large diameter handle. And they can even go in the dishwasher!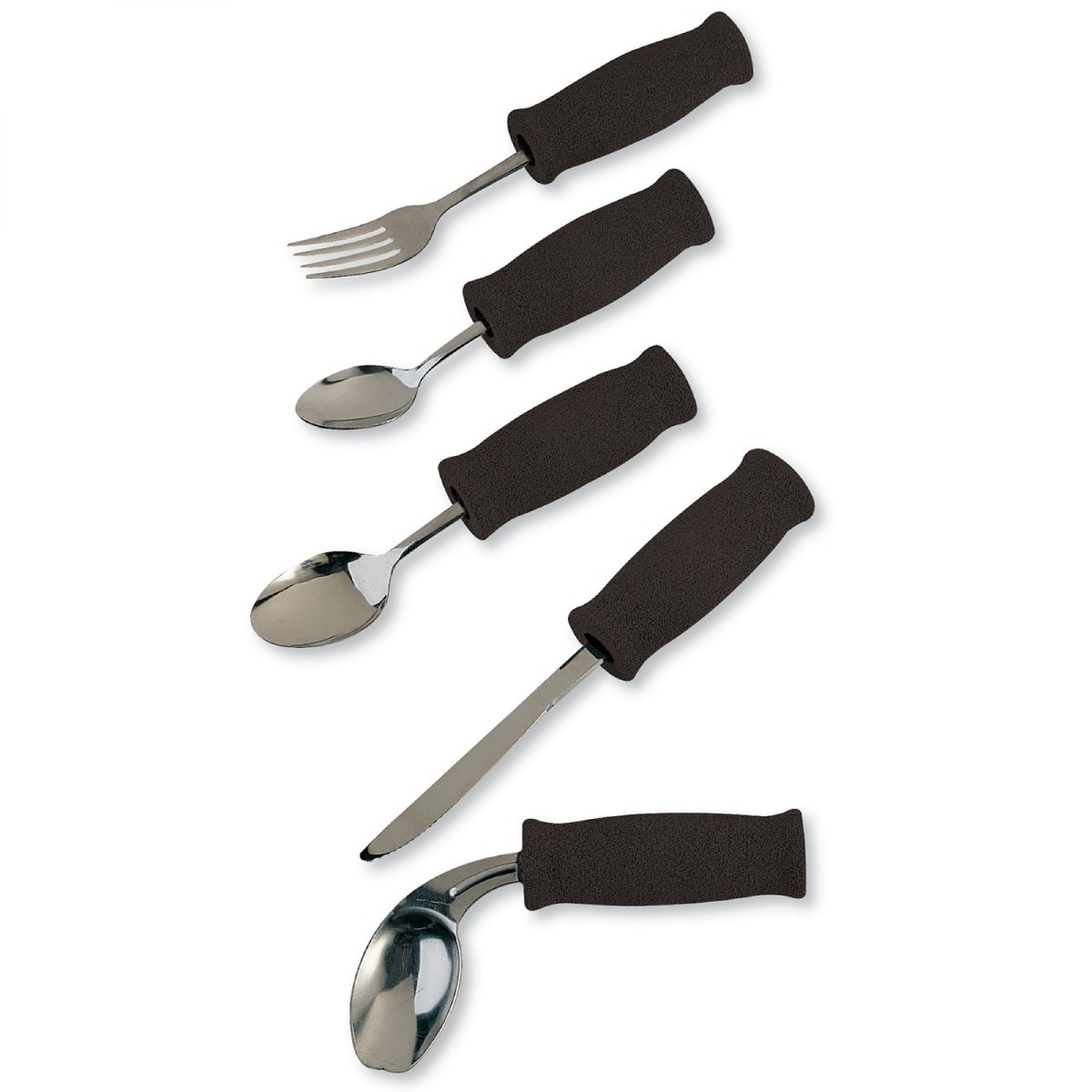 For people with Parkinson's disease…
Parkinson's disease causes tremors that can make it difficult to keep the food on your fork or spoon. Weighted silverware helps reduce tremors, making it easier for food to make it into your mouth.
There are a variety of choices for weighted utensils, including options that look like typical silverware and versions that are easier to hold due to their built-up grip.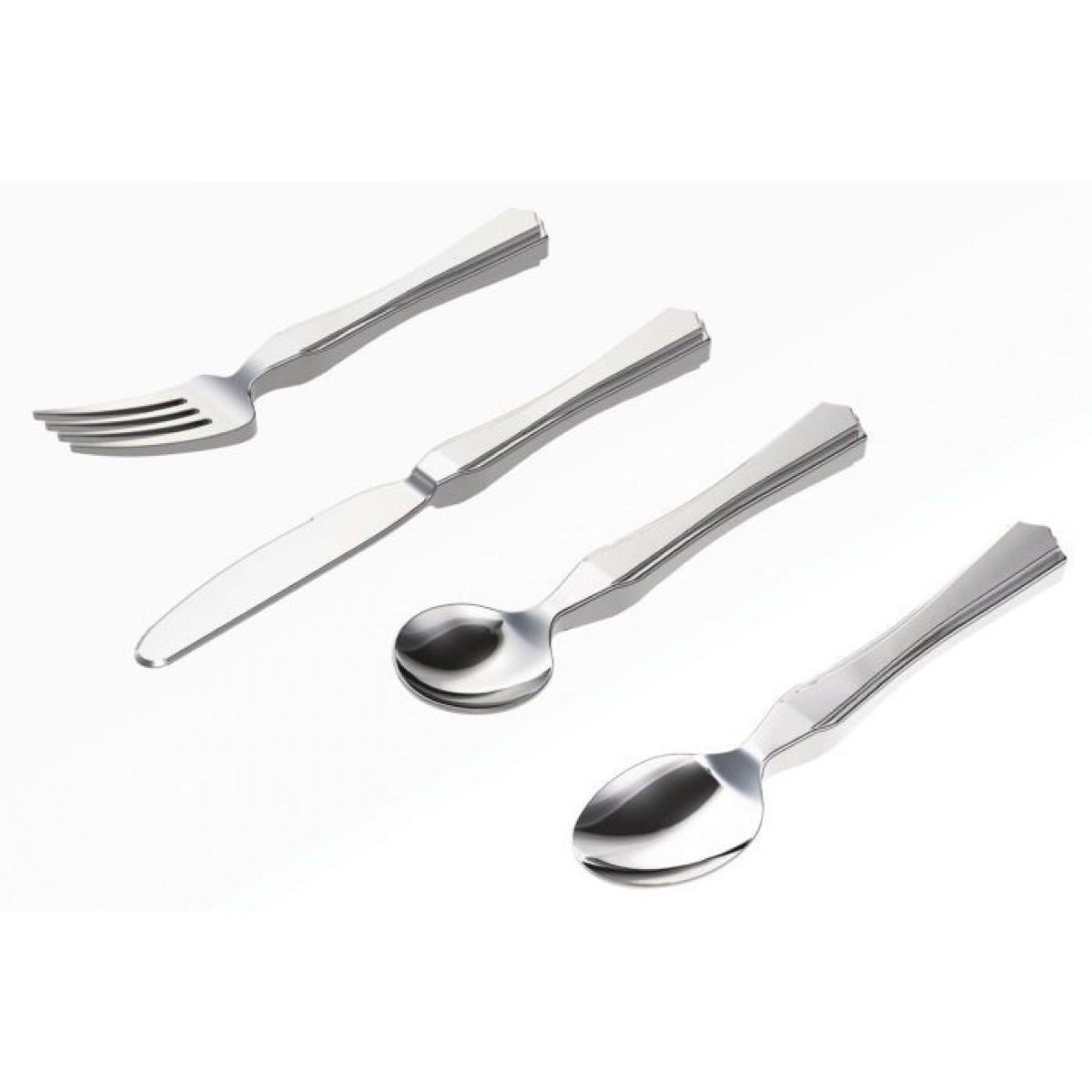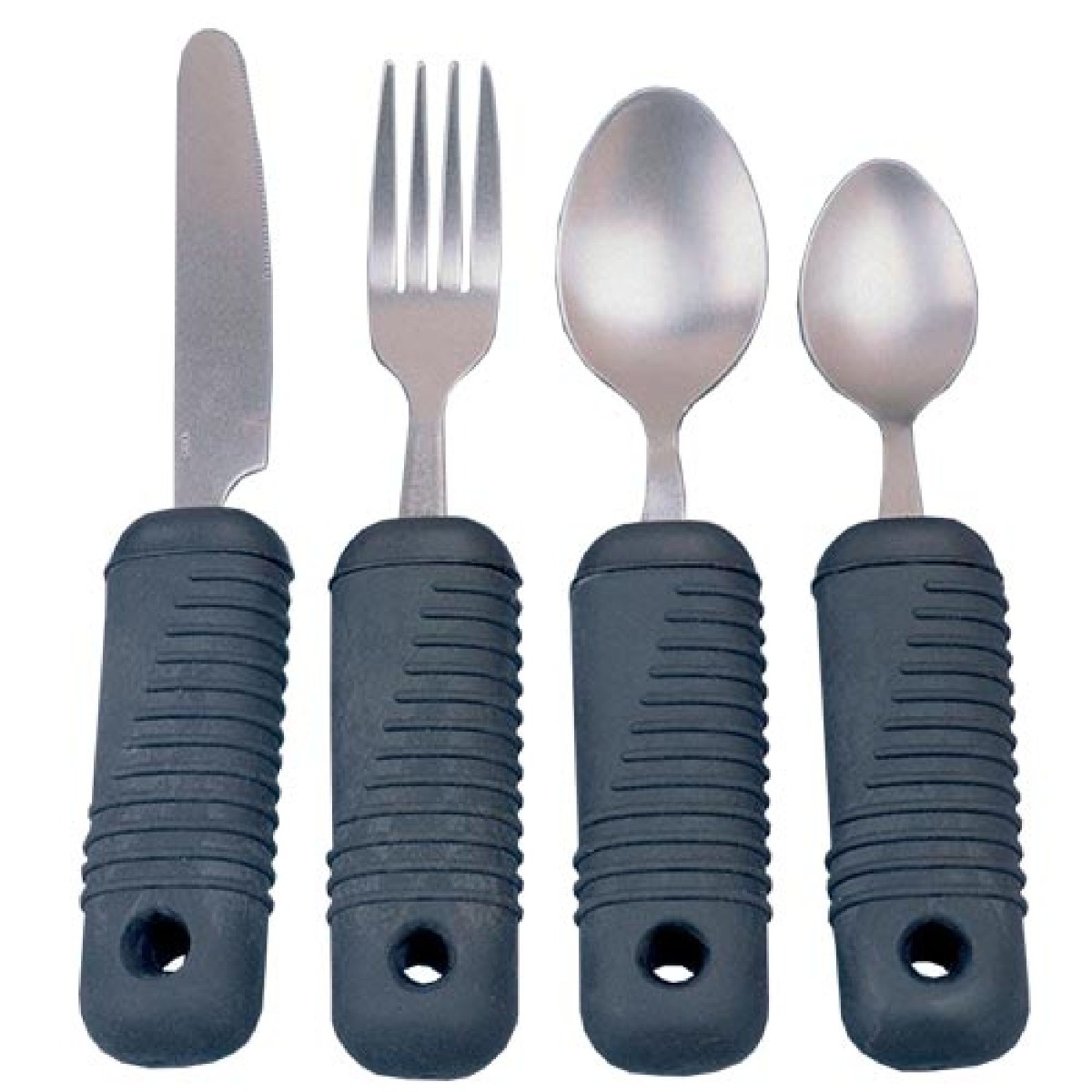 If you require more help to cope with tremors, try the ELISpoon. This revolutionary spoon has attached counter weights so the spoon's bowl remains level at any angle.
For people with range of motion difficulties...
If you have a condition that makes it difficult to turn your wrist when eating, it can be difficult for food to make it into your mouth. Angled silverware allows you to continue eating independently.
These bendable utensils allow you to customize the angle of the fork or spoon, allowing them to be used by right or left handed users. The large handle also makes the utensils easier to hold for people with limited grip.
For people with a poor grasp…
If you have weak or inhibited grasping skills, the right selection of silverware aids can make a big impact on your ability to feed yourself.
Utensils with larger handles are easier to hold while eating. If you need additional grip support, a utensil holder might be your perfect solution. It holds a piece of your existing silverware and has a strap that wraps around your hand for support.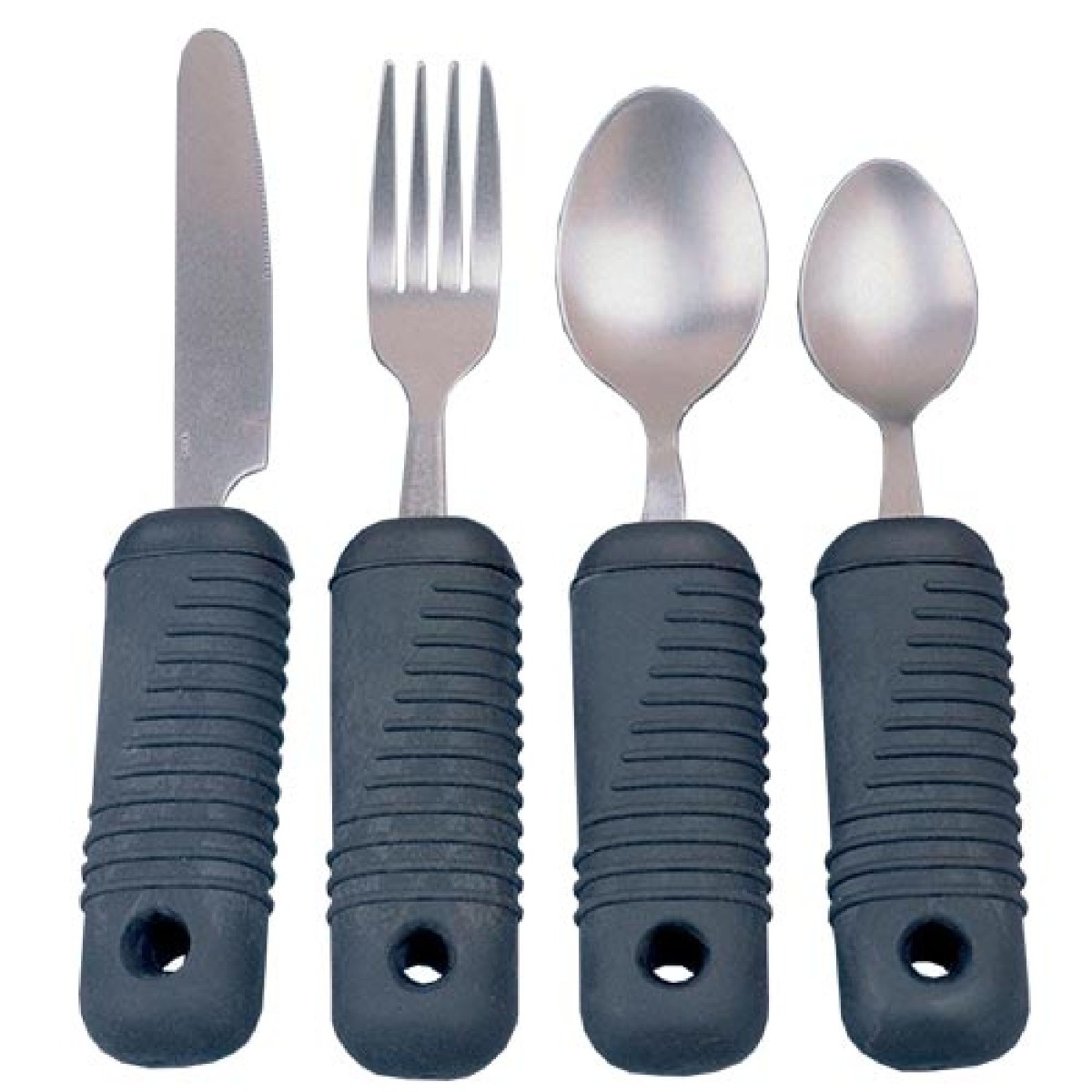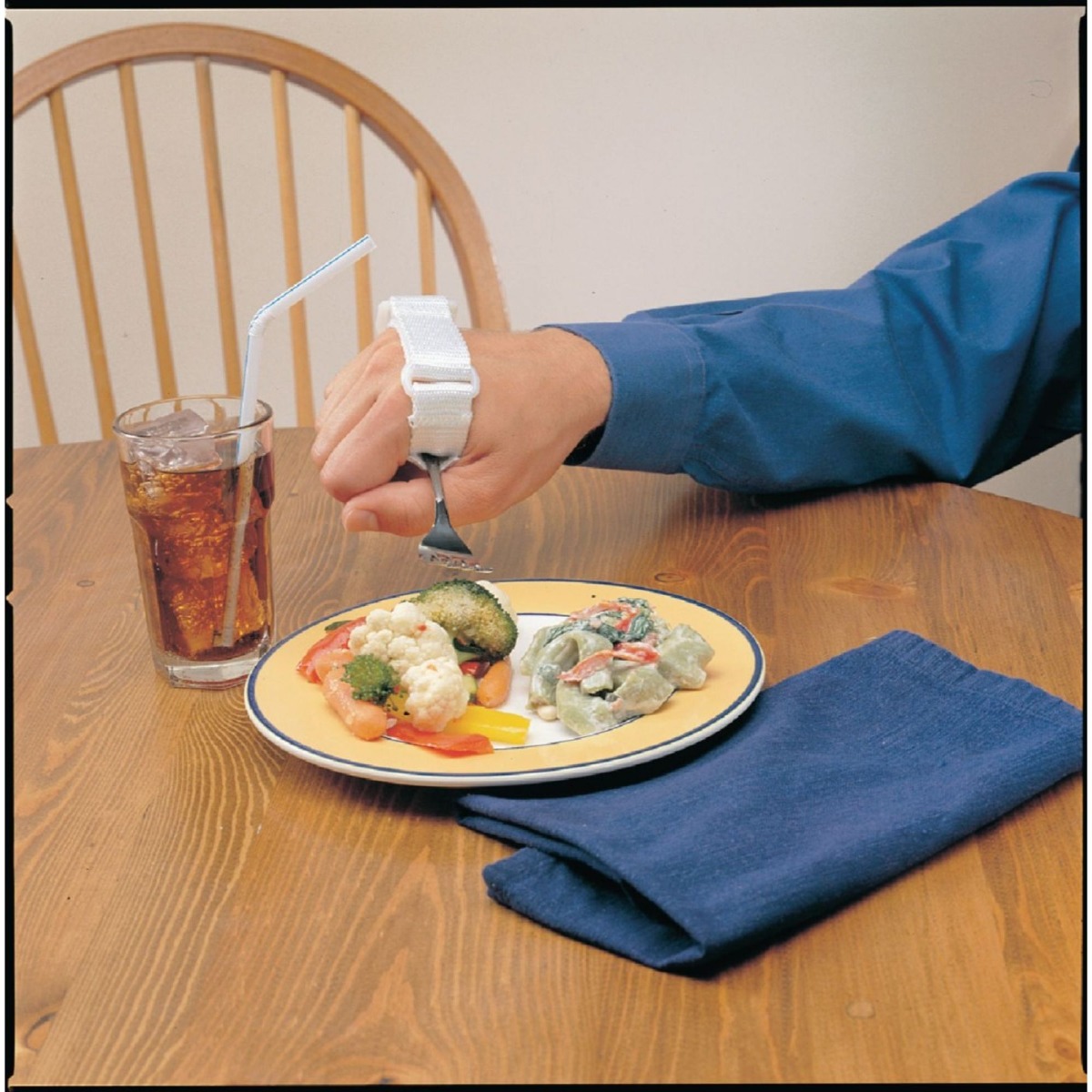 For stroke survivors…
If your stroke has left you with hemiparesis (one side paralysis), it can make cutting your food difficult because you can't hold the food down with a fork and cut with a knife at the same time.
This is why tools like the rocker knife exist! Whether you're cutting up ingredients or your meal, the task can be accomplished using one hand and a rocking motion. Plus the knife can go in the dishwasher!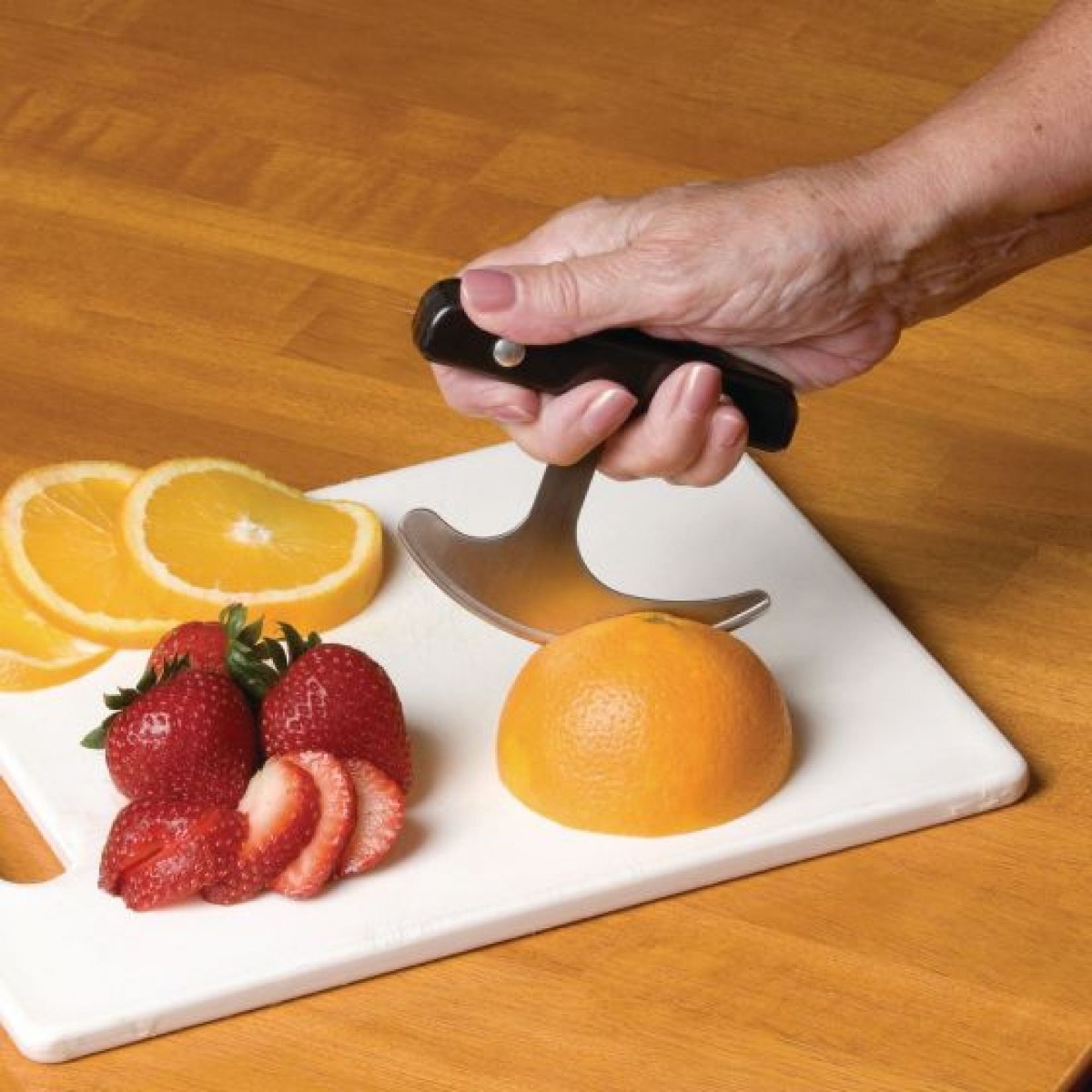 The Best Dishes and Plates
Trying to reduce food spills? These dishes can help!
Plates with raised edges provide a surface to scoop against which prevents food from falling over the edge of the plate. You can add a plate guard to your existing plate or purchase a dishwasher- and microwave-safe plate with a built in edge.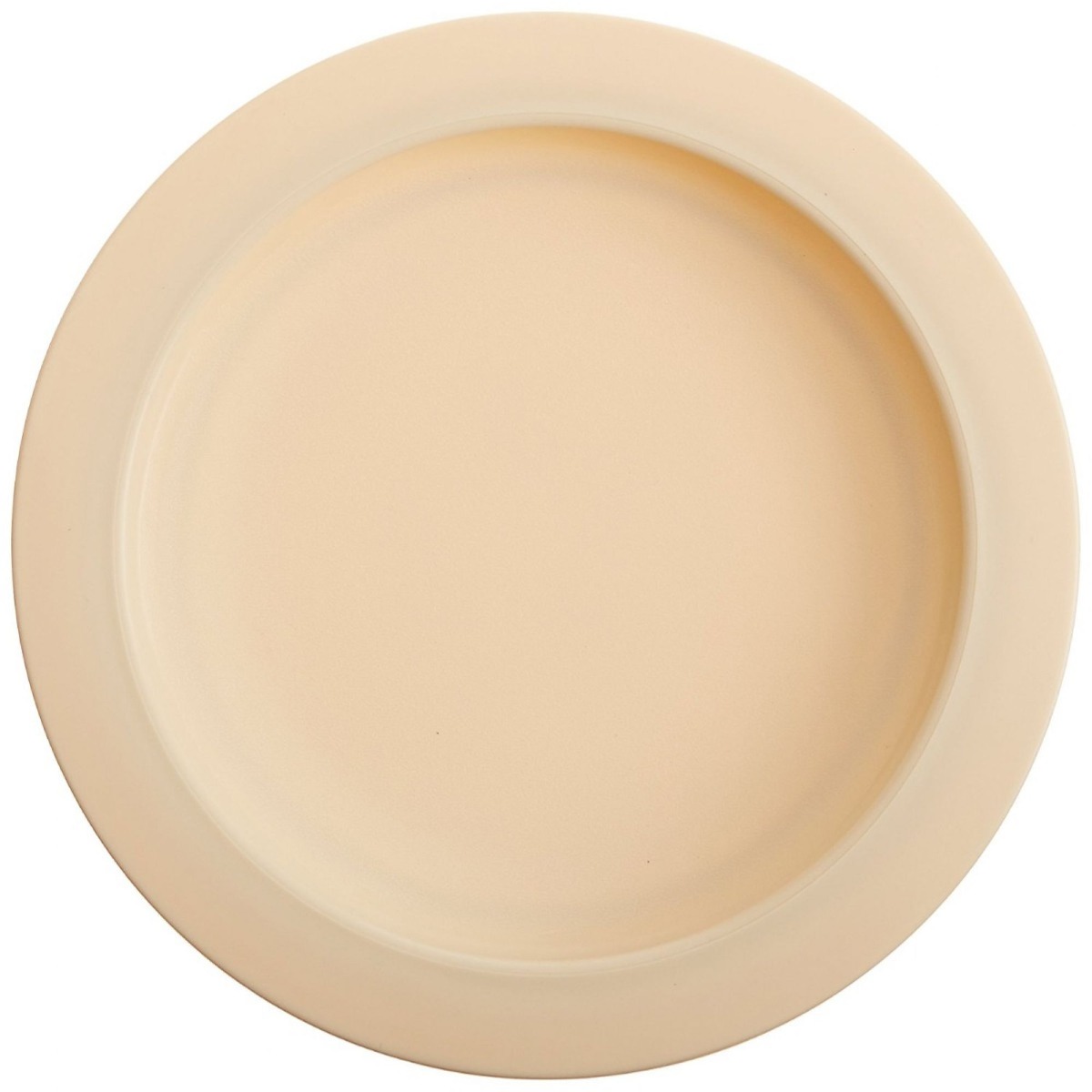 Some foods are easier to eat in a dish. A high-low scoop dish has a lowered edge for easy access and a higher edge to scoop against. Other scoop dishes are similar to plates with edges but have compartments that keep food separated on your plate.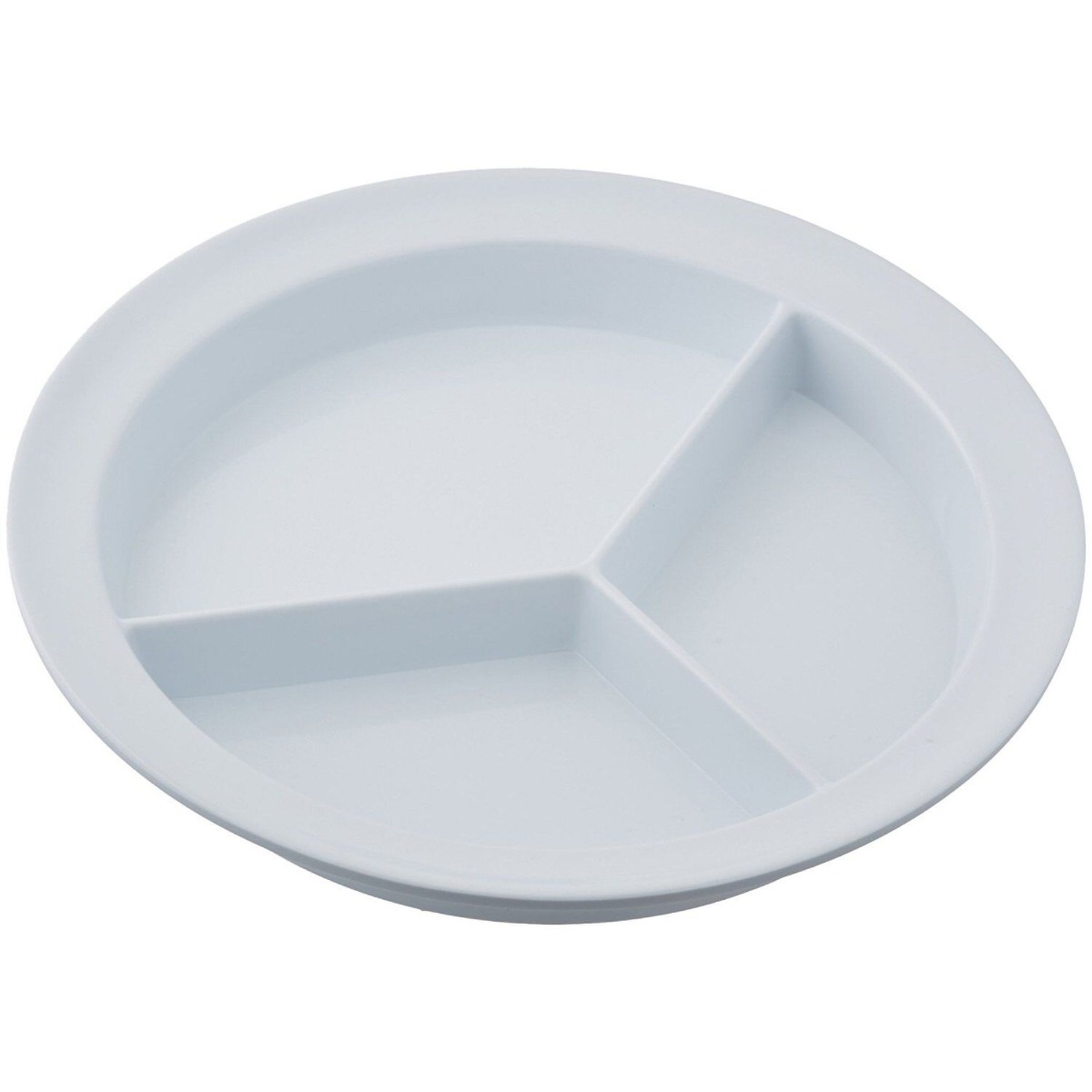 The Best Cups for Seniors
Is arthritis, Parkinson's disease, dysphagia, or another condition making it difficult to drink independently? These cups and mugs are easier to hold which helps prevent spills.
For people with arthritis…
If arthritis or limited grasp make it difficult to hold your regular cups, consider a cup with handles. The handles make the cup easier to grip. Look for large handles that fit an adult's hands.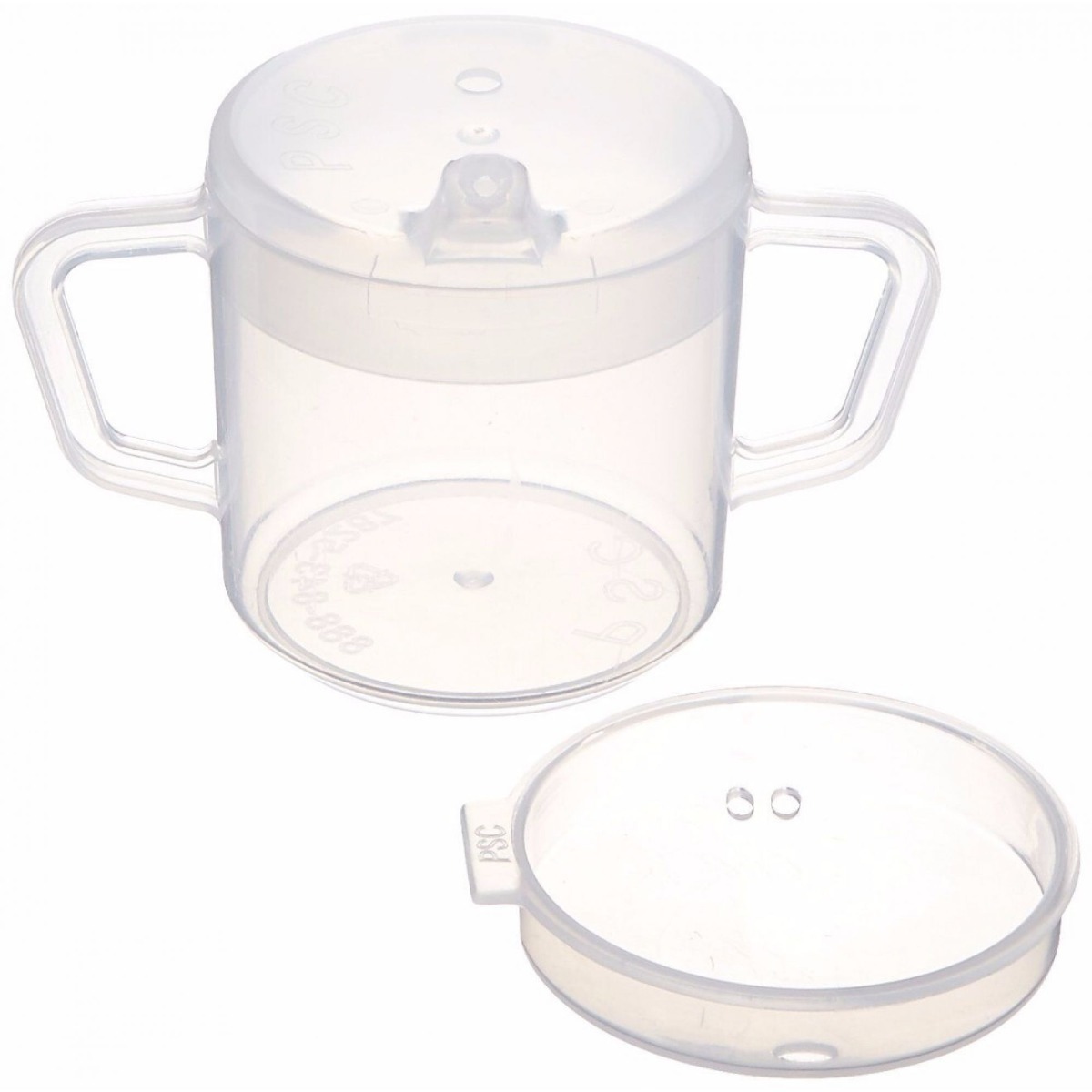 For people with Parkinson's disease…
If you have tremors, a weighted cup can help reduce your tremors and make drinking easier. If you enjoy coffee, or want to keep your drinks hot or cold, consider a weighted insulated mug.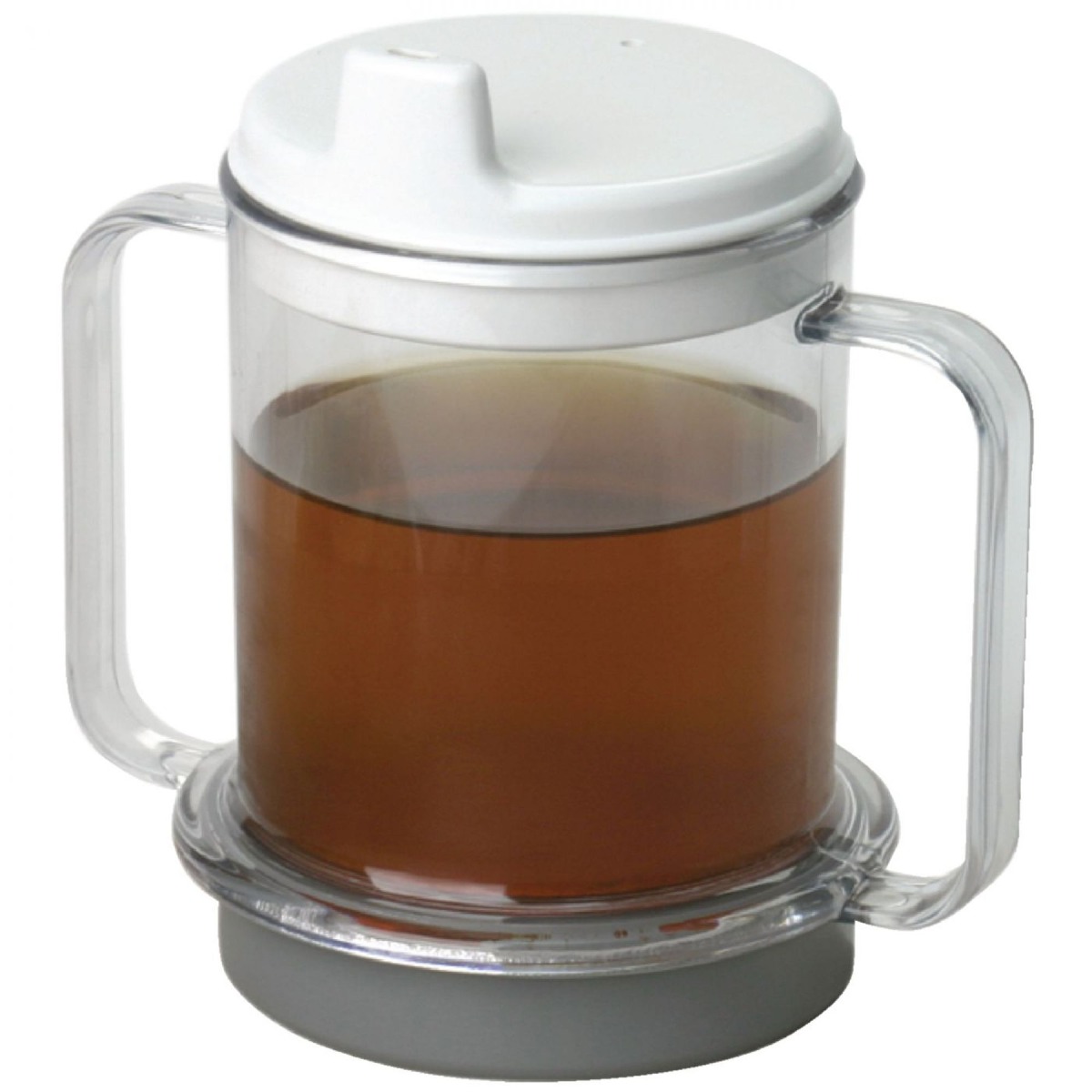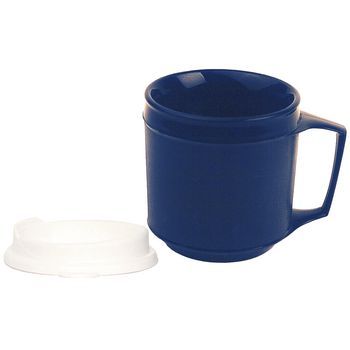 For people with dysphagia…
Dysphagia is a condition that causes difficulty in swallowing. A regulated drinking cup dispenses a small amount of liquid at one time, preventing you from drinking too quickly, and helping to minimize spills. A nosey cup has a cut out for your nose, so you can drink in a neutral position, without tipping your head back, an optimized drinking position that promotes safe swallowing. An occupational therapist can help you decide which cup is the right fit.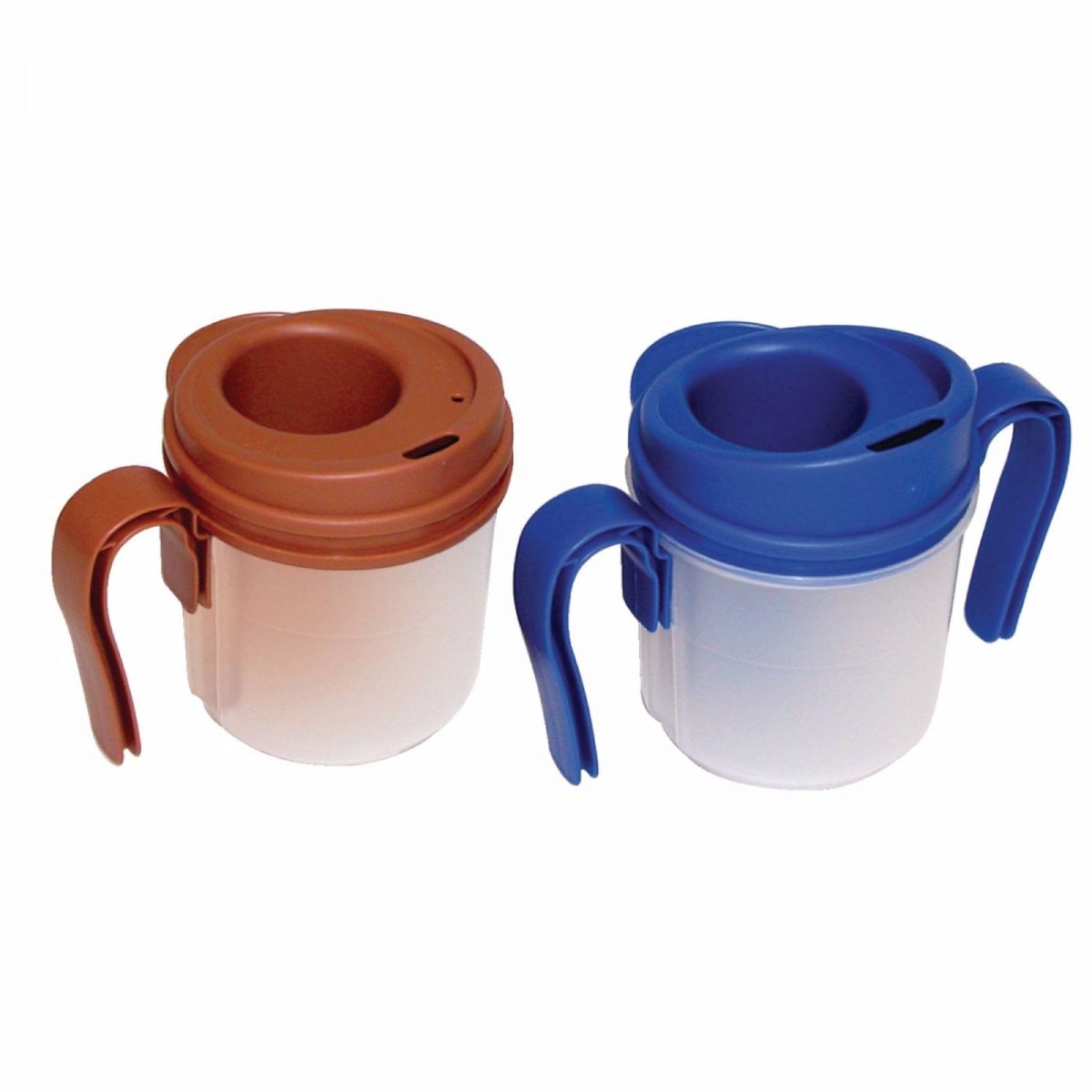 For reducing spills…
If you really want to reduce spills, you need a Kennedy Cup. The lid screws on tightly to help stop spills and leaks!
The Best Dining Sets for Seniors
For people with Parkinson's disease…
One of the symptoms of Parkinson's disease is tremors. Weighted cups and utensils can help reduce tremors, making it easier for you to eat.
This weighted dining kit includes everything you need: four weighted utensils, an insulated weighted cup, a clip on food guard, and a non-slip dycem pad.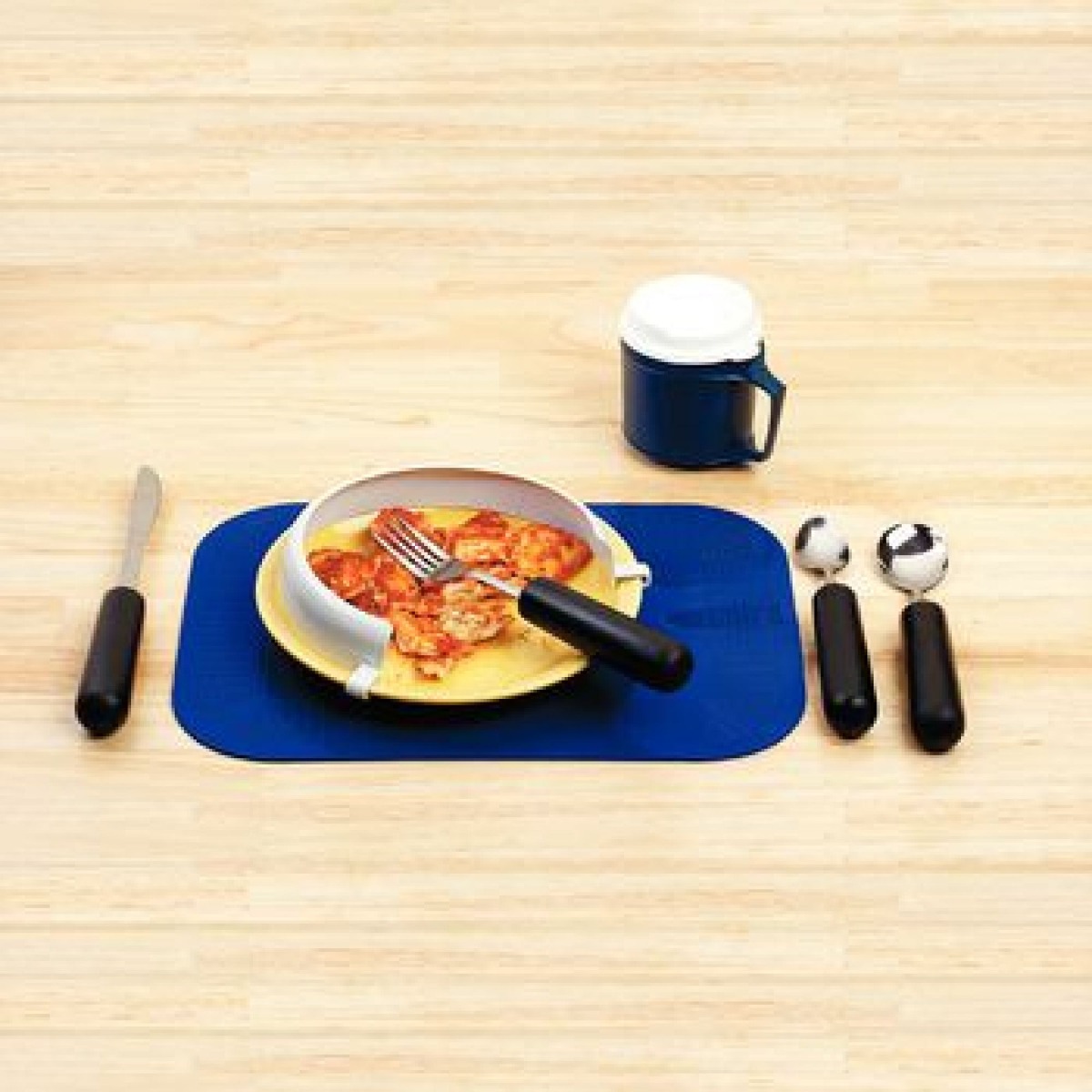 For people with Alzheimer's disease…
People with Alzheimer's disease often experience weight loss and visual deficits. Research shows that Redware helps people with Alzheimer's increase their food intake by 24% and their liquid intake by 84%.
The Maddak Redware Tableware Deluxe Set includes a partitioned dish with lid, a plate with an inner lip, a cup, and a fork and knife with build-up handles.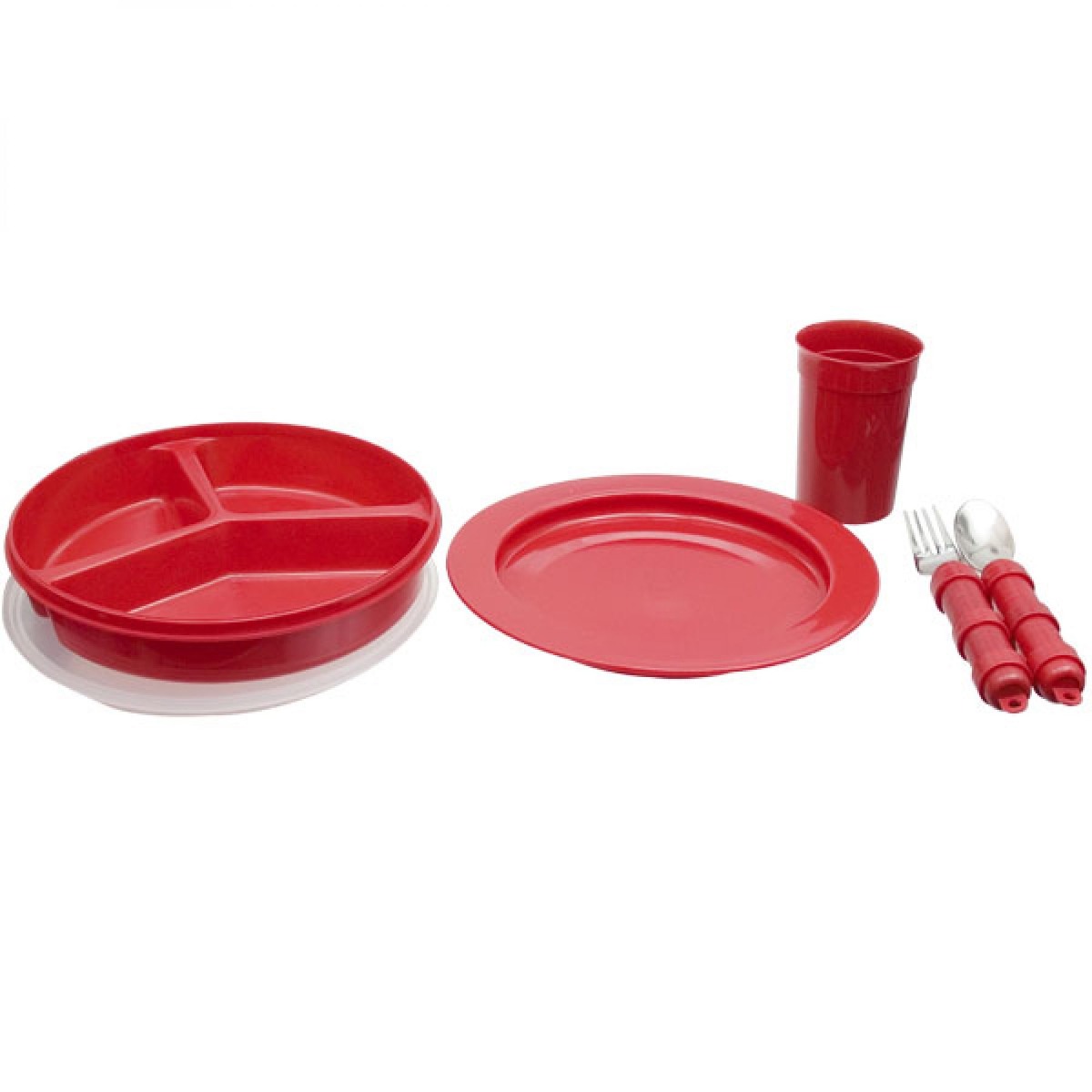 The Best Cooking Aids for Seniors
For stroke survivors…
If a stroke has left you with hemiparesis, you can still continue cooking. There are a variety of tools available that can be used with one hand.
A Hi-D Paring Board has spikes to hold food in place while you chop and a corner guard to keep bread in place while buttering it. If you're looking for even more versatility, the Homecraft Kitchen Workstation might be a better fit. The workstation includes a corner guard, grater, slicer, and a clamp to hold food, jars, or bowls.
The Spill-Not Jar & Bottle Opener can help you open stubborn jars. The device holds the jar or bottle, allowing you to open it using one hand. For more information, read this article on Tips and Tools for One Handed Cooking.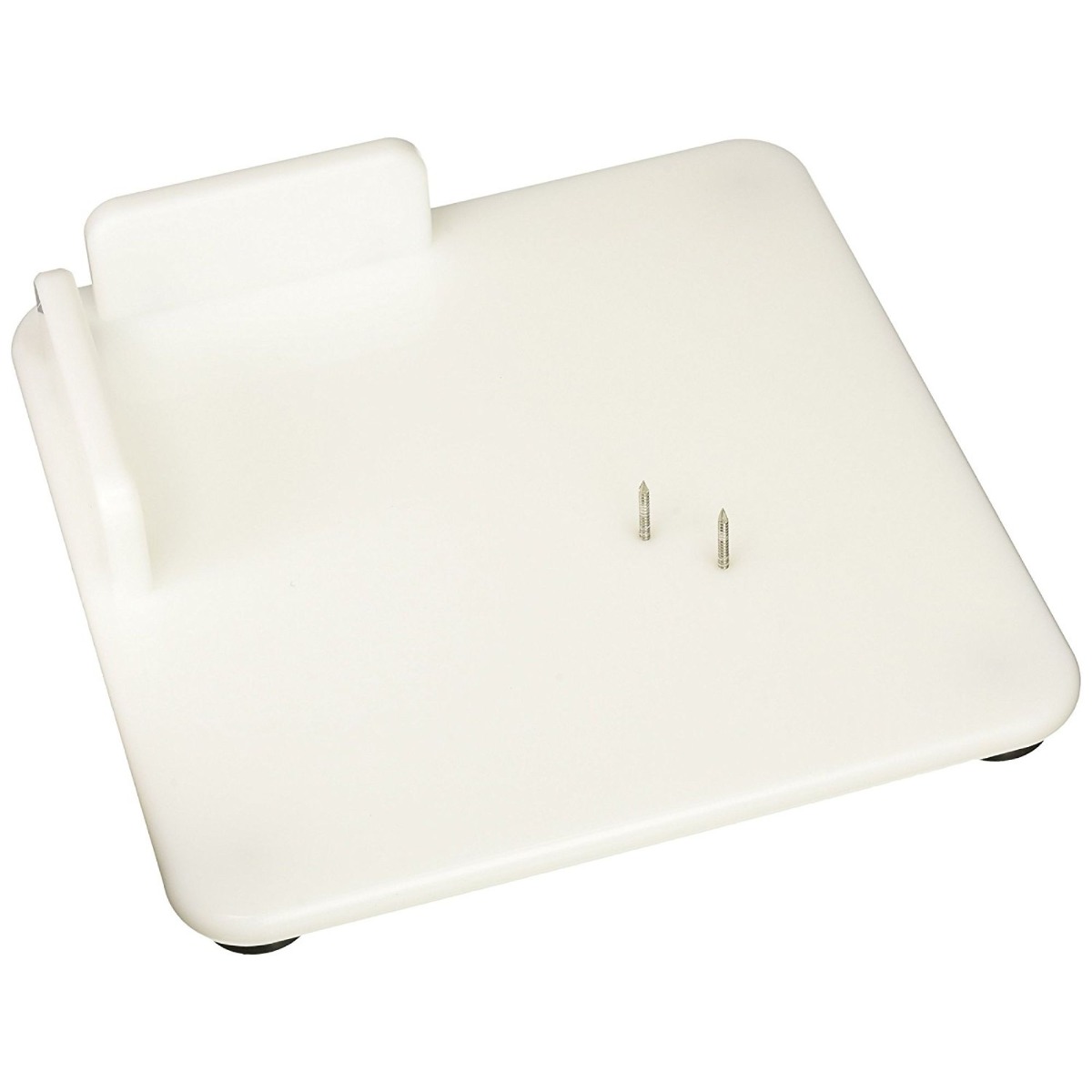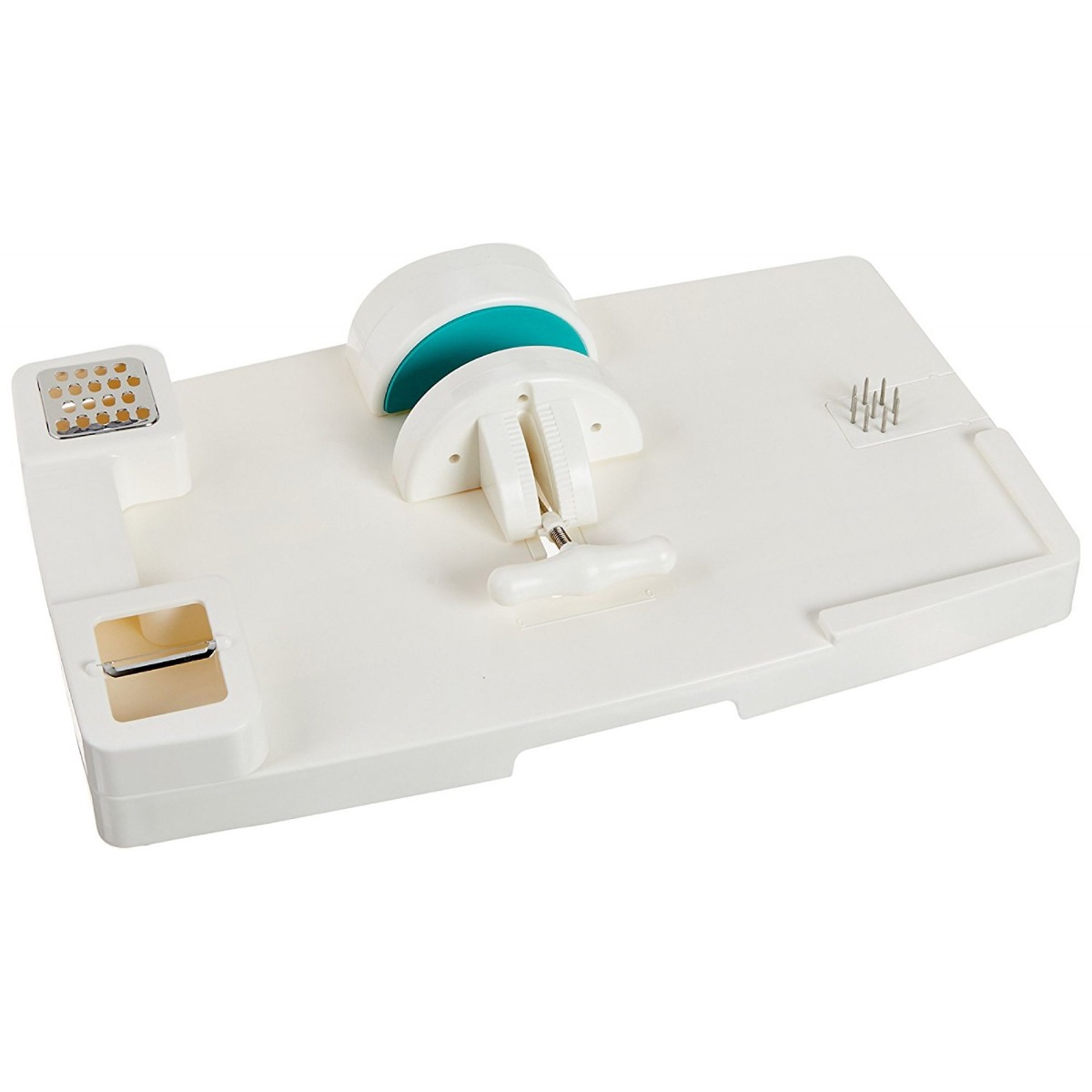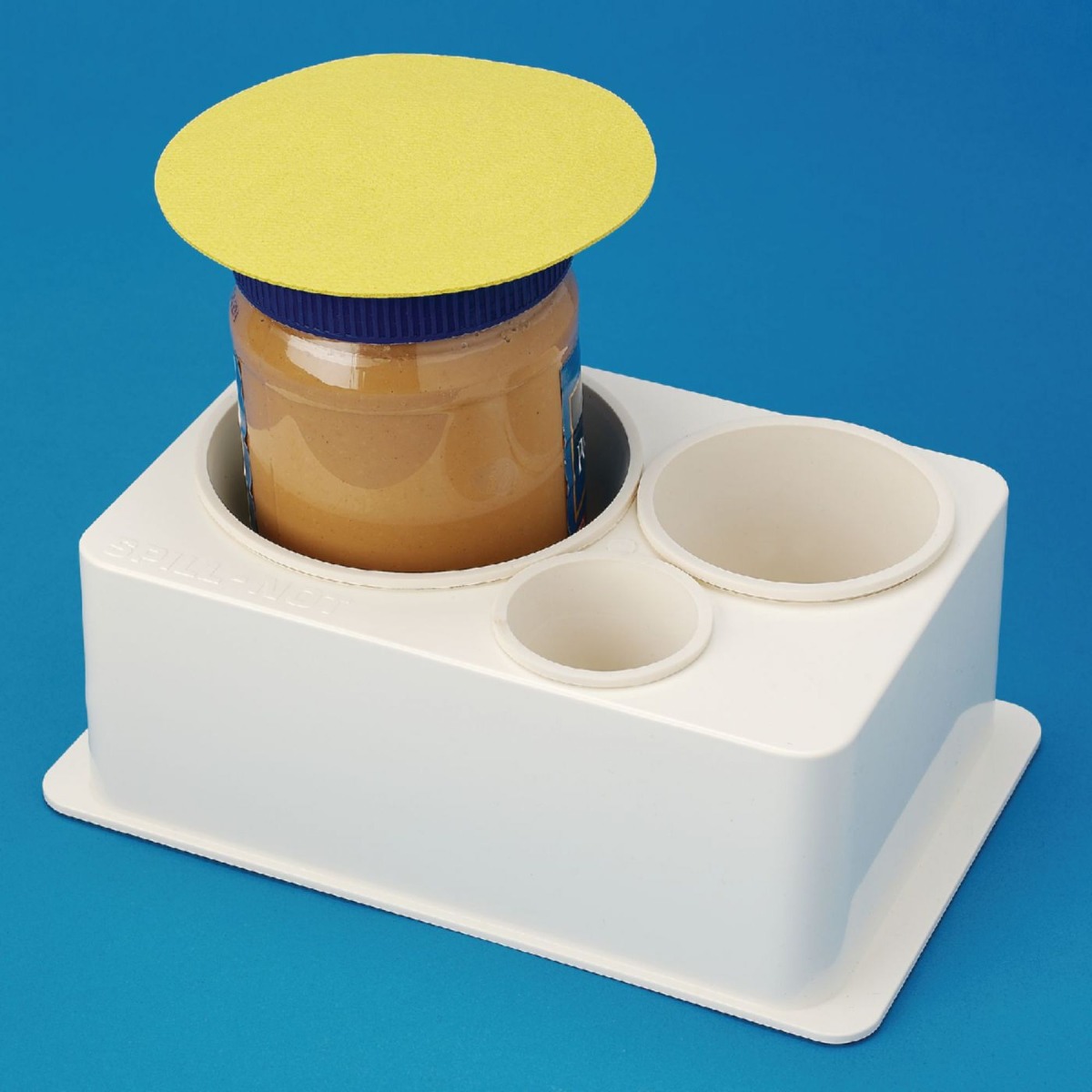 For people with arthritis…
Arthritis can make gripping objects difficult or painful. This can make it difficult to hold and twist jar lids to open them. A Good Grips Jar Opener has a large handle that makes it easier to grasp.
Chopping, slicing, and cutting doesn't need to be difficult for people with arthritis. Homecraft Reflex Carving Utensils have large built-up handles that make them easier to hold them during use.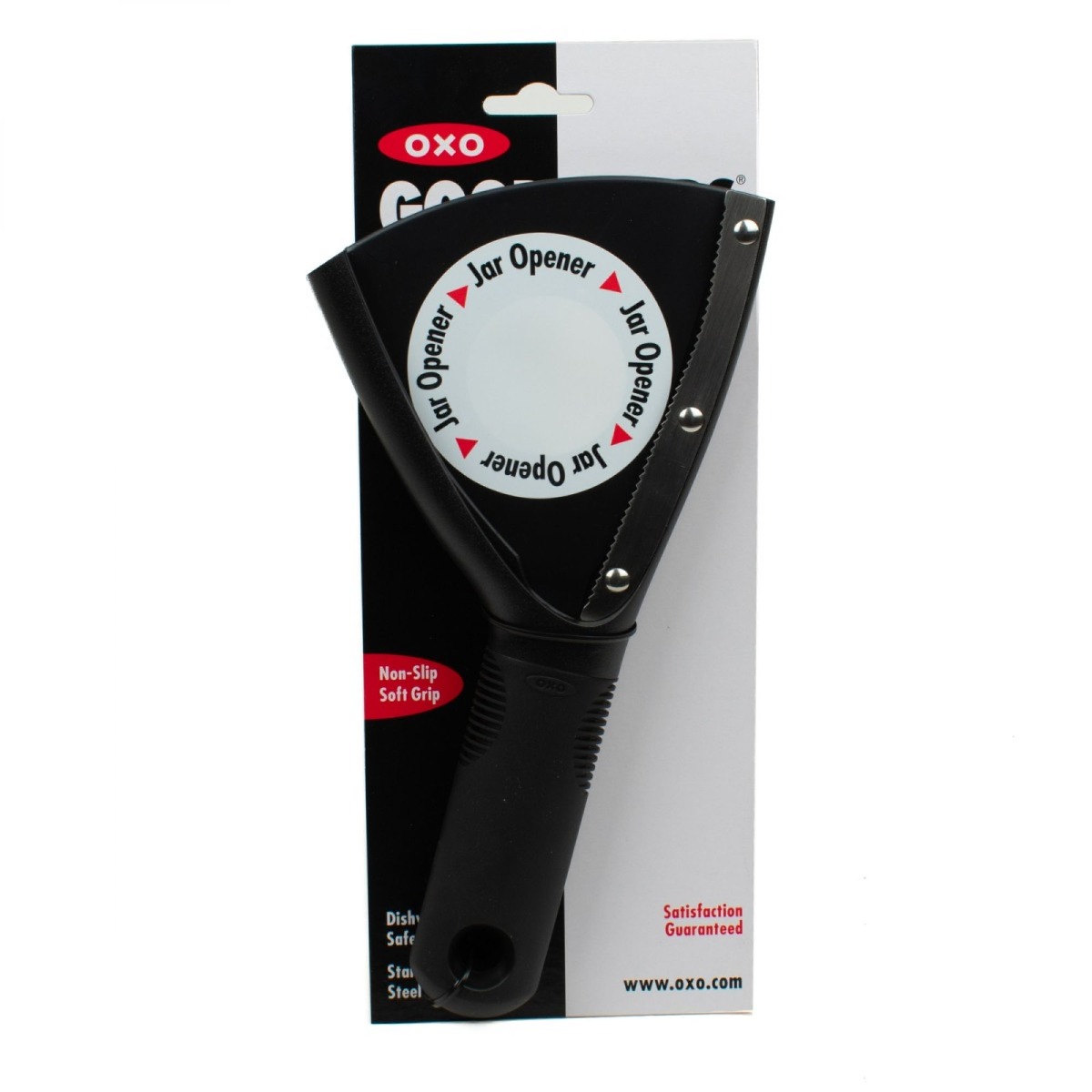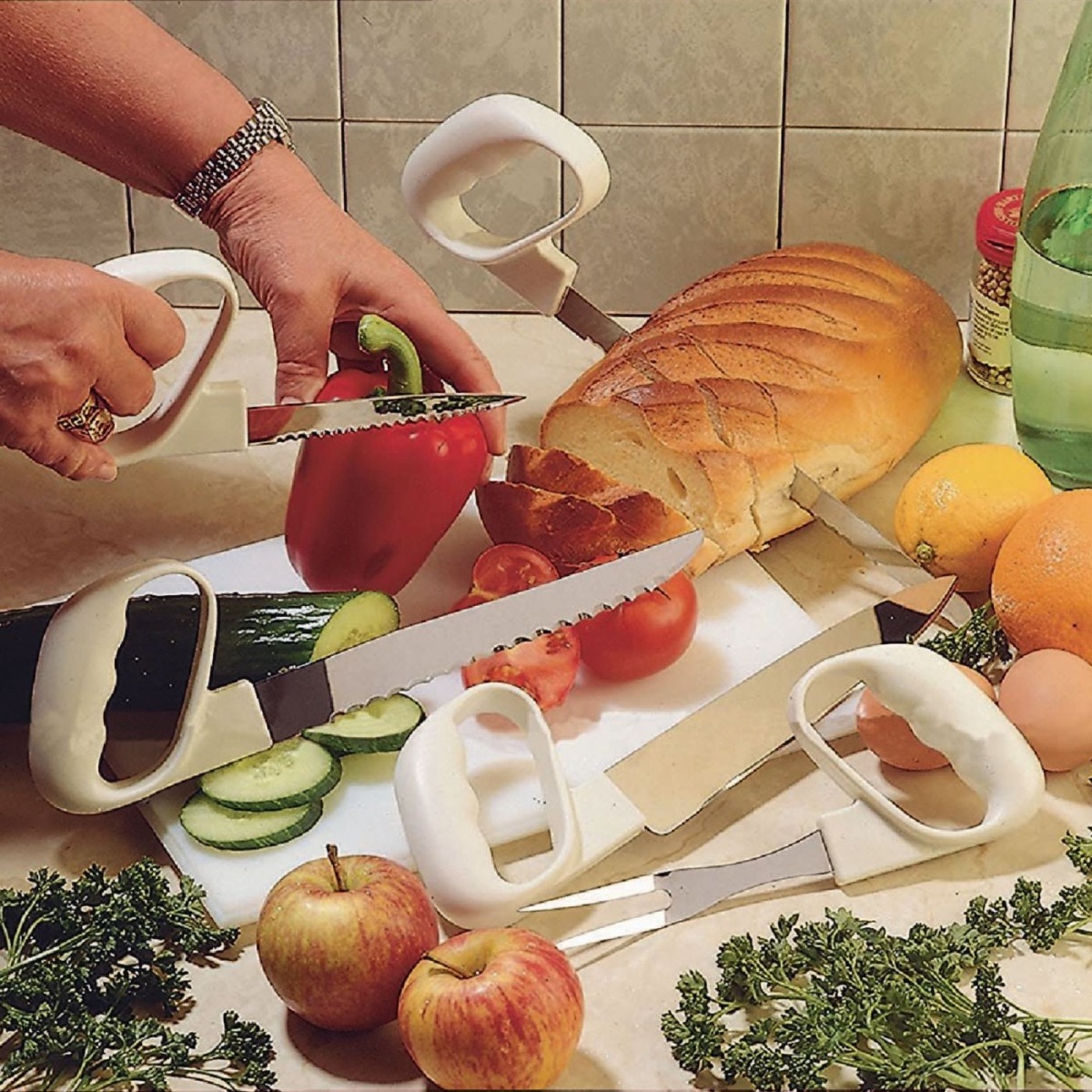 For all seniors...
Non-slip products can make cooking easier for all seniors. A Dycem Non-Slip Pad can help you keep a mixing bowl, plate, or other item in place while working in the kitchen. While a Dycem Multi-Purpose Jar Opener provides a great grip for opening jars.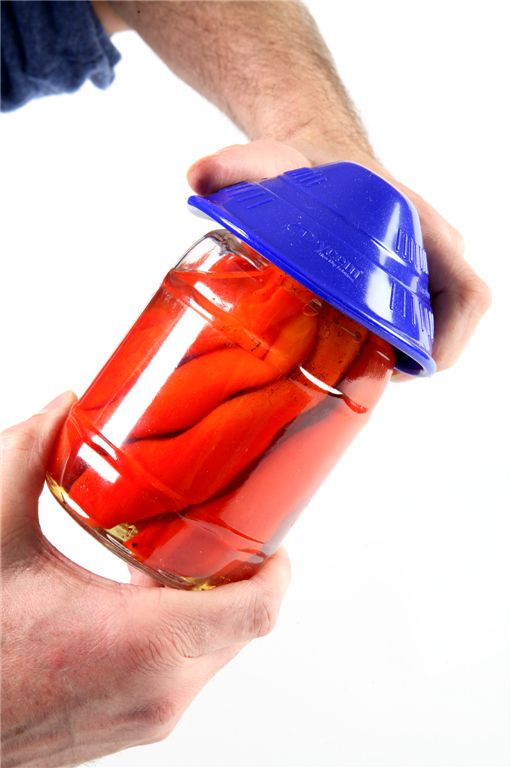 For opening cans, use the Popular One Touch Can Opener. Just place it on top of the can, press a button, and allow the opener to do the rest of the work for you, leaving you with an open can without sharp edges.
And if lifting a gallon or half gallon of milk or another drink is becoming too difficult, you need a Pour Thing. No lifting means no spills. The device fits in your fridge and you just need to tilt downward to pour.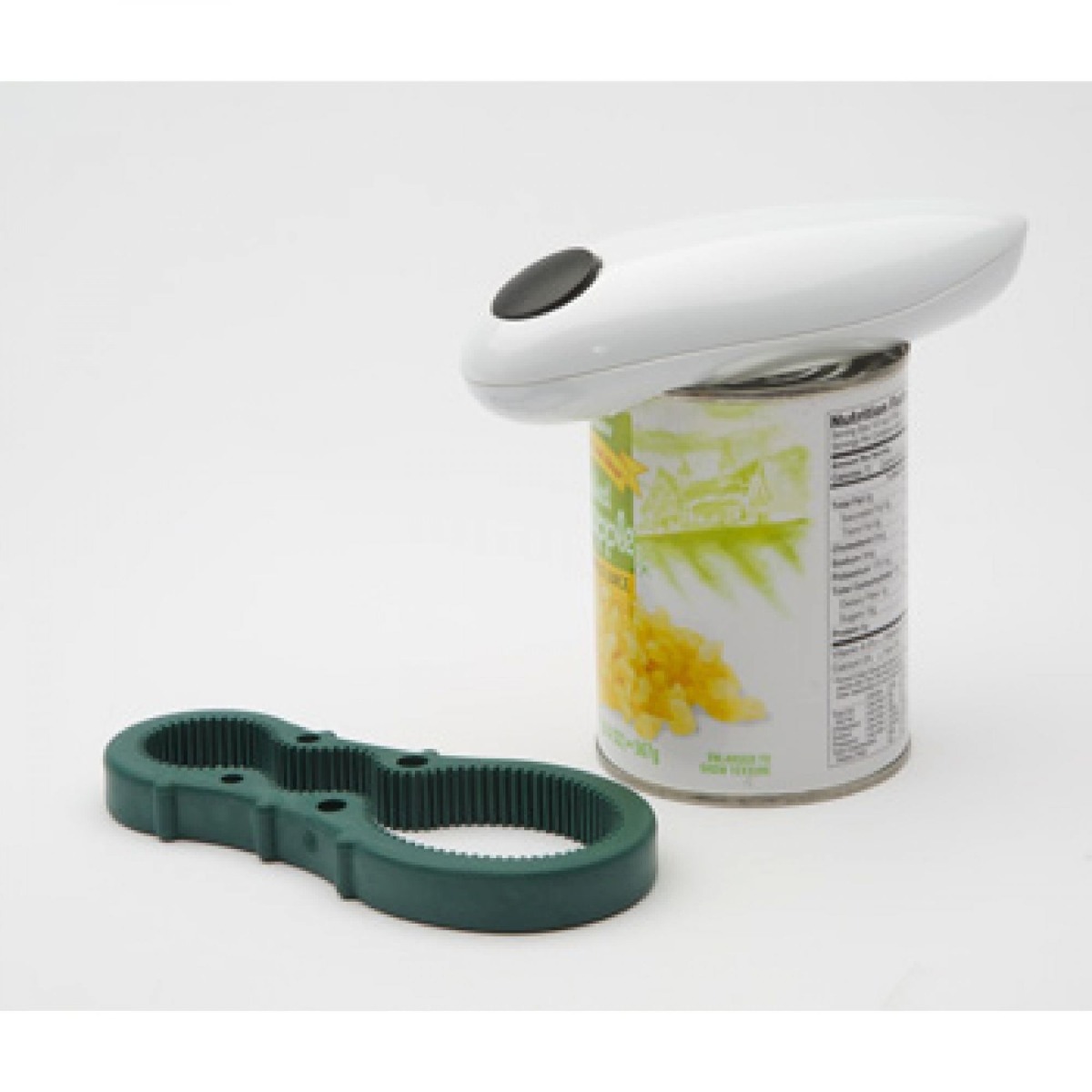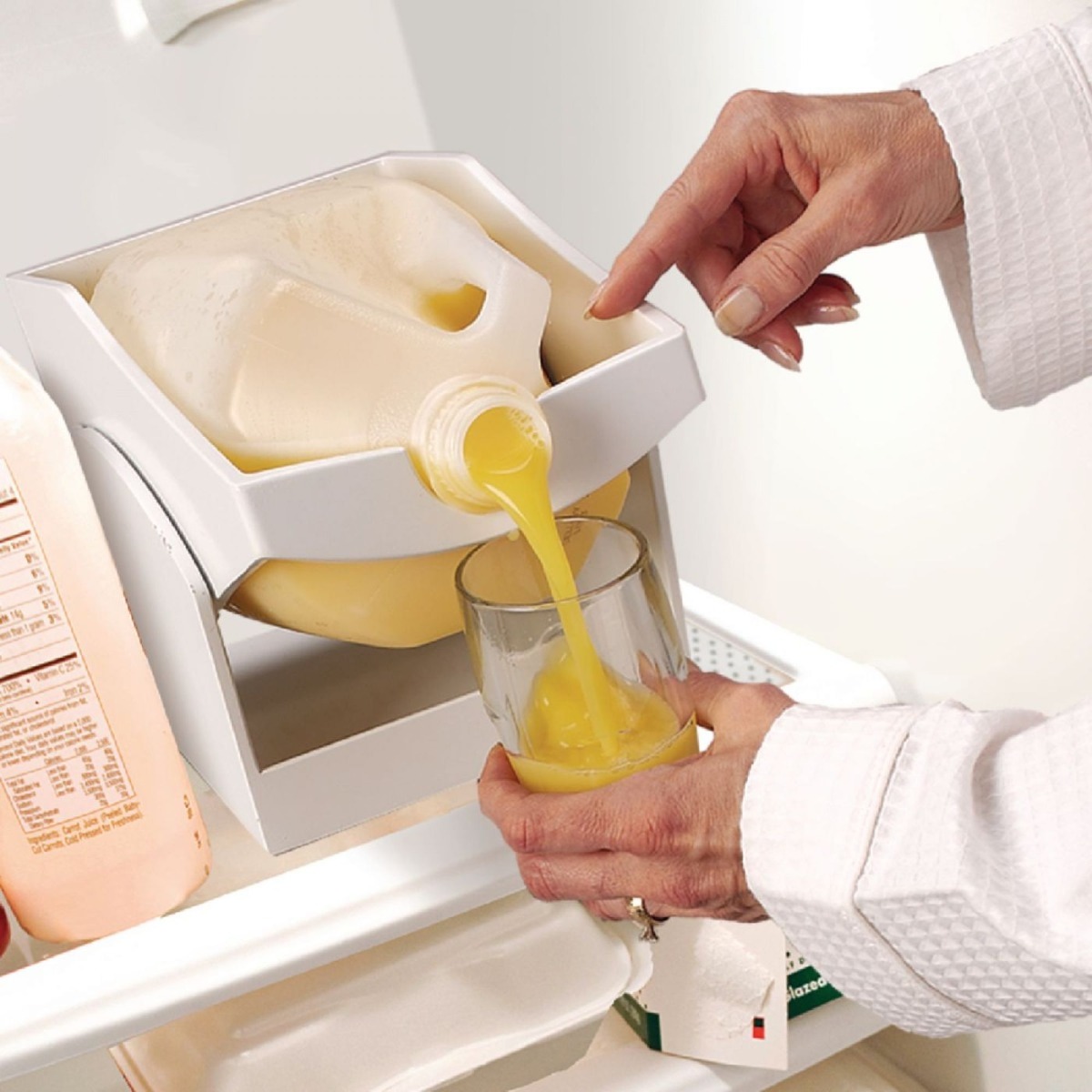 As you grow older, it's still possible to cook and eat independently with the right adaptive tools. If you want to keep exploring your options, view all of our dining aids now!
References
American Stroke Association. (2019). Hemiparesis. Retrieved from https://bit.ly/2VrpE4C
For more information, check out these articles:
Medical Disclaimer: The information provided on this site, including text, graphics, images and other material, are for informational purposes only and are not intended to substitute for professional medical advice, diagnosis or treatment. Always seek the advice of your physician or other healthcare professional with any questions or concerns you may have regarding your condition.