Safer Pain Relief
Solutions For Home Care
Yes, I want additional info
Learn how we can help.
Sign up now - we'll be in touch within 24 hours.
HME providers, learn how we can help add pain relief solutions to your product offering!
For more information, enter your contact information above and we'll be in touch within 24 hours to answer your questions.
Ounce-for-ounce a better fighter than retail Biofreeze®
4oz, Gel Tube vs. 3oz. Gel Tube
Lasts up to 36% longer*
Optimized, smoother formula - easier to apply
*Biofreeze Professional Roll-On Formula, compared to regular Biofreeze Roll-On. Biofreeze Professional Gel formula lasts 18% longer compared to regular Biofreeze Gel.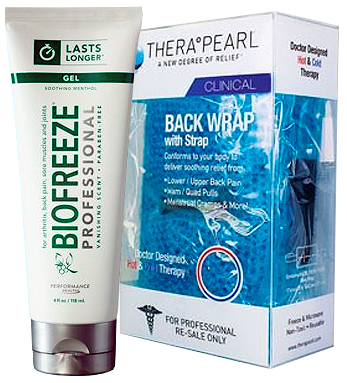 Reusable hot/cold packs conform to the body when frozen or heated
Specifically designed for back, shoulder, knee and other areas
Soft on skin and extremely comfortable - able to place directly on skin
Glycerine gel beads retain temperature for recommended time of 20 minutes