Welcome to
Rolyan Splinting
PARTNERING WITH YOU IN THE ART
& SCIENCE OF SPLINT FABRICATION.
Rolyan Splinting provides a comprehensive
range of sheet materials, pre-cuts and accessories.
Rolyan Splinting's range aims to meet the busy clinician's ever changing needs.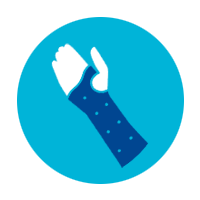 BROADEST RANGE OF
SPLINTING MATERIALS
With the broadest range of high-quality splinting materials in the industry, Performance Health makes it easy to find a product for every splint, every therapist and every experience level.
From our comprehensive online materials to our knowledgeable consultants, Performance Health brings you the personal support, expertise, and information you need to choose the right products for your patients.
A VARIETY OF CONTINUING EDUCATION COURSES
Performance Health Academy provides a variety of continuing education courses specific to splint fabrication. These courses cover a full range of experience levels and specialty splinting techniques.
SPLINTING CHARACTERISTICS
Many clinicians still use the day-to-day terms of static, dynamic, static progressive or serial static.
These are defined below as they are most commonly used in workplaces today.

SPLINTING
CHARACTERISTICS
BREAKDOWN
THE EXTENT TO WHICH A MATERIAL RESISTS PULLING OR STRETCHING WHEN HEATED
• Minimum: Achieve intimate fit and Very light handling required
• Moderate: Achieve exact fit and Moderate handling to pull and hold material in place
• Maximum: Achieve good fit, Requires firm handling and Ideal for larger splints
THE EASE WITH WHICH A MATERIAL CONFORMS TO A SURFACE WHEN IT IS HEATED
• A high degree of drape enables a precise fit with minimal handling = increased comfort and reduced pressure areas
• High drape materials are preferred by the skilled splinter who is confident with their handling skills
• Minimal drape is often preferred when splinting larger areas as the material is easier to handle and provides more stability
THE DEGREE TO WHICH A MATERIAL WILL STICK TO ITSELF WHEN HEATED
UNCOATED:
• Effective bonding without the need to treat/prepare surface
• Bond to themselves to form a permanent bond
• Useful when adding outriggers, accessories or reinforcing strips

COATED:
• Allows material to temporary bond when warm
• Once cool the bond is not permanent
• Coating may be removed to create a permanent bond with spirits or by safely scratching the splint surface
• Often easier to handle
• If making a long term splint, coated materials may be preferable as they are easier to clean (less porous)
• Half the weight of 1/8" material
• Easy to cut when cold
• Ideal for paediatrics, finger splints and hand-based splints
• Lightweight with moderate support
• Easy to cut when cold
• Ideal for paediatrics, finger, handbased splints and other areas requiring lightweight support.
• Lightweight with moderate support
• Minimises bulkiness
• Perfect for a wide range of static and dynamic splints or progressive splints where less weight is desired (i.e. arthritis, thumb, hand, wrist and small area splints).
• Traditional thickness that provides stability and firm support
• Well-suited for positioning and holding joints, aiding abnormal tone, contractures and fracture bracing.
• Ideal for static, dynamic and progressive splinting of upper and lower extremities.
• Maximum rigidity
• Ideal for body jackets, abnormal tone splints, lower extremity splints and fracture braces.
SOLID:
• Maximum support.

PERFORATED:
• Perforated (1%, 2% or 2.5%) for slight ventilation and added comfort without compromising rigidity.
Tip: Material softens quicker when heated.

ULTRA-PERF, OPTI-PERF, SUPER-PERF:
• UltraPerf (13%), OptiPerf (19%), Lightweight provides greater ventilation for increased comfort and compliance.
• SuperPerf (38% or 42%) for lighter weight, exceptional ventilation and greater comfort and compliance.
Tip: For additional support, select a thicker material, with higher perforations.
Tip: Higher perforations soften quicker when heated and cool faster.
SPLINTING TIPS & INSTRUCTION VIDEOS
Rolyan's diverse and comprehensive range of thermoplastic materials reflect the varying needs of clinicians today.
Thumb Hole
Wrist Cock-up Splint
Forearm Based
Short Thumb Spica
Techniques for
Efficient Edge Finishing
Static Elbow
Orthosis Fabrication
RESEARCH, EXERCISES, EDUCATION & INSIGHT
At PHA you can find references, articles, protocols and outcomes to support evidence-based solutions and evidence-based practice.
Have a question about how to use one of our products? Need some advice from one of our clinical experts? Submit a question to the "Ask a Clinician Form" and one of our clinical experts will get back to you.