The Seven Best Tools to Help
with Vision Issues as You Age
As you age, it's natural that you may have vision problems. You're at a greater risk for macular degeneration, cataracts, diabetic eye disease, glaucoma, decreased vision, and dry eyes. But with the right tools, these issues (or just plain vision loss) do not need to affect your independence.
Vision loss can affect your daily life. These aids help you tell time, use the remote, & more. Conquer small tasks that have a big impact on your independence.
1
For the Television:
A Bigger Remote
Larger buttons measure ¾ inch and are easier to both read and use
Wider and longer than average so it's harder to lose and easier to spot
Compatible with your television, DVD player, VCR player, cable box, and more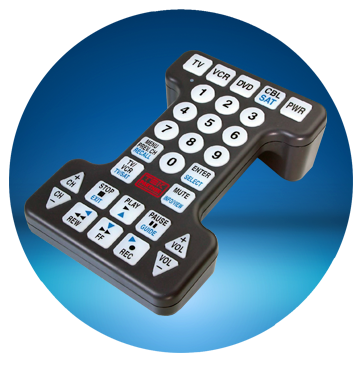 2
For Your Health:
A Talking Scale
Reads numbers aloud to help you avoid squinting down at the scale
Speaks in five languages
Weight capacity of 440 pounds

3
For Your Meds:
Talking One Month Pill Organizer
Features 31 compartments to organize your pills for a month
Each compartment has four areas for the different times of day you may need to take your pills
Set an alarm for the time of day you need to take your pills and it will either beep or say
"Please take your pills"

4
For the Computer:
Hands Free Magnifier
Large 7 inch by 10 inch magnifier is attached to a base via a flexible arm you can move
Enlarges whatever you are viewing on the computer to roughly two times its original size
Use for a variety of activities, such as reading a computer screen or newspaper

5
For the Telephone:
A Braille Telephone
Large, raised numbers can be easily seen and felt as you type
Emergency numbers are clearly marked just in case you need them

6
For Your Schedule:
A Talking Watch
Just press the single button to hear the time in a clear, feminine voice
Classic and fashionable gold piece with a white face and black numbers

7
For Everything:
Lighted Magnifier
Excellent for reading, crafting, or any activity where you need magnification
Features a 2.5x power lens with 6x bifocal lens and optional light for greater visibility
Five inch long handle is easy to maneuver and grip

Medical Disclaimer: The information provided on this site, including text, graphics, images and other material, are for informational purposes only and are not intended to substitute for professional medical advice, diagnosis or treatment. Always seek the advice of your physician or other healthcare professional with any questions or concerns you may have regarding your condition.