Helpful Bathroom Aids
for Muscular Dystrophy
Muscular Dystrophy is a group of over 30 genetic diseases. Genetic mutations in the proteins cause progressive muscle weakness. This can lead to muscle stiffness, contractures, difficulty walking, or the inability to walk.
The symptoms can make it difficult to do simple tasks like showering or brushing your hair. Use these adaptive devices to help you keep your independence and make your bathroom routine easier.
1
Bathmaster Sonaris2 Bath Lift
Muscle weakness can make it difficult to sit and stand from the bathtub. This bath lift descends and rises with the push of a button. The reclining chair makes independent bathing easy.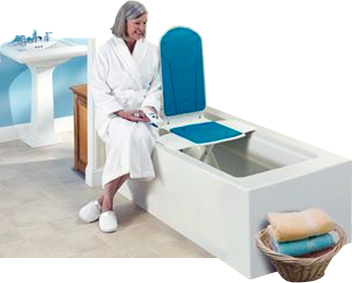 2
Tumble Forms Starfish
Bath Chair
This chair makes bathtime less challenging for children with muscular dystrophy. It can be hard to stand during a shower if you have leg weakness. Instead, children can sit in this adjustable bath chair. An optional base raises the chair to the ideal height for showers.
3
Homecraft Padded
Transfer Bench
Padded for comfort and strong enough for daily use, this shower chair and transfer bench is great for those who want to sit during their shower. Suction cup feet keep the rust-resistant frame firmly in place. A handheld shower head makes it easier to rinse off while sitting.
4
Sammons Preston
Bendable Scrub/Sponge
If stiff muscle contractions and a limited range of motion are your problem, this brush is the solution. It's 18" long and bendable to reach your back, legs, or feet. The net and bath sponges give you two ways to keep clean.
5
Toilet Safety Frame
A toilet safety frame gives you sturdy armrests to grasp for leverage when standing. This economical option is height adjustable and supports up to 300 lbs. The frame is ideal for users with limited mobility who need extra stability.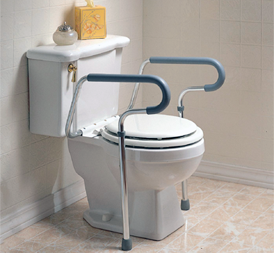 6
Extra Wide Tall-Ette Elevated Toilet Seat with Legs
Bending to sit can be difficult with stiff muscle but a higher seat can help. This raised seat and frame combination gives you extra support. Less effort is needed to stand because of the taller seat height. It's available in standard and bariatric sizes.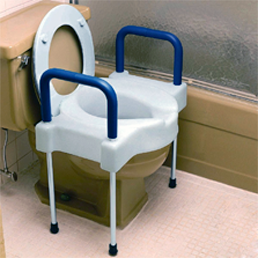 7
Lifestyle Long Handle
Comb or Brush
Hand and arm weakness can make brushing your hair a daily struggle. This long handled hairbrush with an ergonomic non-slip grip makes it simple. Both a brush and a comb are available so you can get the one that fits your needs.
8
Hands-Free Hair Dryer Pro Stand 2000
Blowdry and style your hair with this hands-free assistive hair dryer stand. The adjustable neck can be bent to any angle. Ideal for upper extremity weakness, this dryer allows the user to enjoy one or two handed styling.