The Top 10
Low Vision Aids for
Macular Degeneration
What's the leading cause
of vision loss in people over 60?
Age-related macular degeneration (AMD).
1.

Bar Magnifier

This 2x magnifier makes it easier to continue reading your favorite magazine or newspaper. At 1" wide it helps you read line by line. This portable aid even includes a ruler.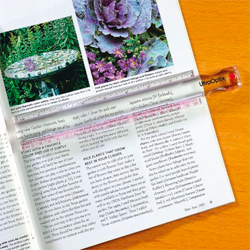 2.

Deluxe Page Size
Magnifier with Light

If you'd rather magnify the whole page at once, you need this device. The foldable legs stand up for hands-free reading and fold down for on-the-go use. The 2x magnifier has a light to further improve viewing.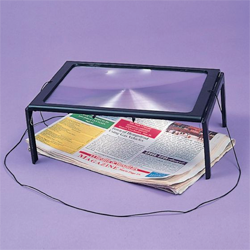 3.

Jumbo Size Braille Phone

Tiny phone buttons can make dialing with vision loss hard. This phone has large numbers with braille characters to help you dial quickly. The phone has three programmable one-touch emergency buttons. It even speaks the numbers out loud as you press them, so you can make sure you're calling the right person.
4.

15" Wall Clock with
Large Bold Numbers

Another aid for people with macular degeneration is a clock with larger numbers. The high contrast background and 2" high numbers make it easier to read this clock from far away.
5.

Keys U Can See Keyboard

Fading vision can make using a computer difficult. The black letters and numbers are striking on this yellow keyboard. Each character is nearly ½" high, increasing visibility and letting you get back to typing.
6.

Tek Partner Universal
Remote Control

Large buttons helps you see the numbers and other important controls on this remote. It can connect with up to four other remotes for use with your TV, DVD player, cable box, or VCR. The buttons also light up for easier visibility at night.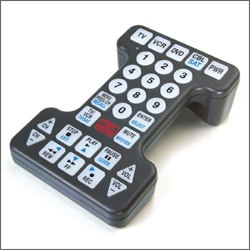 7.

Moshi Voice Controlled
Talking Clock

Talking devices are also helpful for people with macular degeneration. This clock is completely voice controlled, from setting it to using it. Simply ask for the time, date, or indoor temperature and the clock will announce it loud.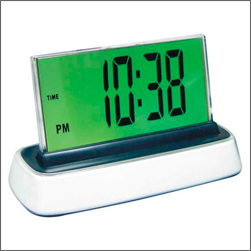 8.

Atomic Unisex Talking Watch

If you want to hear the time, day, month, and the date anywhere you go, you need this watch. In addition to the talking, this watch features large numbers and hour and minute hands that light up in the dark. This makes it useful for those who are begining to lose vision or for people whose vision loss is more advanced.
9.

Talking Scale

Visually impaired individuals who are all health conscious will appreciate this glass scale. It speaks five languages, including English, Spanish, and German, and announces your weight in pounds or kilograms.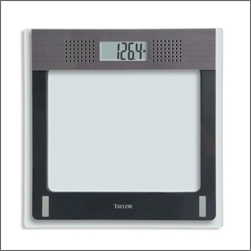 10.

Double Vision Vanity
and Suction Cup Mirror

Enjoy two mirrors that offer 5x and 10x magnification. Adjust the gooseneck to the perfect angle and then apply your makeup, style your hair, or tackle other tasks with ease.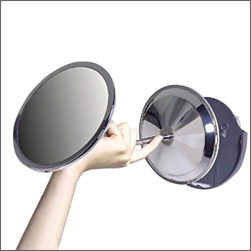 Medical Disclaimer: The information provided on this site, including text, graphics, images and other material, are for informational purposes only and are not intended to substitute for professional medical advice, diagnosis or treatment. Always seek the advice of your physician or other healthcare professional with any questions or concerns you may have regarding your condition.
References
Macular Degeneration. (2016, April). Medlineplus.gov. Retrieved from http://bit.ly/2BVDxz7