Outer elbow pain? It might be tennis elbow.
The elbow pain that many athletes, especially tennis players, refer to as tennis elbow is most commonly associated with lateral epicondylitis. This is caused by overloading the tendons that wrap around the outside of your elbow, often with repetitive motions of the arm or wrist. These movements create small tears in the tendons between the forearms and the outside of the elbow and leave you with outer elbow pain.1
Tennis elbow doesn't affect just tennis and golf players. Athletes of other sports suffer from it, and it is common for anyone who performs physical labor, whether around the house or for an occupation.
There are a few ways to treat or prevent tennis elbow. Most importantly, no matter what sport or activity is causing your tennis elbow, make sure you're using the proper form.
Once you have your form down, another source of pain relief is elbow braces, straps, and supports. So which one is right for you?
The 5 Best Tennis Elbow Straps
The Rolyan Universal Strap is a simple strap designed to be used on the arm or leg. The hook and loop closure allows you to choose the compression level you want. The one-size-fits-all, latex-free strap can be used for tennis elbow, golfer's elbow, or jumper's knee.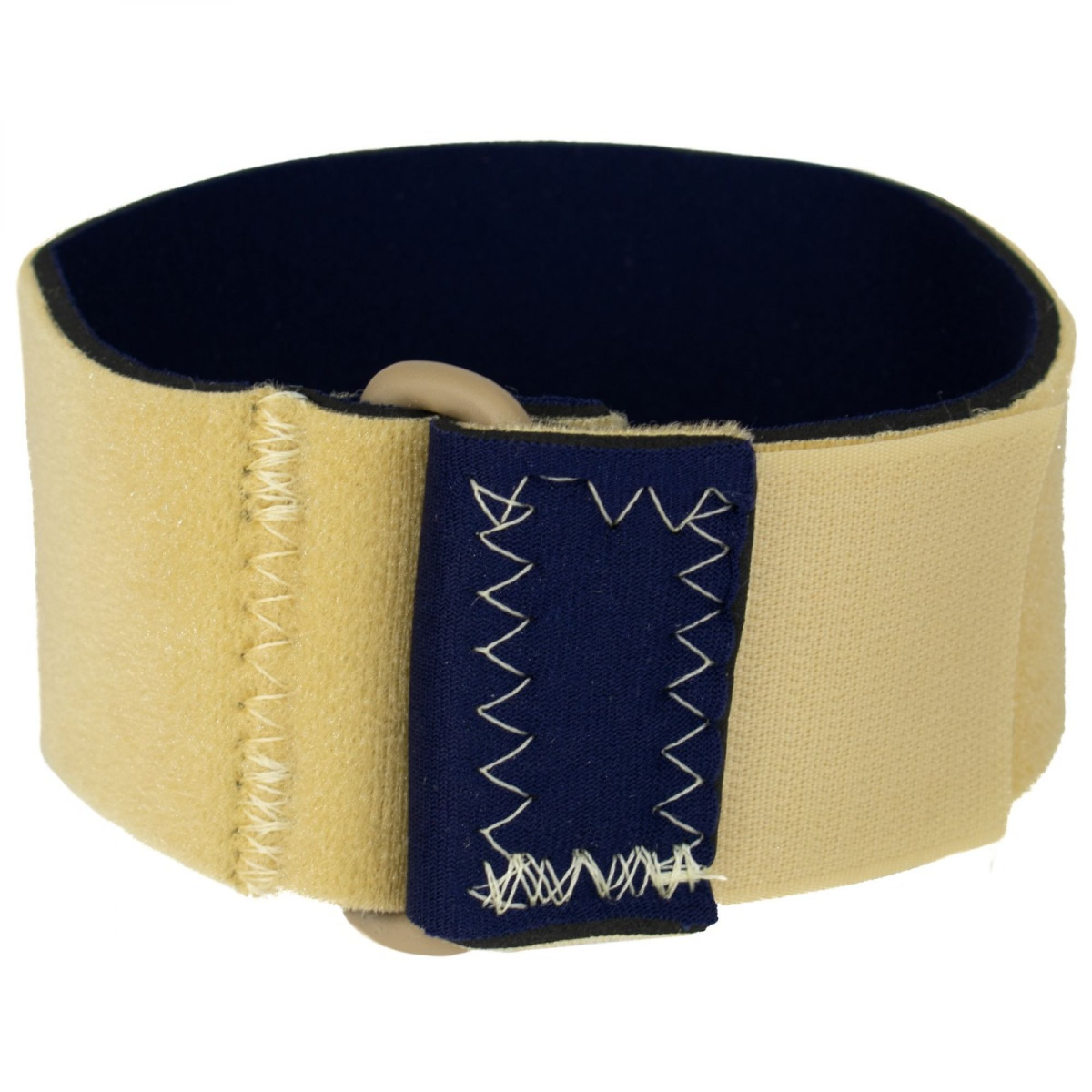 All elbow braces, straps, or supports that are designed for lateral epicondylitis redirect force that would go to the tendons of the elbow.2 They move this force to the location of the strap and this has been clinically proven to increase the amount of grip strength users could generate without feeling pain.3
The Rolyan Neoprene Tennis Elbow Strap is a classic design of elbow strap. It is worn just below the elbow and tightened with a hook & loop closure to a firm, but not restrictive fit.
The study of elbow strap effectiveness also found that elbow sleeves were effective as long as they featured a built-in strap. The important aspect of an elbow support used for lateral epicondylitis is the strap which redirects forces away from the tendons around the elbow.
A Rolyan Neoprene Elbow Sleeve with Strap maintains the effectiveness of a strap but with the added benefit of an arm sleeve. The gentle compression of the sleeve can help reduce swelling and increase blood flow to the arm. This makes them great for wearing while exercising or afterward as a recovery aid.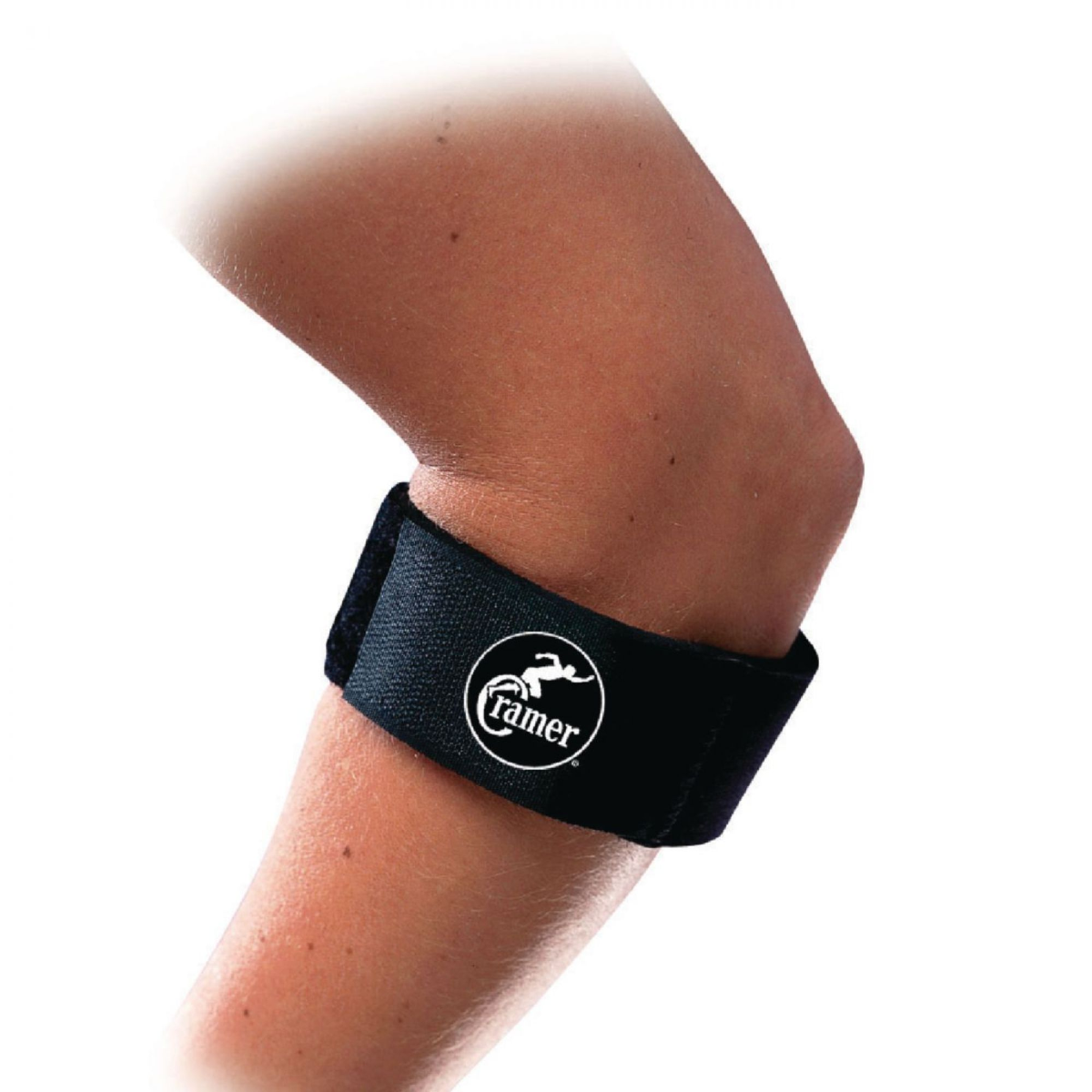 The Cramer Tennis Elbow Strap is going to function similarly to the Rolyan Neoprene Strap but with a few added benefits. It's constructed from premier materials that are designed to hold up to the long-term wear and tear of athletic use. It also features a dual-density foam pad that is specially designed to absorb shock and vibrations in the forearm muscles.
Like the Cramer Elbow Strap, this strap features a pad that increases its ability to absorb shocks and protect your elbow. The strap also comes with a second pad that is made from a gel pouch.
The pouch functions as a small ice pack and can be frozen for cold therapy. It is held in place by the strap and functions as a pressure pad and a source of cooling pain relief. The strap can be worn with the air pad during the workout and with the gel pouch post-workout for recovery.
Applying an ice pack to the elbow can help manage short-term pain and reduce swelling caused by lateral epicondylitis or other minor injuries.4
Pain Relief Alternatives
If you already have a brace or want to add another treatment method along with a brace, start by looking for a good heat pack. Cold packs are best used in the first 24 to 48 hours after an injury. After which it's best to switch to heat therapy. A hot pack will help soothe sore muscles and tendons around the elbow after swelling has subsided.
Topical pain relievers are another great way to treat elbow soreness. Biofreeze uses a unique menthol formula that blocks pain signals from being sent to the brain.
When to See a Doctor
Lateral epicondylitis is very common for athletes and can often be treated by simple methods at home before seeing a doctor is necessary. You should see a doctor or medical professional if:5
Elbow pain persists for more than a week without getting better
You're unable to perform everyday tasks like opening a lid or typing
The pain gets significantly worse over time
You feel a lump beyond normal swelling, as this may indicate a condition other than lateral epicondylitis
Looking for another pain relief option? Check out the The One Tool You Need to Relieve Tennis Elbow Pain!
References
Medical Disclaimer: The information provided on this site, including text, graphics, images and other material, are for informational purposes only and are not intended to substitute for professional medical advice, diagnosis or treatment. Always seek the advice of your physician or other healthcare professional with any questions or concerns you may have regarding your condition.