Key Takeaways
Group Purchasing Organizations (GPOs) help reduce costs for participants as well as minimize the risk of liquidity
GPOs  organize agreements with suppliers, so operators spend less time sourcing, arranging, and sustaining contracts and more time focusing on customers1
Performance Health offers a variety of advantages for GPO members, including cost savings as well as solutions that help simplify order placement!
Top Products in This Article
Simplifying Your Supply Chain
Now more than ever, businesses are looking for ways to simplify operations. The global pandemic has significantly impacted the production of goods. Supply chain disruption is a lasting consequence of COVID-19; the shortage of workers is an ongoing problem for suppliers. While life is slowly returning to normal and consumers are starting to spend money again, the issue persists as demand is greater than supply. Despite these challenges, GPOs can help enhance supply chain efficiency. Below are ways that a GPO membership can positively benefit your business:
1) Managing Your Supplier Relationship
Managing your supply chain can be difficult even under normal circumstances. Supplier resource management is the process that organizations follow to determine the supply categories essential to their business and the most effective way to manage these items.5 COVID-19 has made operations more challenging for all vendors. Procurement can impact a business's finances outside of the typical expectations by taking on a more strategic, proactive role in the management of supplier relationships.2 To facilitate a more collaborative relationship with suppliers, procurement can rely on their GPO. GPO members benefit from being viewed as preferred customers by suppliers, because GPO buying power is strategically important to supplier partners.
2) Supply Chain Planning
The current economic crisis provides an opportunity for innovation and collaboration with suppliers, trusted partners (such as GPOs), as well as stakeholders. GPOs serve as a key collaborative tool for procurement, as they act as an extension of a business's purchasing team. They help contain costs, satisfy stakeholder requirements, and reduce risk. These entities are built on the base of combining group spend with flexibility and coordination, which increases savings and helps procurement identify ways to optimize resources.2
To learn more about today's supply chain, read this article!
Associated Cost Savings
One of the main advantages of joining a GPO is the associated cost savings. When you become a GPO member, you combine forces with a similar group of consumers to leverage the size of the GPO. In exchange, participants can take advantage of discounted pricing and other cost-saving benefits that would not be attainable on their own.
3) GPO Membership Savings
GPOs have tremendous buying power and allow participants to secure discounted rates on the products and services they need to operate their businesses.3 These entities help procurement leaders utilize purchasing solutions like volume discounts that enhance their existing strategies, reduce costs, and enhance spend management. Any size business can join a GPO and take advantage of volume discounts from both suppliers and retailers.
In addition to transforming the way of life that we once knew, the pandemic forced many businesses to adjust operations to reduce costs. While the economy is slowly getting back to normal and demand for products and services has increased, we can reflect on how GPOs helped businesses stay afloat amidst the chaos. GPOs leverage the combined buying power of its members to obtain volume discounts from both suppliers and retailers.4 A GPO has a large database of members within an industry, which it uses to negotiate bulk-based discounts with its network of suppliers. The negotiated contracts are then shared with GPO participants, who enjoy savings of up to 80% on products and services that they need for their business and would otherwise have to pay a premium for.4
4) Additional Perks
Companies were forced to initiate layoffs and job freezes to save money during the height of the pandemic. Many GPO participants, however, were able to avoid letting go of employees because of their overall cost savings. On average, GPO membership puts approximately 22% straight back into a company's budget.4 This can equate to saving multiple jobs from being lost. GPO membership saves more than just money, it also can help you save valuable time. For instance, joining a GPO outsources the lengthy RFP process. Businesses can save weeks of research and resources otherwise spent gathering all the information needed to select quality, reliable suppliers and spend more time focusing on customers. GPOs reduce the workload of the procurement team, so they can keep the company afloat during difficult times.4
Advantages of Purchasing from Performance Health
Performance Preferred
Performance Preferred is a program that is designed to streamline your shopping experience. Instead of sorting through hundreds of products, all you need to do is look for the "Preferred" label. We have a large portfolio of Performance Preferred items, including many vertically integrated products from medical and surgical vendors. Selected by thousands of clinics each day, Preferred products include market leading brands, and consist of our most popular, ready to ship, and recommended products.
Spend more time focusing on your patients and start shopping Performance Preferred products now! Check out several of our most popular preferred items below:
Performance Health Supply List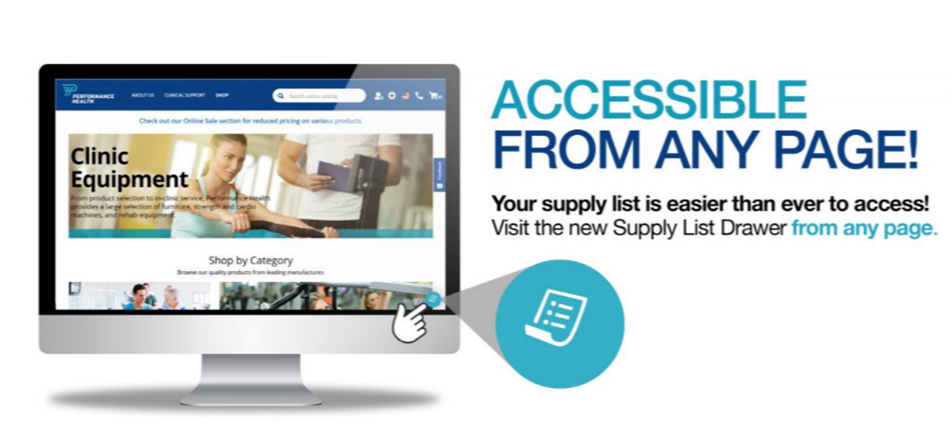 The supply list feature is designed to streamline your shopping experience with Performance Health. This easily accessible tool can be visited from any page on our website, and keeps track of your favorite, frequently purchased items. There are a variety of list options: from lists you can customize based on your specific needs, to a list of popular products at Performance Health. You can use the list to reorder frequently purchased supplies (using the add to cart button) or create a list to share with other colleagues and even your patients or their caregivers!
Web Order Approval

After creating a Performance Health website account, you are ready to explore web order approval! This feature is designed to help you control order placement. Web Order Approval (WOA) are settings that define if an order can be processed after it's been placed by a Company User. WOA gives the Company Admin control over what orders get placed, and eliminates accidental, repeat, and unauthorized orders. Admins can approve web orders for other company users or allow users to add themselves if needed. Web Order Approval is a great way to provide spending oversight, centralize ordering across facilities, and ensure that orders contain your facilities' preferred products!
Recap
Group Purchasing Organizations have many benefits. They reduce costs for participants as well as minimize the risk of liquidity, while managing supplier contracts and reducing the workload of the procurement team. GPOs proved to be especially effective during the global pandemic, as they helped companies save money and prevent layoffs. Performance Health offers many advantages for GPO members, including cost savings as well as solutions that simplify order placement and management.
References
1. Benefits of a Group Purchasing Organization (GPO): OMNIA Partners. (2021). Retrieved from https://bit.ly/3bAVCmm
2. Partners, O. (2020, June 10). The GPO Role in Supply Chain Planning During a Crisis. Retrieved from https://bit.ly/2ZRn4K6
3. Group Purchasing: The Complete Guide to Group Purchasing. (2021, October 26). Retrieved from https://bit.ly/2YkmAvy
4. Cost Reduction Strategy: How to Use a GPO to Find Savings. (2020, August 20). Retrieved from https://bit.ly/3BQnrSa
5. Webb, J. (2017, February 21). What Is Supplier Relationship Management? Retrieved from https://bit.ly/3kO2UIx
Medical Disclaimer: The information provided on this site, including text, graphics, images and other material are for informational purposes only and are not intended to substitute for professional medical advice, diagnosis or treatment. Always seek the advice of your physician or other healthcare professional with any questions or concerns you may have regarding your condition.