Key Takeaways
With the global supply chain facing turmoil, getting products in on time is proving to be difficult
Save time finding products in stock with Performance Preferred - our most popular and recommended products
Another great resource to help you find items in stock is our item substitution tool
The turmoil caused by the COVID-19 pandemic has slowed the flow of goods. Because raw materials to create products, shipping containers, or space on trucks are limited, it's been increasingly difficult to get products in on time, whether it's for your home or your patients. At Performance Health, we realize the current state of the global supply chain has caused frustration. It makes it difficult to find items that you and your patients need in a timely manner. Fortunately, we have developed two digital tools that can help you find in stock products!
Learn how you can save time searching for in stock items using either our item substitution tool or shopping Performance Preferred!
What is Performance Preferred?

Performance Preferred is designed to make your shopping experience easier. This selection of products includes our most popular, ready-to-ship, and recommended products. Spend less time searching for the right items and more time focusing on patient outcomes! Just look for the "Preferred" logo!
Where will I find Performance Preferred Products?
One quick way to see everything that's part of Performance Preferred is to check out the Performance Preferred category page.
You can also filter search results to show only Performance Preferred products. This allows you to easily search a specific category, like "dining" or a specific term, like "resistance bands" and browse only the Performance Preferred products. If you choose not to filter the results, you will still see the Preferred logo on Performance Preferred products while you browse search results or category pages.
If you go directly to a product page, you can also see if the product is Performance Preferred. Just look for the logo in the upper right-hand corner.
Once you've added a Performance Preferred product to your supply list, it will be easy to identify. The "what's hot" lists will also show what items are Preferred. Just look for the logo at the top of the product image.
Another great resource to help you find in stock products is our item substitution tool.
What is the item substitution tool?
This new tool helps identify the next best item for you and your patients if an item is backordered. It considers hundreds of variables — size, type, brand, price, individual customer preference, current inventory and more – in real time to determine the best next available item. Learn how to use this digital tool to spend less time looking for products - and more time on your patients!
How do I use the substitution tool?
If you go directly to a product page and the item is labeled "backordered", you should find an icon next to it providing you with the option "shop similar products".
After you click "shop similar products", a separate page will display an alternative item that is available for purchase. Make sure to check the box in the top left corner of the product image to access the "add to cart" button.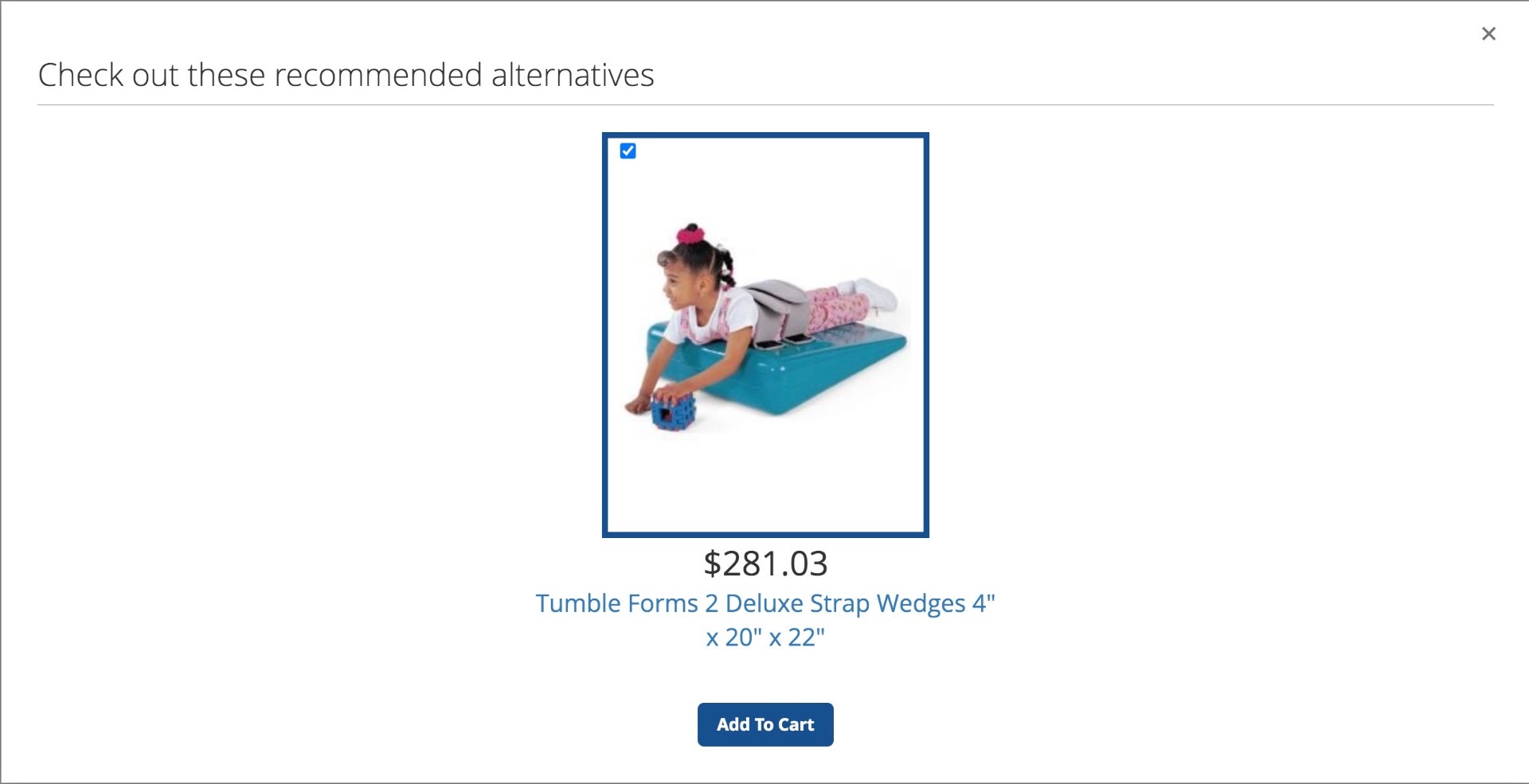 References
1. Friesen, Garth. (2021). No End in Sight for the COVID-Led Global Supply Chain Disruption. Forbes. Retrieved from https://bit.ly/3BJfE9p
Medical Disclaimer: The information provided on this site, including text, graphics, images and other materials are for informational purposes only and are not intended to substitute for professional medical advice, diagnosis or treatment. Always seek the advice of your physician or other healthcare professional with any questions or concerns you may have regarding your condition.