Women make up 10% of Veterans, a number that is expected to increase to 16.3% in the next 25 years.1 The VA is growing and adapting to meet their health care needs, but there is still more work to do.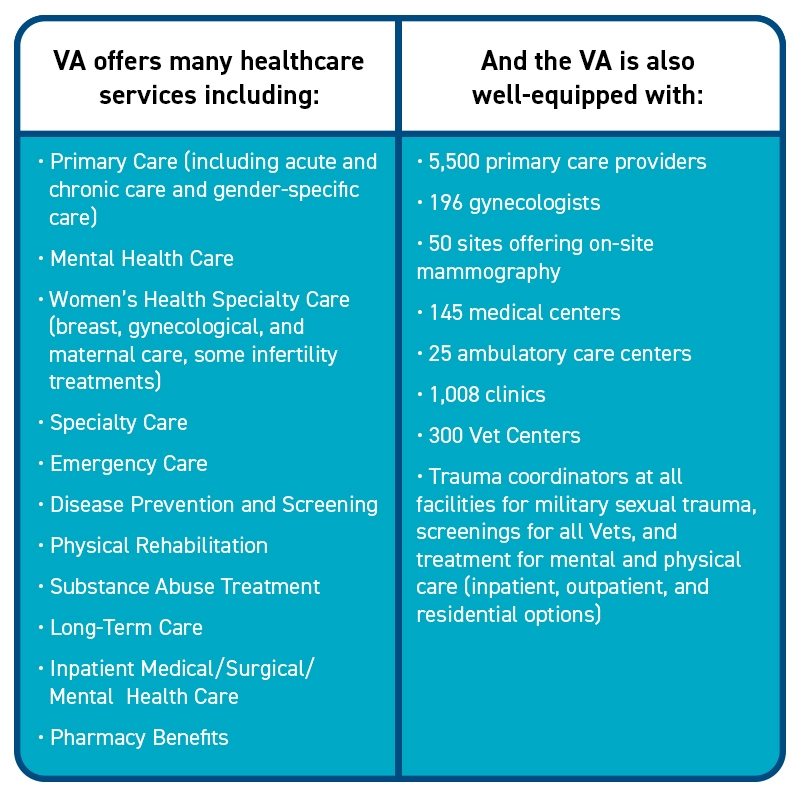 But only 35.9% of female Vets enrolled in VHA (Veterans Health Administration) in 2015 and only 62% of those who registered used the benefits.3
While this is a 46% increase from 2005, thanks to VA outreach efforts and other factors, it's still lower than ideal.3
Make sure women Veterans know how to check their benefit eligibility.
Women are 30% less likely to enroll in the VA system because they either don't understand that they qualify for benefits or don't think the VA can offer them the care they need.4
That's why continued outreach is crucial to explain the benefits of VA Health Care, and why it's important to make sure women Veterans know how to check to see if they qualify for health care enrollment.
Veterans can apply for enrollment by completing VA Form 10-10EZ:2
Applying online at www.1010ez.med.va.gov
Visiting, writing, or calling a Veterans' benefits office
Calling the VA Health Benefits Call Center toll free at 877-222-VETS (8387)
After that they can get started by contacting their local VA Health Care Facility and scheduling a primary care appointment.5
Why Women Use VA Health Care
Women use VA Health Care for a variety of services, from primary care to rehabilitation. This list gives a good overview of the most prevalent service-connected disabilities affecting female Veterans. The top five account for 33% of all service-connected disabilities for women Vets.3
Ten Most Prevalent Primary Service-Connected Disabilities for Women Veterans (2015)3
PTSD (post-traumatic stress disorder)
Major depressive disorder
Migraine
Back pain (lumbosacral or cervical strain)
Uterus and ovaries (complete removal)
Uterus (removal including corpus)
Asthma (bronchial)
Intervertebral disc syndrome
Degenerative arthritis of the spine
Tinnitus
We are here to help provide products for female Veterans, including products for:
Women's Health
Women Veterans may have additional factors that increase their risk of urinary incontinence and pelvic floor concerns due to their military service.5 Strengthening pelvic muscles is easy with vaginal dilators.
Pain Relief
Biofreeze Classic comes in three forms to help relieve pain from sore muscles, arthritis, sprains, and more.
Maternity
Rolyan Body Pillows make sleeping more comfortable for pregnant women by supporting the back and abdomen at the same time.

Mothers-to-be can wear a maternity support to relieve their muscles and offer support. This belt will give pregnant Veterans the support they need during the later months of pregnancy.
Lymphedema
Get all of the lymphedema supplies Veterans need from one place with this convenient kit that contains all of the supplies needed for multi-layer compression bandaging.

Swell Spots are designed to help reduce swelling and fibrosis caused by lymphedema. Swell Spots Breast can be tucked under bandages or garments.
Rehabilitation
If your Veterans need to strengthen their hands, THERABAND Hand Xtrainers are a great choice for progessive therapy. They can even be heated or cooled!
Mobility Aids
Bathing and Dining Aids
And we also offer so much more!
Our goal is to help you, so you can help women Veterans! Shop our full selection of products.
After all, she wore these…we need to give her the best care anywhere!
References
Medical Disclaimer: The information provided on this site, including text, graphics, images and other material, are for informational purposes only and are not intended to substitute for professional medical advice, diagnosis or treatment. Always seek the advice of your physician or other healthcare professional with any questions or concerns you may have regarding your condition.