If you have lymphedema, you know the struggles of managing your condition. But there are products that can help you manage your lymphedema and reduce your swelling.
Learn More!
The Basics of Lymphedema
Making Multi-Layer Compression Bandaging Easier
Compression Garments: Easier Than Bandaging
An Alternative for Daytime Lymphedema Management
An Easier Solution for Nighttime Lymphedema Management
The Basics of Lymphedema
What is lymphedema?
Lymphedema is a condition that causes swelling, typically in your arms or legs.
It is most commonly caused by removal or damage to your lymph nodes as a part of cancer treatment. This creates a blockage in your lymphatic system, which results in lymph fluid building up, which causes swelling. You can read more about managing lymphedema after breast cancer in this article.
But there are additional conditions that can also cause lymphedema or swelling in your limbs. Learn more about the difference between lymphedema and edema, a condition with similar symptoms. Talk to your doctor for more information about lymphedema including diagnosis and symptom management.
How is lymphedema commonly treated?
Lymphedema does not currently have a cure, but your symptoms can be managed.
The gold standard in lymphedema care is complete decongestive therapy (CDT) from a certified lymphedema therapist (CLT). This approach combines manual lymphatic drainage (a specialized massage), short stretch compression bandaging, and exercise to help reduce swelling and soften fibrotic tissue.
Making Multi-Layer Compression Bandaging Easier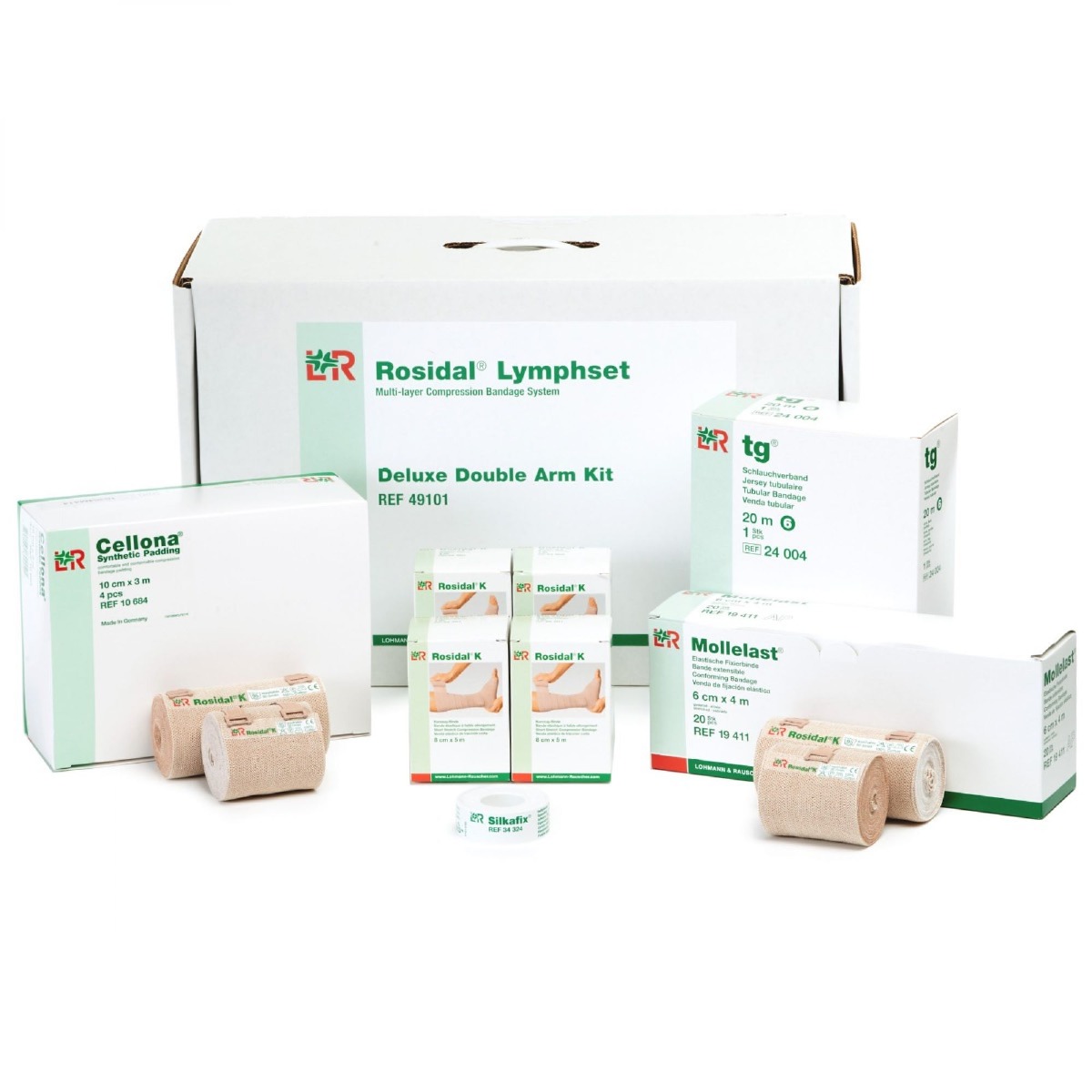 Short stretch compression bandaging takes several steps to complete. You can learn more about the different steps in this article on lymphedema bandaging.
One step during bandaging involves placing foam pads to help break up fibrotic (hardening) tissue, open lymphatics, support swelling reduction, and pad concavities and bony prominences.
SwellSpots Can Make This Process Easier
SwellSpots offer a simpler alternative for lymphedema therapists. They can be used instead of cutting and filling individual chip foam bags, allowing therapists to spend more time focused on their patients.
And they make bandaging easier for patients at home, thanks to their easy care instructions. The SwellSpots can be put in the washing machine and dryer to clean between uses!
Benefits of SwellSpots
What makes SwellSpots unique?
Channeling

Channeling in the SwellSpot fabric is designed to help create tissue stretch and move lymphatic fluid along the lymphatic pathways

Cool Core Technology

Offers 88% faster wicking away of sweat and moisture and 30% more cooling power to keep you comfortable during wear

Unique Designs

Each SwellSpot is specifically designed for particular areas to address your needs

Use under multi-layer bandaging or with your compression garments
Easy Care Instructions

Wash them in your washing machine with a normal load of laundry and then machine dry (do not use bleach or fabric softeners)
Compression Garments: Easier Than Bandaging
Depending on your abilities and the extent of your lymphedema, your lymphedema specialist may recommend compression garments instead of bandaging. These garments may also be used after short stretch bandaging has been used for some time, to ensure your progress gains are maintained. It's important to have a lymphedema specialist determine the best type of compression for you.
An Alternative for Daytime Lymphedema Management
ReadyWrap offers another option for lymphedema management that's easier to put on than elastic daywear. The variable compression garment should still be fit by a medical professional.
Benefits of ReadyWrap
Variety of garments designed to fit your lymphedema and edema needs
Simple to put on using the color-coded strapping system
Easy to adjust based on daily fluctuations
Overlap eliminates gapping on the toe, foot, calf, knee, and thigh garments
Overlap also eliminates gapping on the gauntlet and arm garments
Extender strap available
Choose between beige or black garment
An Easier Solution for Nighttime Lymphedema Management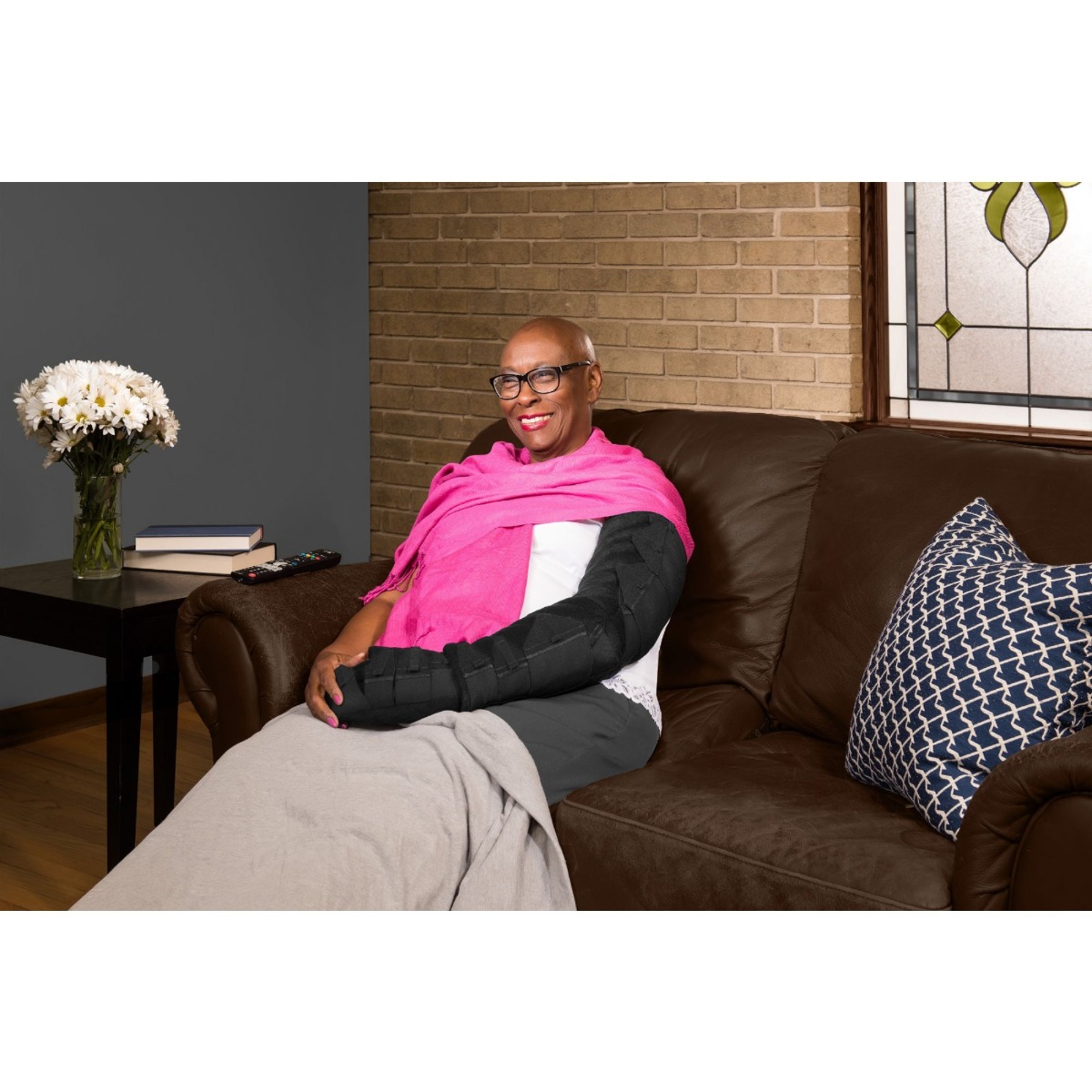 Can you wear daytime compression garments while sleeping at night?
You should not wear daytime compression garments at night. Daytime compression garments are designed to apply the proper level of compression during the day when you are more active and walking around. At night, you need less compression and stiffness to help reduce swelling. Night garments are designed to apply the correct amount of pressure and are often more comfortable than short stretch bandaging (plus you don't run the risk of bandages unraveling).
What is the difference between ready-made and custom compression garments?
There are both ready-made and custom nighttime compression garments. While the custom garments can be tailored to your unique needs, they are also more expensive. They are often best for patients who cannot be accommodated by ready-made size options. Ready-made (off-the-shelf) options, like TributeWrap, offer the compression you need at a lower price. Your lymphedema therapist can help you decide on the right option.
What does the research say about nighttime compression garments?
One study on lymphedema management at night looked at patients from five different countries to determine the benefits of nighttime compression.
The study found that when nighttime compression was NOT used, 89% of patients had an increase in swelling, while all patients reported benefits from using nighttime compression.1
Benefits of TributeWrap
If you're looking for a nighttime compression garment, check out the TributeWrap.
Designed for use during the evening and nighttime, including while resting or sleeping
Chevron channeling helps move lymph fluid to reduce swelling
Foam padding breaks up and softens fibrotic tissue
CoolCore technology wicks away sweat and keeps you cool
Adjustable straps allow you to accommodate daily fluctuations in swelling
Talk to your lymphedema specialist to see if SwellSpots, ReadyWrap, or TributeWrap can make lymphedema management easier for you.
And find the rest of the lymphedema supplies you need from Performance Health!
References

Medical Disclaimer: The information provided on this site, including text, graphics, images and other material, are for informational purposes only and are not intended to substitute for professional medical advice, diagnosis or treatment. Always seek the advice of your physician or other healthcare professional with any questions or concerns you may have regarding your condition.