TheraBand High Resistance Bands are designed for more advanced rehabilitation and recovery. The higher resistance levels make these bands a great addition to your clinic's existing strength training products. Find out why these high resistance bands are a must-have for your clinic!
The Top 5 Benefits to Using TheraBand High Resistance Bands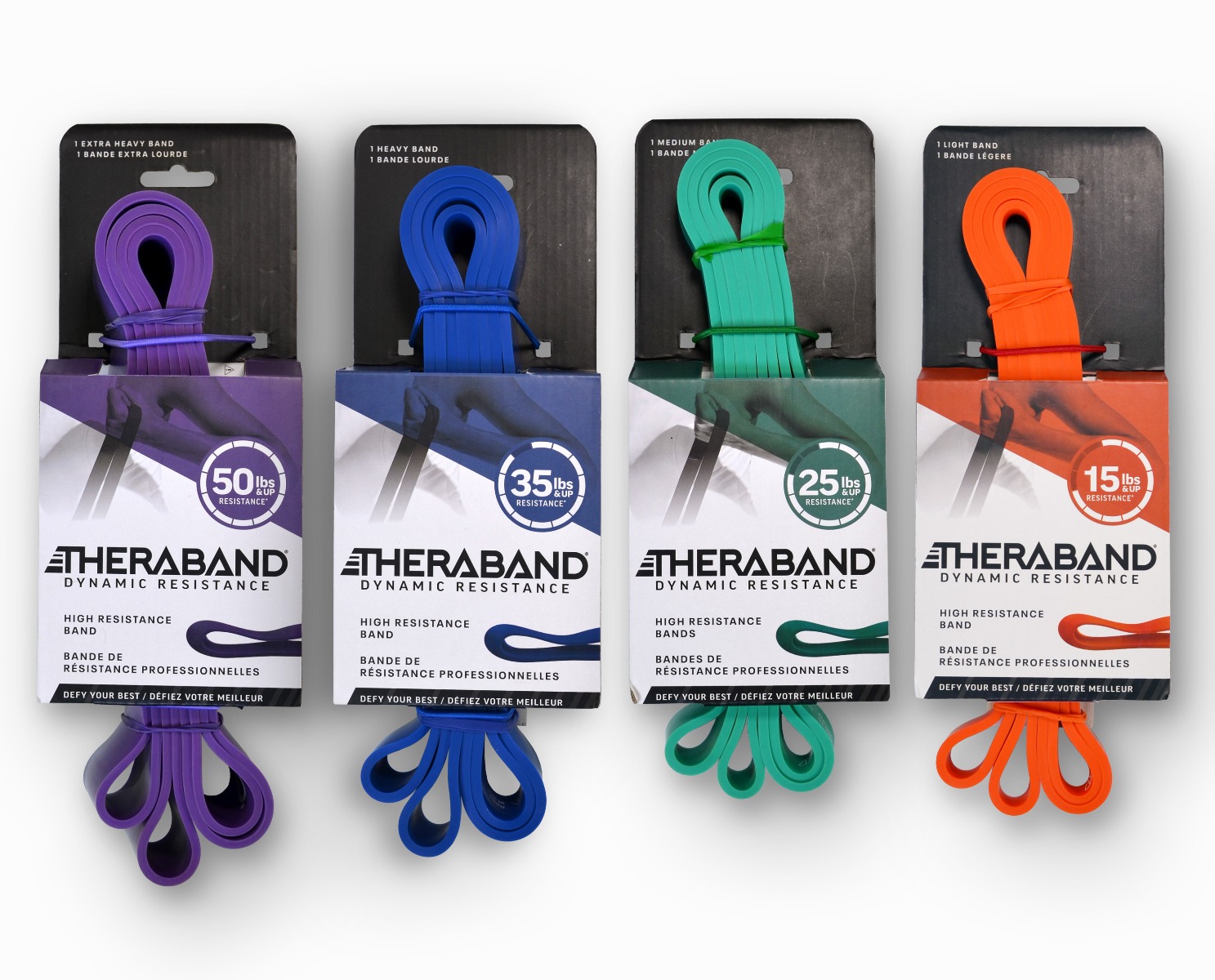 1. Higher Levels of Resistance
Typical elastic resistance bands only offer 2-14 pounds of resistance. While these resistance bands are useful with some patient populations, other patients need more of a challenge. TheraBand High Resistance Bands offer new levels of resistance from TheraBand, a brand you trust. Four levels of elastic resistance provide new levels from 15-50 pounds. Learn more about the new resistance levels.
2. Easy for Patients to Use
TheraBand High Resistance Bands are patient-friendly. They have the resistance printed directly on the band. Each band also has a visual resistance indicator that helps illustrate the band's elongation to improve patient technique. Find out more about the resistance indicator.
The bands allow you to use elastic resistance with a greater variety of patients, using TheraBand Resistance Bands with some patients and TheraBand High Resistance Bands with others.
3. Portable for Use Anywhere
Looking for a portable, cost-effective option for upper and lower body strengthening? You've found it. Unlike big exercise machines, TheraBand High Resistance Bands can be used anywhere. Use the band in your clinic while teaching your patients therapy exercises. Then your patients can use the same band while performing their physical therapy exercises at home.
4. Perform a Variety of Exercises
For prehabilitation and rehabilitation exercises, TheraBand High Resistance Bands are the perfect fit! The bands can be used for a whole body workout to strengthen the upper and lower body. You can use the bands to add tension to common exercises or assist with pull-ups and dips. Check out these TheraBand High Resistance Band exercises to get started!
5. Durable, Long-Lasting Bands
These bands are made of durable, natural rubber latex. They can be stretched repeatedly, without losing their elasticity, day after day. Plus, the bands are easy to clean with soap and water.

What are you waiting for? Start using TheraBand High Resistance Bands in your clinic!
Medical Disclaimer: The information provided on this site, including text, graphics, images and other material, are for informational purposes only and are not intended to substitute for professional medical advice, diagnosis or treatment. Always seek the advice of your physician or other healthcare professional with any questions or concerns you may have regarding your condition.