Homework time is something most kids and parents dread. If your child has a physical, mental, or learning disability it can become even more challenging and hands-on for you. Creating a study space with the right aids can help your child focus on learning and make homework time less stressful and more productive for both of you.
How to Find the Right Study Space
Get the Right School Supplies
    School Supplies to Keep at Home
    Writing Aids
    Reading Aids
    Wheelchair Aids
Set a Homework Schedule
Keep Everything Organized
How Your Child Can Stay Focused While Doing Homework
How Much Should You Help with Homework
Why Homework Matters
How to Find the Right Study Space
Choosing the best homework space will depend on the environment that works best for your child. It's helpful to choose one defined space. If they need to sit somewhere with no distracting noises, a study or home office might be the best choice. If your child prefers background noise, maybe the kitchen table is a better location. The dining room is a great choice because it's removed from the action, but close enough for you to pop in and check on them.
The ideal homework spot should also accommodate any seating or positioning needs. Sitting on a stability disc can help children that crave movement satisfy that need while working. Your child might prefer reading the assigned chapters on a bean bag instead of sitting at the table. If your child needs extra support while seated, this chair with a harness can help them sit upright.
The proper ergonomics can keep your child comfortable while studying. The table or desk should be waist height and your child's elbows should rest on it bent at about 90 degrees. The ideal chair should have a backrest and armrests. If you need extra height, you can add a towel or pillow to the seat. Or use a height adjustable support chair to help accommodate any positioning needs. Place a box beneath the seat if needed to prevent dangling feet. If your child uses a wheelchair, a desk could work but a wheelchair tray may be the best solution.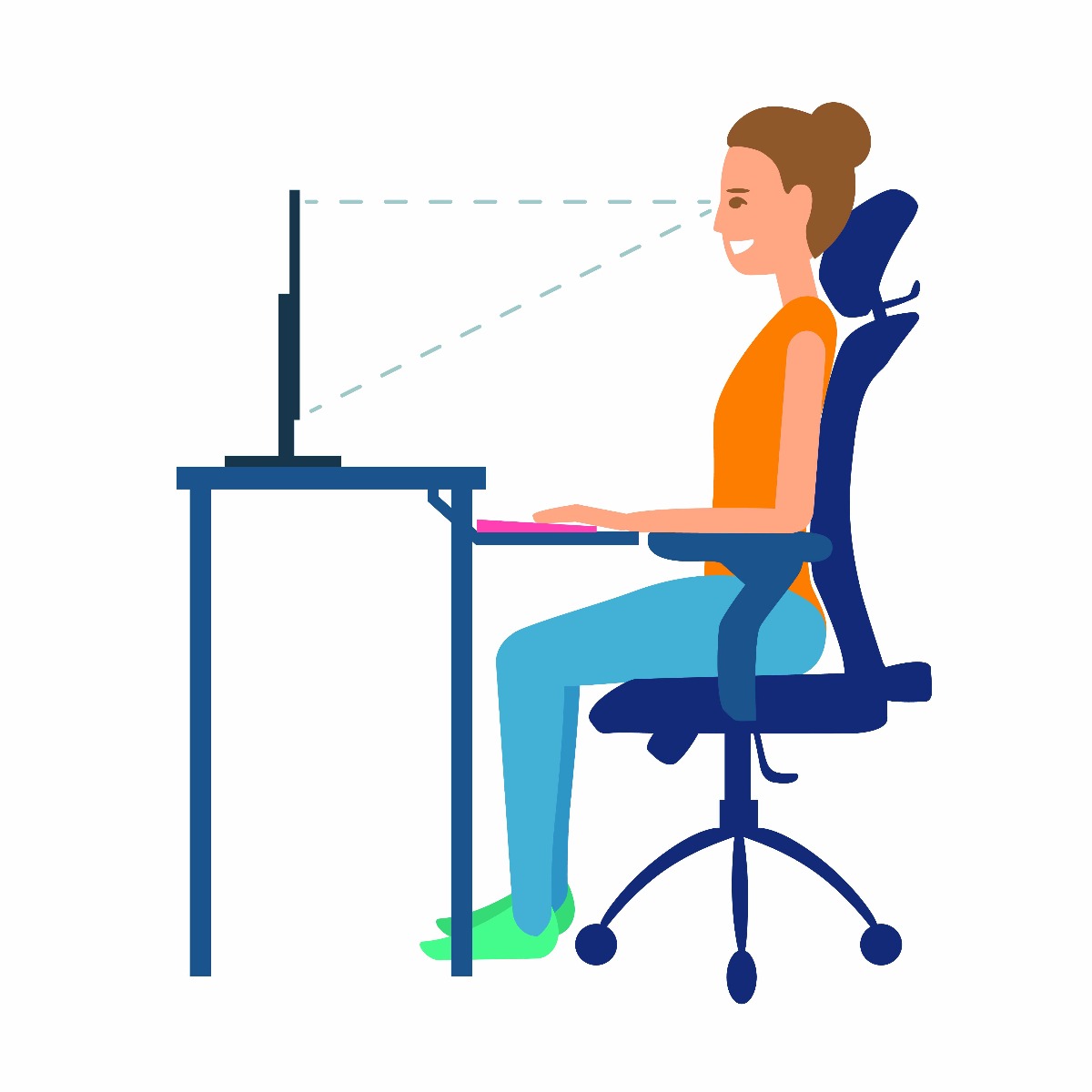 Get the Right School Supplies
Prepare and organize the space beforehand. It makes it easier for your child to focus on the work and not the search for a glue stick. It's a good idea to keep basic school supplies on hand to avoid a late night errand for markers for a poster that's due tomorrow. You can look over the supply list your child gets at the beginning of the year for more ideas, but here are some suggestions.
School Supplies to Keep at Home
Pencils (No. 2 or mechanical)
Pencil sharpener (if needed)
Large erasers
Pens (blue or black ink)
Computer paper
Loose leaf lined paper
Notebooks
White-out
Scissors/Adaptive Scissors
Scotch tape
Glue stick
Elmer's glue

Stapler and staples
Ruler
Calculator
Notecards
Crayons
Washable markers
Colored pencils
Poster board
Rubber bands
Construction paper
Old magazines (for collages)
There are also a variety of adaptive aids that can make reading and writing easier for children with disabilities. See if any of these would help your child while completing their homework.
Writing Aids
Does your child have difficulty gripping a pencil when writing? If they just hold it incorrectly, a grip can help guide their fingers into the right position. If more support is needed, a universal holder can be strapped around the hand to reduce the effort needed. A weighted grip can also be useful if your child has hand tremors or needs the sensory feedback when writing.
If writing by hand isn't possible or the work needs to be typed, consider buying a kid-sized mouse and keyboard. The small size makes it easier for little hands to use when typing and many are simplified with fewer, bigger keys. Consider a typing/keyboard aid or a mouthstick if your child has limited hand function, and use a docking station to keep it easily accessible near the keyboard.
While some assignments need to be written on paper, other tasks like practice math problems don't. Use a dry erase board, chalkboard, or magnetic letters to make tasks like practicing spelling words more fun. Many children find these forms comforting because any mistakes can easily be erased. It's also more entertaining than writing them out on regular paper.
Reading Aids
Does your child struggle with reading? Creating a reading guide, by cutting a "window" out of a piece of paper or cardboard, makes it easier to concentrate on one line of text at a time. They can track the line and improve their reading fluency with this tool. If physically holding a book is challenging, try a book holder. It can hold anything from novels to textbooks. An adjustable folding table is another helpful tool, especially for wheelchair users or bedside use. The angle adjusts as needed for reading or writing.
Wheelchair Aids
Using a wheelchair means your child might need more tools when studying. An under armrest organizer ensures all of their school supplies are readily available. Just attach it to the wheelchair and fill with extra pencils, paper, and more. Another handy tool is a tablet and smartphone holder, which attaches to the chair and can be positioned using the flexible neck. Use with an e-reader or tablet for easy viewing.
Set a Homework Schedule
Once you've got the room and the supplies, it's time to create a daily plan. The stress of spending the entire day at school might mean it's best to start homework after a snack and some decompression. Just like you enjoy relaxing after work, starting homework right away isn't fun and can lead to meltdowns.
Some children with special needs do best with a set block of time to complete homework. Others have after school activities and sports that might also alter your schedule. You should find what works best for your family.
Use a large calendar to schedule homework time. It can also be used to break up projects and keep track of due dates for papers and other important things. You can even highlight the assignments to signify if the work was completed and turned in on time, incomplete, or late. It's an easy way to track improvements over time.
A timer is another helpful addition to a study room. Know your child's limits and allow breaks before frustrations spill over. Maybe have them do math for twenty minutes and then play with the dog for five minutes or take a walk. A Time Timer is a visual way to countdown and makes it easier for those who can't tell time.
Switching subjects is another way to continue working but take a break from a challenging task. If your child is getting discouraged while writing a paper, move onto one of their strengths like math. Successful completion will help increase their confidence and get them ready to tackle, or at least try, writing again.
Keep Everything Organized
If everything is in its place, it's easier to find things when you need them. This means school supplies should be put away after they're used. This also cuts down on clutter and distractions. You can use desk drawers or bins to hold supplies.
An agenda can help your child keep track of what they need to do for homework. If your child can't write it down, a paraprofessional or teacher can help.
Colored folders and notebooks are also a good way to keep everything organized. Your child can help decide that the math notebook and folder are green and the literature and language arts folder should be blue. Some children like to have a separate folder for homework to remind them what to do and to turn in. Others like to keep them organized by subject. Colored folders help completed homework reach the teacher and not sit in your child's backpack.
If your child has trouble remembering to bring home their homework, lunchbox, or other items, try taking pictures of these things and printing them on a laminated sheet. Keep the visual prompt in their backpack and let them refer to it before leaving school and before leaving your house. If your child needs more help, a classmate could help them go over it when packing up for the day.
How Your Child Can Stay Focused While Doing Homework
Staying focused can be difficult for all children. Their siblings' conversations, the view outside the window, and drawing in the margins are so much more exciting. For children with learning disabilities, ADD/ADHD, or autism it can be even more difficult to focus on homework. Follow these tips to help your child stay focused.
Enforce a no TV, no phone rule during homework time to help prevent distractions. For some children, any noise is a distraction, and noise cancelling headphones might help. Others crave background noise and might do better while listening to music.
Fidget aids can help your child focus without distracting others around them. Therapy putty or animal squeezers are quiet ways to occupy hands instead of tapping a pencil or clicking a pen. This is helpful when you have multiple siblings sharing one study space. For an engaging sensory experience, use a TheraPearl Pal as a fidget aid. You can even microwave or freeze them (refrigerating might be more useful for fidgeting). Older children might prefer using a hand exerciser.
If your child has trouble sitting still, a resistance band can help. Tie the band around the around the front chair legs. This allows your child to bounce or kick their feet on the band instead of kicking under the table. During breaks, let them walk around, do jumping jacks, or other exercises that get them up and moving.
Weighted critters also help some children focus. These were designed for children with ADHD or SID and can be placed on the lap or shoulders as a reminder to sit and focus on schoolwork. Teens can use the weighted animals or a plain weighted lap pad while working.
How Much Should You Help with Homework
Every child with special needs is different. You know how much aid your child requires. Some parents need to stay in the room while others can check in every once in a while and look over the work at the end. This depends on lots of factors, including your child's age and disability. Ask your child's teacher for help if you need extra advice.
One basic tip is to "chunk" your child's work. This creates smaller, less overwhelming sections. For example, box out smaller areas on a worksheet to complete at a time or cut it in half and let your child take a break in between.
The chunking technique can even work for papers! Divide it up so your child can focus on one paragraph at a time, until the entire paper is written. Doing a little at a time also applies for tests. Make sure your child studies for upcoming tests a little everyday. This is a lot easier and less stressful than cramming the night before.
Why Homework Matters
Now that you've read this guide, you might think homework sounds like a lot of work. You have other activities, therapies, doctor visits, and no desire to battle over a worksheet. Even if you can remove it based on your child's IEP, there are still benefits to homework.
The Benefits of Homework
It lets you see what your child is being taught
You can see if your child is meeting the academic goals set at the IEP meeting
It lets you compare what your child does well and struggles with at home and at school
You learn how subjects are being taught today (things have probably changed since you were in school)
It is a chance to practice and reinforce what's being taught
You can collaborate with the teacher to find better solutions. This might include fewer multiple choice options, less writing and more verbal practice, worksheets with a different organization, and more
Complaining about homework is a peer typical thing to experience. Let your child participate
While homework may need to be adapted, it's worthwhile. Create the perfect homework space for your child and let them reap the benefits!
Medical Disclaimer: The information provided on this site, including text, graphics, images and other material, are for informational purposes only and are not intended to substitute for professional medical advice, diagnosis or treatment. Always seek the advice of your physician or other healthcare professional with any questions or concerns you may have regarding your condition.