Cooler nights and colorful leaves, hayrides and apple picking, and of course autumn wouldn't be complete without Halloween! As your children carve pumpkins and debate what's the best candy to get while trick-or-treating, you're busy decorating and getting everything ready for the big day. But are you prepared to keep your children safe?
Halloween is fun, but it's not without risks. Learn how to keep your child safe from accidental cuts while pumpkin carving, falls caused by long costumes, and everything in between with this guide to a safe Halloween!
Pumpkin Carving Safety
Halloween Costume Safety
Trick or Treating Safety
Candy Safety
Halloween Safety Tips for Homeowners
Halloween Safety Recap
Pumpkin Carving Safety
Pumpkin carving is lots of fun! From traditional jack-o-lantern faces to favorite cartoon characters, decorating pumpkins give your child a chance to show off their creativity.
But 41% of Halloween-related injuries in 2017 were received while pumpkin carving.1 Keep your child's fingers safe with these tips!
9 Pumpkin Carving Safety Tips
Don't let kids carve! Most Halloween accidents happen to children between the ages of 10-14, so don't let your child do the actual carving until they are older.2 Instead, let your child draw their design on the pumpkin and scoop out the seeds and guts. If you do decide to let your children carve, protect their hands and reduce their risk of injury with cut resistant gloves.
Carve in a clean, well-lit area with a clean, dry pumpkin and dry hands.
Use the knives found in pumpkin carving kits, not your kitchen. The knives work better and are safer according to Consumer Reports, because they are smaller and less sharp giving you more control when carving.2 If you don't have a pumpkin carving kit – try a safe carving utensil with angled blade and closed handle.
Carve your pumpkin before removing the top. This reduces your chance of cutting your stabilizing hand because you can't stick it inside the pumpkin. Plus, it keeps the pumpkin from getting slippery.
Cut the bottom of your pumpkin off instead of the top. This way you can lower your pumpkin over the candle instead of fumbling to place the lit candle inside.
Speaking of candles - use an battery-operated candle, LED light, flashlight, or glow stick instead. It's safer for your family and your pets.
Always cut down and away from your hand that's supporting the pumpkin.
Make sure you supervise your teens if they are doing the carving.
Be prepared for knife injuries. Know how to treat small cuts at home and when to head to the ER.

Every Halloween John Tueting, M.D, a surgeon with Castle Orthopaedics in Aurora, IL sees 3-5 serious hand injuries from carving pumpkins.3
Jeffrey Wint, M.D., a surgeon from The Hand Center of Western Massachusetts in Springfield, MA also sees 4-5 serious carving injuries a year.4
And so does Stuart J. Elkowitz, M.D., assistant clinical professor at NYU Langone Medical Center in the division of hand surgery.5
Hand surgeons across the U.S. see serious carving injuries every year. Follow the above tips to keep your hands safe.
First Aid for Knife Wounds
Being prepared for pumpkin carving means you should know what to do if someone accidentally cuts themselves. Give first aid by following these steps!
Apply firm pressure with gauze or a clean towel to stop the bleeding.
If pressure has not stopped the bleeding after fifteen minutes, the wound is deep or the full width of the finger, or the finger loses feeling or can't move, head to the emergency room or an urgent care clinic.
After the bleeding has stopped, wash the wound with soap and water. You can use rubbing alcohol to ensure a more thorough cleaning.
Apply Neosporin ointment to help prevent infection.
Cover your cut with a Band-Aid bandage.
10 No-Carve Pumpkin Decorating Ideas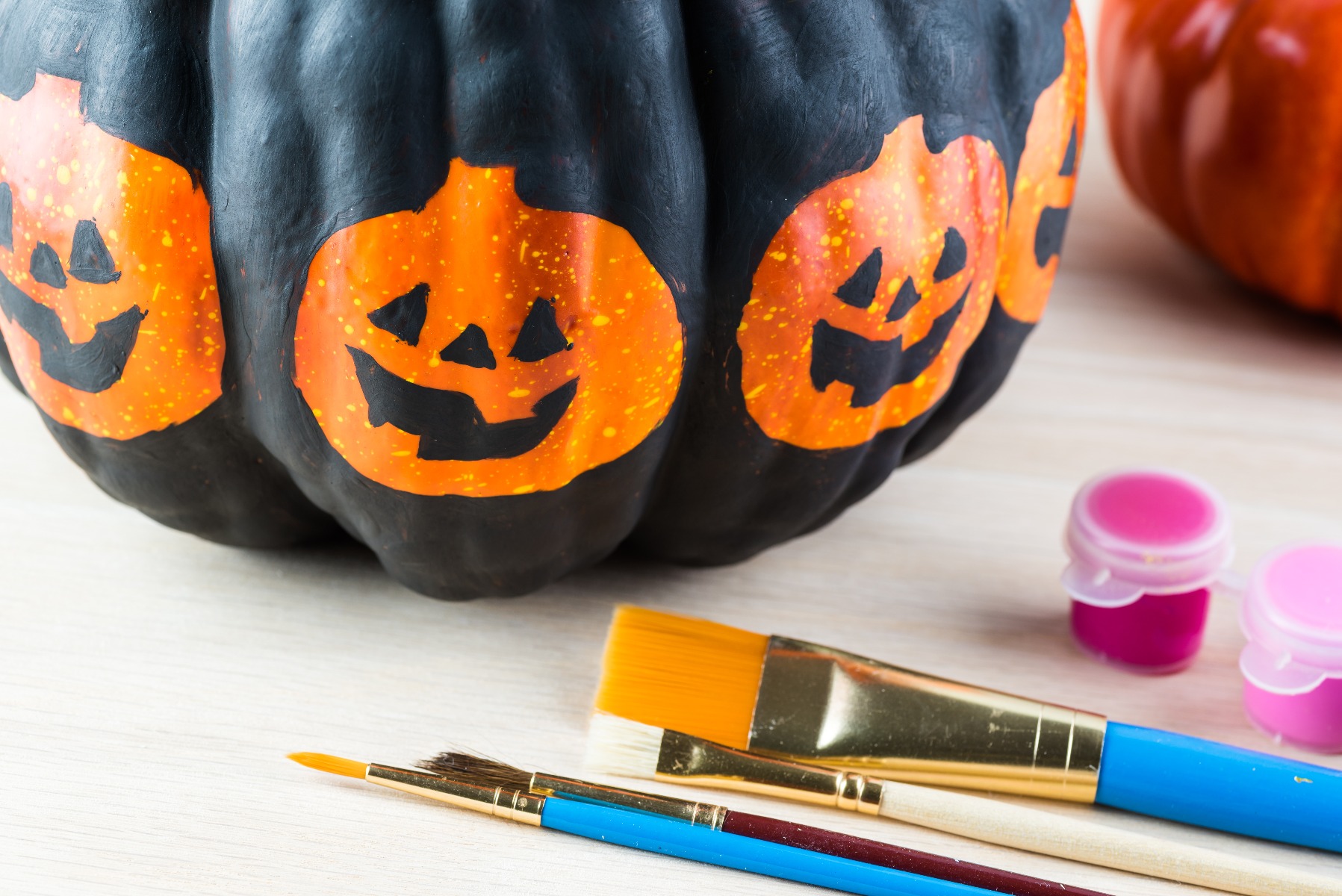 Carving isn't your only option for pumpkin decorating. If you want to avoid carving with little kids or are looking for something new, try these decorating options.
Use craft glue and gems to create a shiny polka dot pumpkin.
Grab metallic or patterned tape and use it to make fun designs on your pumpkin.
Use plain tape to mark off a pattern and then paint over it. Remove the tape once the paint dries to reveal your unique design. Or splatter paint your pumpkin.
Use markers to draw faces or scenes on your pumpkin.
Have your child remove the paper on crayons and glue them to the top of the pumpkin in a colorful pattern. Then an adult can melt the crayons using a hairdryer for a melted crayon pumpkin.
Use paper or foam to cut out decorations to stick to your pumpkin.
Cover your pumpkin in stickers!
Glue pom-poms on your pumpkin for another creative look.
Use multiple pumpkins to create a giant caterpillar, then add a face with paint.
Wrap your pumpkin in white crepe paper and glue on googly-eyes to create a mummy!
Get creative! Use paper, foam, markers, paint, cupcake lines, gems, glitter, tape, streamers, googly eyes, tinsel, cheap sunglasses, and so much more to transform your pumpkin into a superhero, a lion, or even a pineapple! If you're looking for more ideas, explore Pinterest or check out these 62 no carve decorating ideas from Good Housekeeping.
Halloween Costume Safety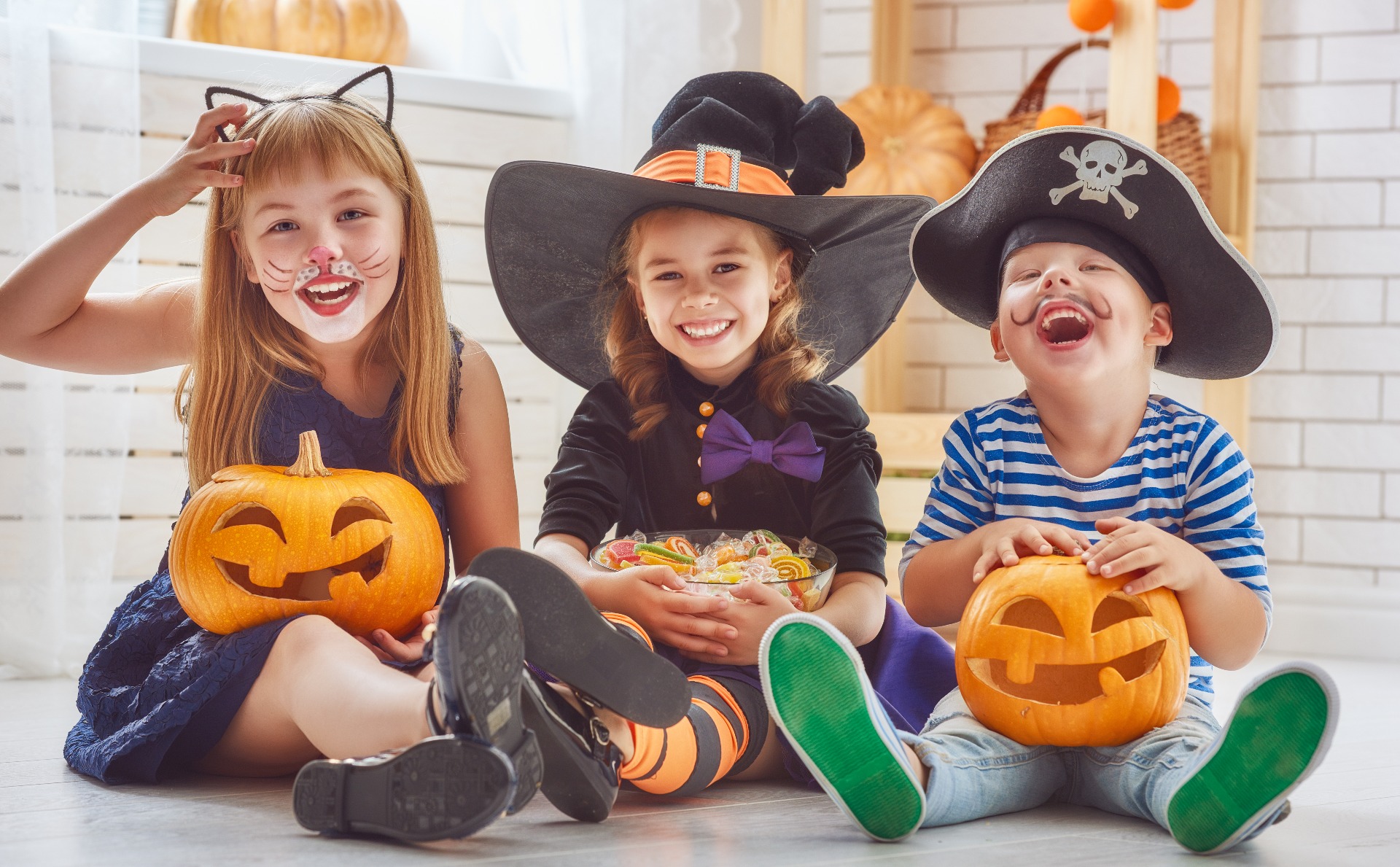 Have your children finally made a decision on who they want to be for Halloween? After your child picks their costume, make sure it's a safe choice.
32% of Halloween-related injuries were due to falls, including those caused by costumes.1 Choosing the right clothing can help keep your children safe from small falls and big cars.
Costume Caution: Wear if You Dare
Masks: Avoid masks which can make it hard for your child to see. Either cut the eye holes to make them larger or use face paint instead.
Long costumes: Check the length of your child's costume and cut and hem the bottom if it's too long to reduce your child's chance of tripping.
Heels: Avoid heels and oversized shoes to prevent trips and falls.
Sharp accessories: Make sure props (like wands and swords) are short and flexible. This helps keep your child safe in case they tumble and fall.
Large hats: Make sure your child's costume fits properly, hats should fit correctly and not slide over the eyes.
Decorative contact lenses: While decorative contacts may look cool, they also put your child at risk for pain, irritation, infections, and even vision loss. Don't use lenses from costume stores or online sellers. The only place you should consider purchasing them from is a licensed eye doctor, after you receive a prescription.
Costume Safety Tips
Children are twice as likely to be hit by a car and killed on Halloween than any other day of the year.6 Use reflective tape and glow sticks on your child's bag and costumes to make them more visible to cars when it's dark. And be sure to give them flashlights to carry.
Only use non-toxic face paint and test it on a small patch of skin first.
Make sure your child's costumes, wigs, and other accessories are all fire resistant by purchasing costumes labeled "flame-retardant".
Check the weather before heading out and dress your child accordingly, so they aren't too cold or too wet to have fun.
Stick a name tag with your phone number on it on your child's costume in case you get separated.
Remove face paint and makeup before bed to avoid irritation.
Trick or Treating Safety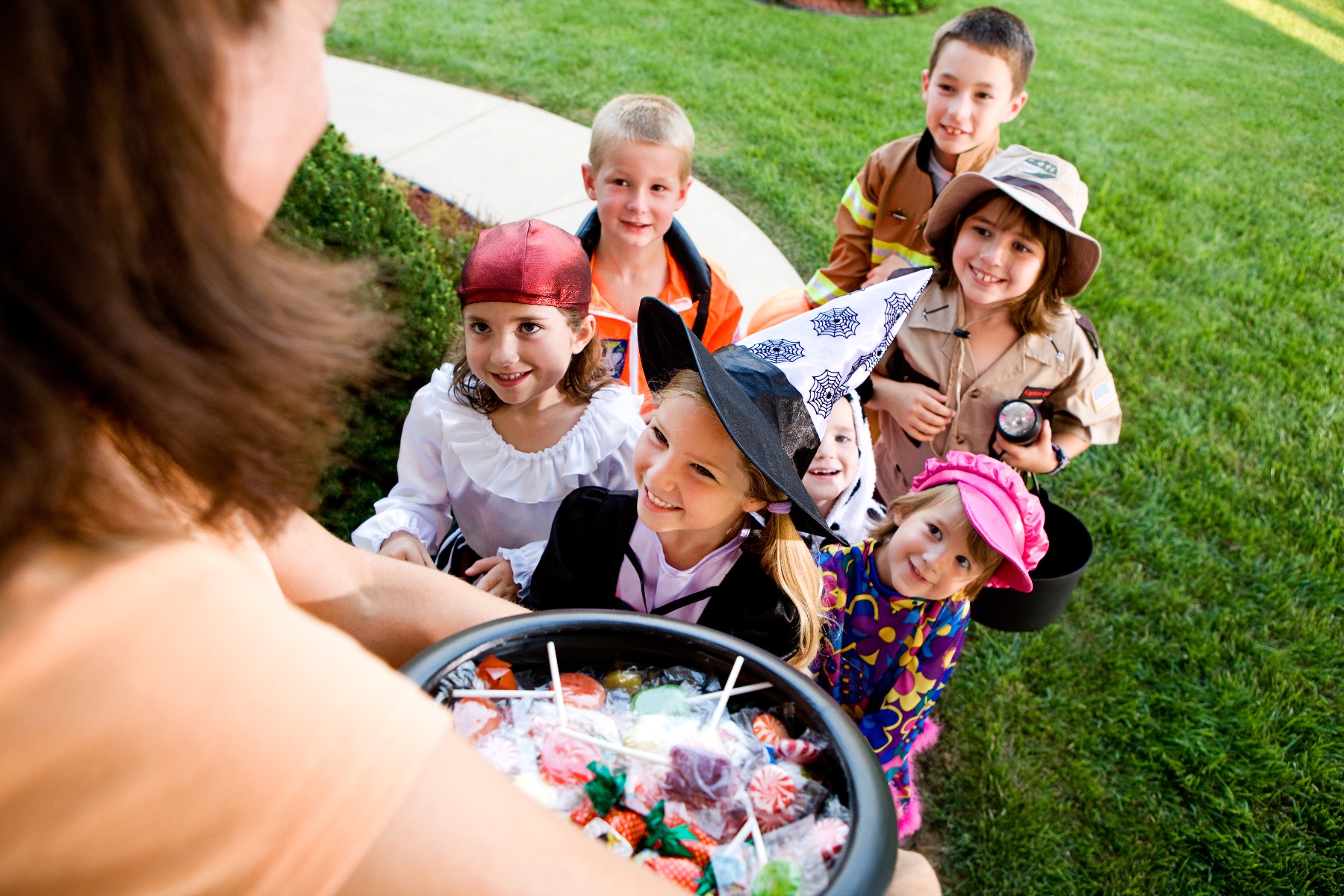 Do you remember rushing home from school and racing to meet your friends for trick or treating? Whether you're walking with your children or letting them venture out on their own, keep your children safe while they enjoy the same trick or treating fun.
Safety Tips for Trick or Treating with Your Kids
Make sure a parent or responsible adult accompanies all young children while trick or treating.
Ensure your child knows their home phone number or your cell phone number in case you are separated. And make sure your child knows how to dial 911 in case of emergency.
Tell your child to walk from house to house on sidewalks with clearly lit streets.
Examine your child's candy before they eat it. Feed them a good meal before heading out to keep them from eating candy before you get home.
Make sure your child avoids walking near lit candles, candle-lit pumpkins, and luminaries.
Work your way up one side of the street and then down the other. Don't cross back and forth across the street.
What is the right age for your child to trick or treat alone?
Letting your child go trick or treating without you is a big decision. While it's safest to go with your child, even if you hang back on the sidewalk, many pre-teens and teens want to head out on their own.
Many parents begin letting their children venture out alone with their friends at 10-13 years old, but there are many factors to consider before you make a final decision.
Deciding if Your Child is Ready to Trick or Treat Without an Adult
What kind of neighborhood do you live in? Do you know your neighbors? Will there be lots of other families out? Will it be primarily people you know or will there be strangers?
Do you live near a busy intersection? Does your neighborhood have sidewalks and well-lit streets?
Does your child have a way to contact you in case of emergency, like a cell phone? Can you track them using the phone's GPS? Do they know how to call 911?
Does your child know their way around well enough to not get lost?
Is your child mature enough? Do they follow the rules and keep their commitments? Have they been home alone before or on short outings, like heading to the mall with friends? Will they behave appropriately without your guidance?
Who is your child planning to trick or treat with? Is it a solid group of friends that you trust or a new group you don't know well?
Does your child know what to do if they get lost? Or separated from the group? Or invited into a house or car? Or needs to use the bathroom?
Trick or Treating Safety for Older Children and Teens
If you think your child is ready to trick or treat independently, make sure to set some ground rules first.
Set a route before your child heads out. Pick an area that is safe, well-lit, highly-populated, familiar, and self-contained, with sidewalks.
Make sure they travel in a large group and have a "buddy" within that group that they stay with at all times
Have your child establish a meeting place in case someone gets separated from the group
Check in periodically and set a time that your child needs to be home
Make sure your child has a flashlight and a charged cell phone
Emphasize pedestrian safety. Make sure your child knows to stay on the sidewalk, use crosswalks when crossing the street, never cross between parked cars, and doesn't assume the right of way. Have your child make eye contact with the driver and know that just because one car stops, that doesn't mean others will.
Remind your child not to take rides from anyone without your permission and never to enter the home or car of someone they don't know, even if they are with a friend.
Go over scenarios and solutions, like what to do if they are approached by someone in a car or a group of older kids, what to do if someone wants to head home early, or what to do in case of an emergency.
Alternatives to Trick or Treating
Halloween night events at local community centers
Trick-or-treat nights at local shopping centers or downtown businesses
Trunk-or-treat trick or treating in a community parking lot
Halloween events at your church or with Boy Scouts, Girl Scouts, or other youth groups
Check and see if your local Fire or Police Departments hold Halloween events
Plan a Halloween party for your child and their friends at home
Head to a haunted amusement park or haunted house
Throw a Halloween block party with your neighbors
Candy Safety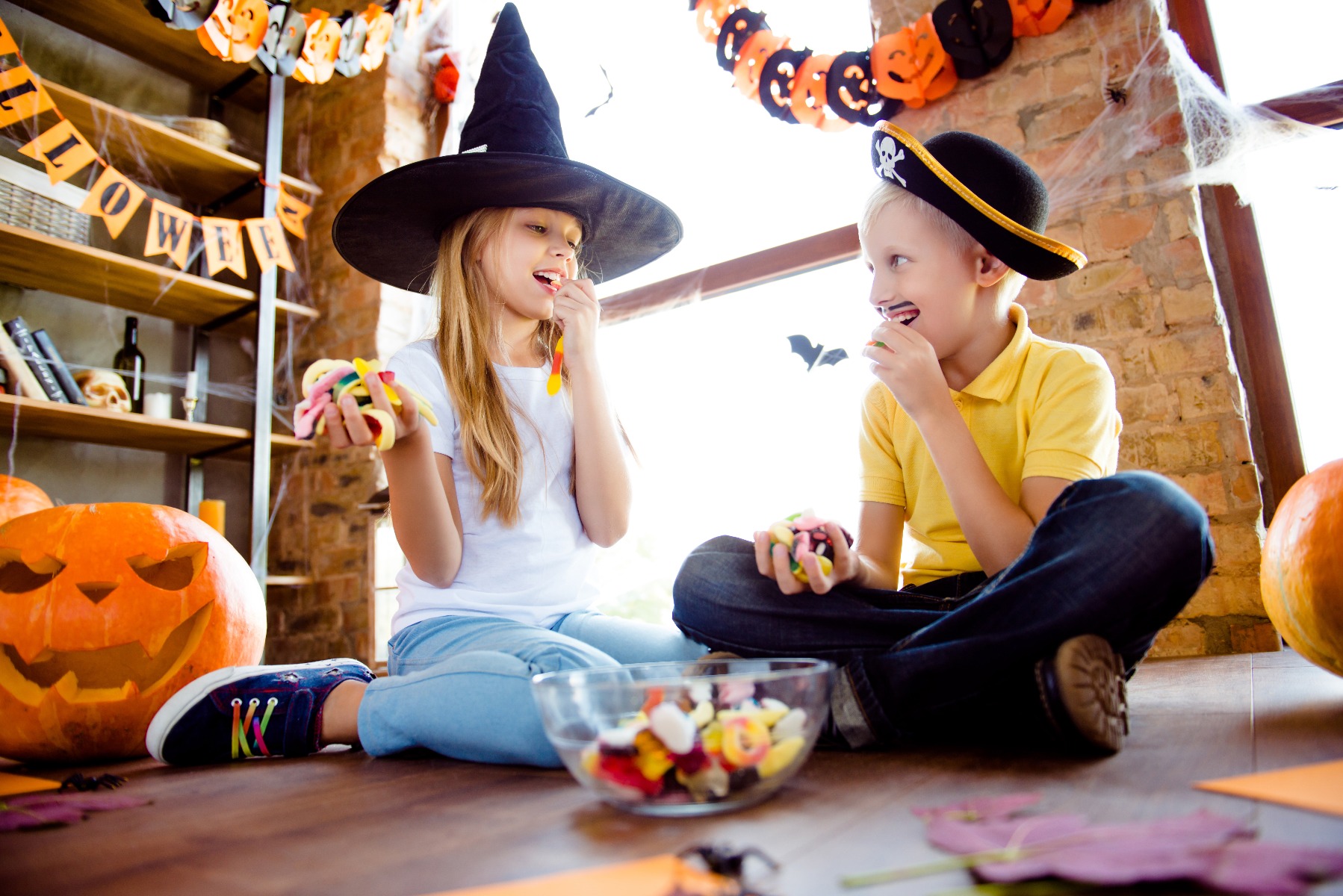 For many kids, Halloween is all about the candy. Before you let your child make trades and gobble down an amount of candy that's only acceptable on Halloween, be sure to check it first. And keep the sweet treats away from your pets to keep them from getting sick.
How to Check Halloween Candy
Have your children wait to eat anything until you're home and can check it first
Inspect the candy looking for any that has an unusual appearance, pinholes or tears in the wrapper, isn't in its original wrapper, is from a manufacturer you haven't heard of, looks odd, or is unwrapped
Throw out any candy that doesn't pass your inspection. Also, toss any homemade goods your child received unless it's from someone you know personally.
If you have a young child, also remove any candy that can be a choking hazard (hard candies, gum, peanuts, small toys)
Halloween and Food Allergies
1 in 13 children in the U.S. has a food allergy.7 A night dedicated to collecting candy isn't as fun when you can't eat any. Plenty of children with food allergies still head out for trick or treating and enjoy dressing up and hanging with friends.
You can make trick or treating more enjoyable for children with food allergies by being a part of the Teal Pumpkin Project®. It's easy to take part. Paint a pumpkin teal and put it outside your house or print a sign here. Then make sure you have small toys/non-food treats to hand out in addition to candy. For example, stickers, spider rings, glow sticks, bubbles, bouncy balls, coins, playing cards, beaded necklaces, and other toys are all fun alternatives.
What if your child is the one with food allergies? Make sure they know not to eat any candy without your permission. Remember to read labels, regular and fun-size candy often have different ingredients. Avoid candy without labels and carry an epi-pen if one is prescribed. You can still celebrate Halloween:
Enlist your neighbors to be a part of the Teal Pumpkin Project so your child can collect toys instead.
Bring along candy your child can snack on while out trick or treating.
Buy candy without allergens and allow your child to swap out the other stuff when they get home or allow them to swap for safe candy from a sibling.
Make it a game, offer to buy the unwanted candy and pay your child five cents for each piece.
Or have your child collect candy to give to the "Halloween Fairy" in exchange for a cool toy.
Host a Halloween party at your house for your child and their friends with foods and treats your child can enjoy.
Pet Safety
Make sure all of your child's treats end up stashed somewhere your pets can't reach. Chocolate is dangerous and can even be lethal for cats and dogs. Sugar-free candies that contain xylitol can also cause serious problems for your pets. Make sure any candy you are handing out to trick or treaters is also out of your pet's reach.
Halloween Safety Tips for Homeowners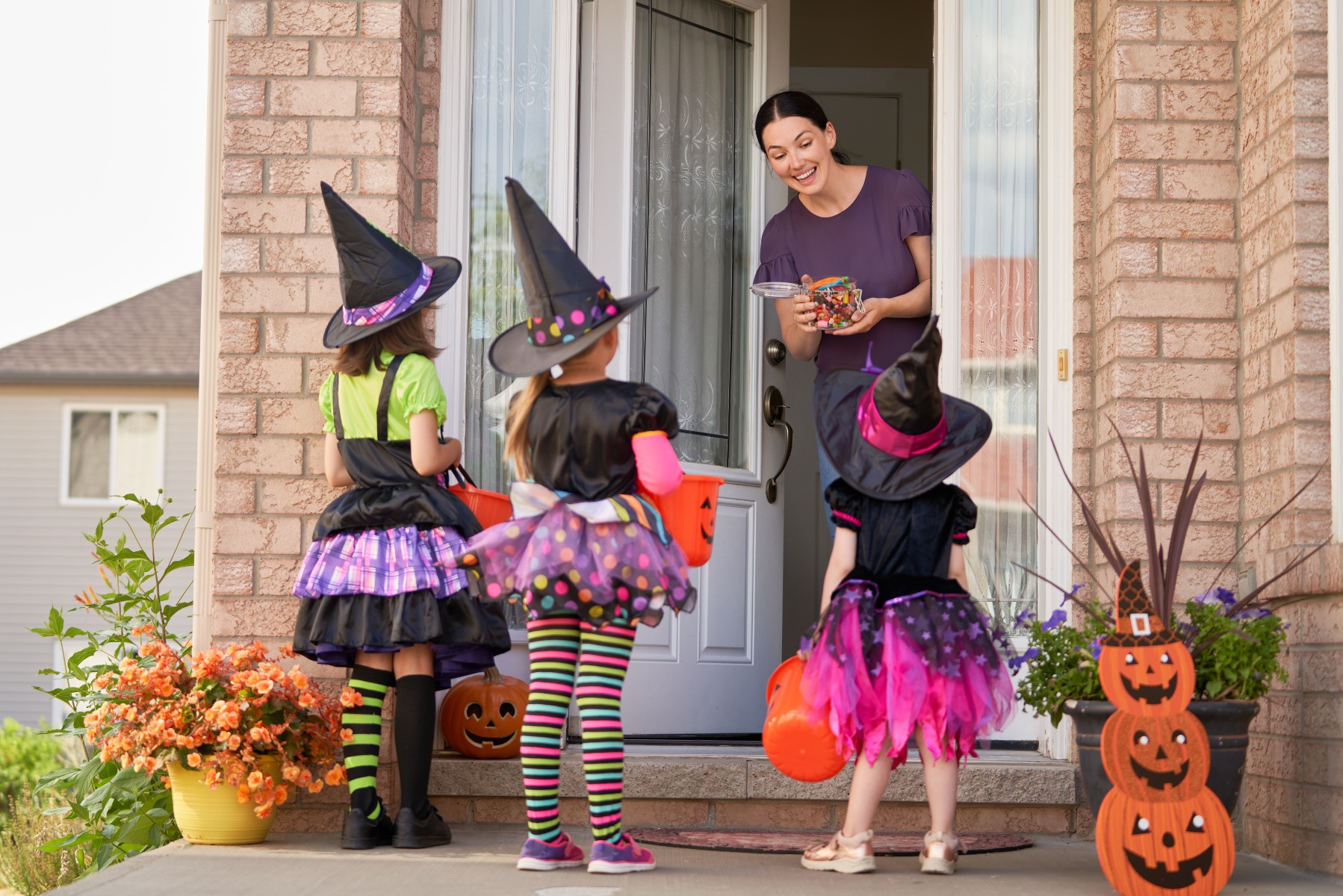 If you're staying home and handing out candy this year, make sure your home is safe and ready for trick or treaters. Simple choices can help make Halloween safe and fun for all kids.
Be a part of the Teal Pumpkin Project and hand out toys for children with food allergies in addition to candy.
Replace any burnt out bulbs outside your house so children can see where they are going.
Remove any bikes, toys, garden hoses, or other items on your porch or in your yard that could be a tripping hazard.
Use battery-operated candles instead candles in your pumpkins.
Sweep wet, slippery leaves from your driveway and porch and remove any snow from walking pathways if necessary.
Keep your pets restrained so they don't jump on any trick or treaters or escape from your house/yard and run away.
Be sure to watch out for children if you're backing out your car and drive slowly through your neighborhood.
Halloween Safety Recap
Don't let your children carve pumpkins. Have them draw the face or decorate it with other materials. Be careful when carving and have a first aid kit ready, just in case.
Make sure your child's costume isn't a tripping hazard and can easily be seen in the dark.
Go over safety rules before heading out to trick or treat or before letting your child head out alone with their friends (no candy from strangers, be aware of cars and careful crossing the street, check in regularly, etc.)
Check your child's Halloween candy before they eat it and keep it out of your pet's reach. Offer non-food options for children with allergies.
Make sure your home is safe and ready for trick or treaters.
October 31st is coming sooner than you think. By following these tips, your children will have a fun and safe Halloween!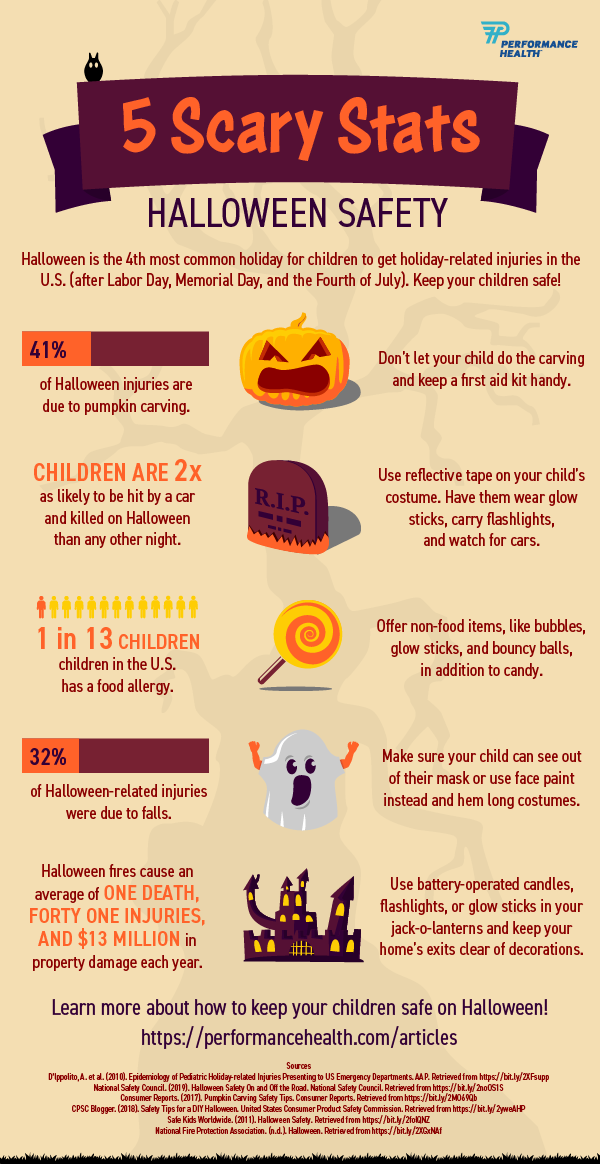 References
Medical Disclaimer: The information provided on this site, including text, graphics, images and other material, are for informational purposes only and are not intended to substitute for professional medical advice, diagnosis or treatment. Always seek the advice of your physician or other healthcare professional with any questions or concerns you may have regarding your condition.