If your hamstring hurts, it's time to treat it now. Waiting until the pain gets worse will only lengthen your recovery time. Try these tips and exercises so you can return to running without pain.
FAQ
Where is your hamstring?
The hamstring muscle group is actually made of three separate muscles, the semitendinosus, semimembranosus, and biceps femoris. The muscle group runs down the back of your thigh to bend your knees and move your hips. A hamstring strain or "pulled hamstring" is an injury to any of these muscles.
When should I see a doctor?
So now you know where it is and have determined that you have a hamstring injury. Is it severe enough to see a doctor? Muscle strains are graded, from one (mild strain) to three (complete tear). If your pain comes on suddenly and is sharp, if the area is bruised, or if you hear a pop when the injury occurs, it's time to get checked out by a physician. An aching, chronic injury can often be treated at home.
What causes a hamstring injury?
Muscle overload causes hamstring injuries, either your hamstring was stretched too far or suddenly overloaded. This commonly occurs during sprinting.
What causes a hamstring injury?
Sprinters and runners

Athletes who sprint (soccer, track, basketball, and field hockey players)

Dancers

Teens who are still growing
Hamstring Injury Treatment
Ice It
The first step of treating a pulled or strained hamstring is to apply ice. You could use an ice pack like the Therapearl Hot & Cold Therapy packs. Ice the area for up to 20 minutes to numb the pain. Another alternative is a CoolXChange wrap. The gel wrap is self-adhesive and can be worn for up to two hours. Cold therapy reduces the inflammation and swelling in your thigh and relieves pain.
Foam Rolling
Foam rolling before and after running puts pressure on your muscles to relieve tightness. Use the TheraBand Pro Foam Roller with an optional TheraBand Foam Roller Wrap to increase the massage pressure. Try this Hamstring Release exercise to work on both legs at the same time. It's a good choice if you're sensitive. For more directed pressure, use the Isolated Hamstring Release exercise rolling one leg at a time.
Compression and Running
You can continue to run with chronic and achy pain in your hamstring. Just stick to a slower pace and avoid sprints, intervals, and hills until you have healed. Instead take it easy with a brisk jog or light run. Wear a compression wrap on your thigh during or after a run. The epX Contoured Thigh Support was designed for hamstring strains. It will provide warmth and reduce pain while running.
Cardio Workout Alternatives
If it hurts too much to run or you're looking for additional cardiovascular activities, try one that will put less stress on your hamstrings. Bicycling and swimming are low-impact exercises that will keep you in shape as you recover.
Prevention
Re-Injury Rate
Over 60% of runners that strain their hamstring will injure it again within a year. That means more pain and more time away from running or more missed games. Luckily, doing hamstring exercises after injury and strengthening the surrounding muscles like your hips, glutes, and abs can help prevent future strains.
Three Hamstring Rehab Exercises
A TheraBand Professional Resistance Band is versatile enough be used for all of the exercises below. You can choose a latex or latex-free resistance band. Another option is a TheraBand Resistance Band Kits, which are available in a Beginner Kit and an Advanced Kit of progressive resistances. This is helpful because then you're prepared to move to the next level as you grow stronger. Start with these exercises.
Warm up with the TheraBand Hamstring Stretch
Lay flat on your back. (This might be more comfortable on a yoga mat)

Loop the band around one foot

Hold the other end in your hands

Pull your leg upwards

Hold for a nice stretch

Lower your leg slowly
Work your hamstring while laying down with the TheraBand Hamstring Curl in Prone exercise.
Lay on your stomach

Wrap one end of the loop around your left foot and the other around your right ankle

Keep your left foot against the mat for stabilization

Bend your right knee, raising your foot

Hold and slowly release

Repeat ten times and switch to the opposite leg
You can also strengthen your hamstring and improve your balance with the TheraBand Hamstring Curl in Standing exercise.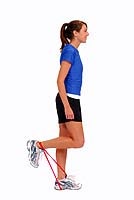 Loop the resistance band around your left foot and stand on it

Loop the other end around your right ankle

Bend your right knee to raise your foot

Hold and then return your foot to the floor

Keep your back straight during this exercise

Repeat ten times and then switch to exercise your left hamstring
It's important to exercise both hamstrings to keep your muscles balanced. Don't focus only on the previously injured side.
Additional Exercises
Surrounding muscles work alongside your hamstrings. You can use your TheraBand resistance band to strengthen them as well. Work your hips with the TheraBand Hip Abduction exercise, your glutes with a TheraBand Knee Squats exercise, and your core with the TheraBand Abdominal Crunch exercise. These exercises will help prevent future hamstring strains.
A hamstring injury shouldn't sideline you from running or playing football, field hockey, or soccer. Always stretch before you start working out and when in doubt, stop and assess a possible injury early. Be sure to strengthen your hamstrings after you have recovered to minimize your chance of a repeat injury or tear.
References
Michaud, T. C. (2017, July 24). The Best Ways to Treat Hamstring Injuries. Retrieved from https://bit.ly/1fMvPAV
Medical Disclaimer: The information provided on this site, including text, graphics, images and other material, are for informational purposes only and are not intended to substitute for professional medical advice, diagnosis or treatment. Always seek the advice of your physician or other healthcare professional with any questions or concerns you may have regarding your condition.