As you work with patients to improve their mobility and restore lower extremity function through stretches and exercises, recommending a knee brace can also help patients walk and move with more confidence. Knee braces are structured to offer compression, helping reduce the direct pressure from the upper leg on a damaged meniscus or torn ligament. The added pressure improves blood flow and increases blood flow to assist with the healing process.
If you think the added support can help your patient through everyday activities, share this knee brace guide with them to find the right knee support for their needs!
Patient's Guide to Knee Brace Support

What Does a Knee Brace Do?
Your knee joint is made up of bones, cartilage, ligaments, tendons, and muscles. With a considerable range of motion, the knee joint can carry a lot of weight. The structures in your knee however can become damaged or dislocated. Your knee can be injured due to an intense blow during athletic activities or may be susceptible to an injury due to an underlying condition.
So, how do knee braces work? The types of knee braces vary based on their function and level of support. While some knee braces are designed to protect the knee to prevent damage, others support the knee to control pain and inflammation. Patients can make the most of knee brace benefits when trying to stabilize an injury prone knee or when immobilizing the knee to optimize healing after an injury.

How to Choose the Correct Knee Brace Size
To ensure you get the benefits from a knee brace, it must be measured for the correct size. Be sure to stand up with your leg straight to accurately measure the circumference above and below the knee. If you are doing the measurement yourself or are unable to stand, sit on the edge of a chair with your leg straight out in front of you and your heel on the floor. Take a look at the individual sizing chart for the specific brace that offers the right support to see where measurements should be taken.

How Tight Should a Knee Brace Be?
Be mindful of how the brace is applied to the knee. A knee brace should be snug, but not too snug. Some braces require you to slide it up over your foot and calf while others might open fully to be secured around your knee. If applicable, make sure the straps are tight enough to prevent movement, but not so tight that the brace causes pain, numbness, or tingling in your leg below your knee. To test how tight should a knee brace be, try the two-finger method:
Put the brace on and fasten the straps.
Slide two fingers under a strap.
If you're not able to fit two fingers under the strap, it may be too tight.
If you're able to fit two fingers easily, and can possibly fit a third, it may be too loose.
Repeat the two-finger test for each strap until you have a proper fit.
To ensure the best fit, watch this video and see how to fit a knee sleeve with an open patella

Hinged Knee Brace vs. Compression Sleeve
A hinged knee brace can support and stabilize an injured knee, limiting movement while your knee heals. Hinges on each side of the knee help prevent hyperextension of the knee and offers protection of ligament injuries. It may also reduce pain and pressure if you have arthritis in your knee. Hinged knee braces are best for knees that need extra support.
Hinged knee braces come in two forms: rigid hinged and soft hinged. A soft hinged knee brace provides mild to moderate support whereas a rigid hinged knee braces provide moderate to maximum support and offer better protection and stability for contact sports.
Sammons Preston Tri-Panel Knee Immobilizer




Features thick popliteal padding with a mesh, breathable interior. Built with three rigid posterior stays and two adjustable medial and lateral stays with moveable side panels for optimal positioning. Includes easy-to-use hook and loop closures for a safe and secure fit.





RolyanFit Wraparound Hinged Knee Brace




Made of 1/8" neoprene with soft cushioned liner for warmth, compression, and durability. Features open patella with sewn-in universal buttress and open popliteal area to eliminate bunching. The hinges are molded into the brace to maintain a low profile.
Increase your ability to perform your best during training and sports with a knee sleeve! A compression sleeve is designed to offer the least amount of support and can be used for conditions such as arthritis, tendonitis, and bursitis. Compressions sleeves are best for pain relief when there are no stability issues. They allow you to remaining fully active with flexible material that can easily fit under clothing for daily comfort.
RolyanFit Knee Sleeve Designed to provide therapeutic warmth, compression and support to the knee joint area. The open cutout over the patella improves patella tracking, which in turn reduces knee pain. Made of neoprene, the sleeve helps retain body heat and provides even compression without restricting knee mobility.

How Often Should You Wear A Knee Brace
When you first slide a knee brace on, it is recommended to wear it for at least one week. But, should you sleep in knee brace? It is sometimes recommended that you take a knee brace off while sleeping to give your leg a break. However, your doctor might instruct you to wear your knee brace while in bed depending on your post-operative care. Movement in your sleep could undo what the surgeon fixed, so wearing a knee brace can help you avoid further injury. Follow your doctor's recommendations and consult with them before increasing or decreasing the time during which you wear it.
Additional factors to consider when determining how long should you wear a knee brace each day are as follows:
Wearing your knee brace for unnecessarily long stretches of time can cause skin abrasion
Limiting your range of motion while wearing your brace can result in muscle atrophy or joint stiffness
Taking off your brace before your knee joint is ready can impair healing and lengthen the time required to wear one
Neglecting to wear it when you are susceptible to an injury could possibly lead to further knee damage
So, be sure to check with your doctor and follow their advice.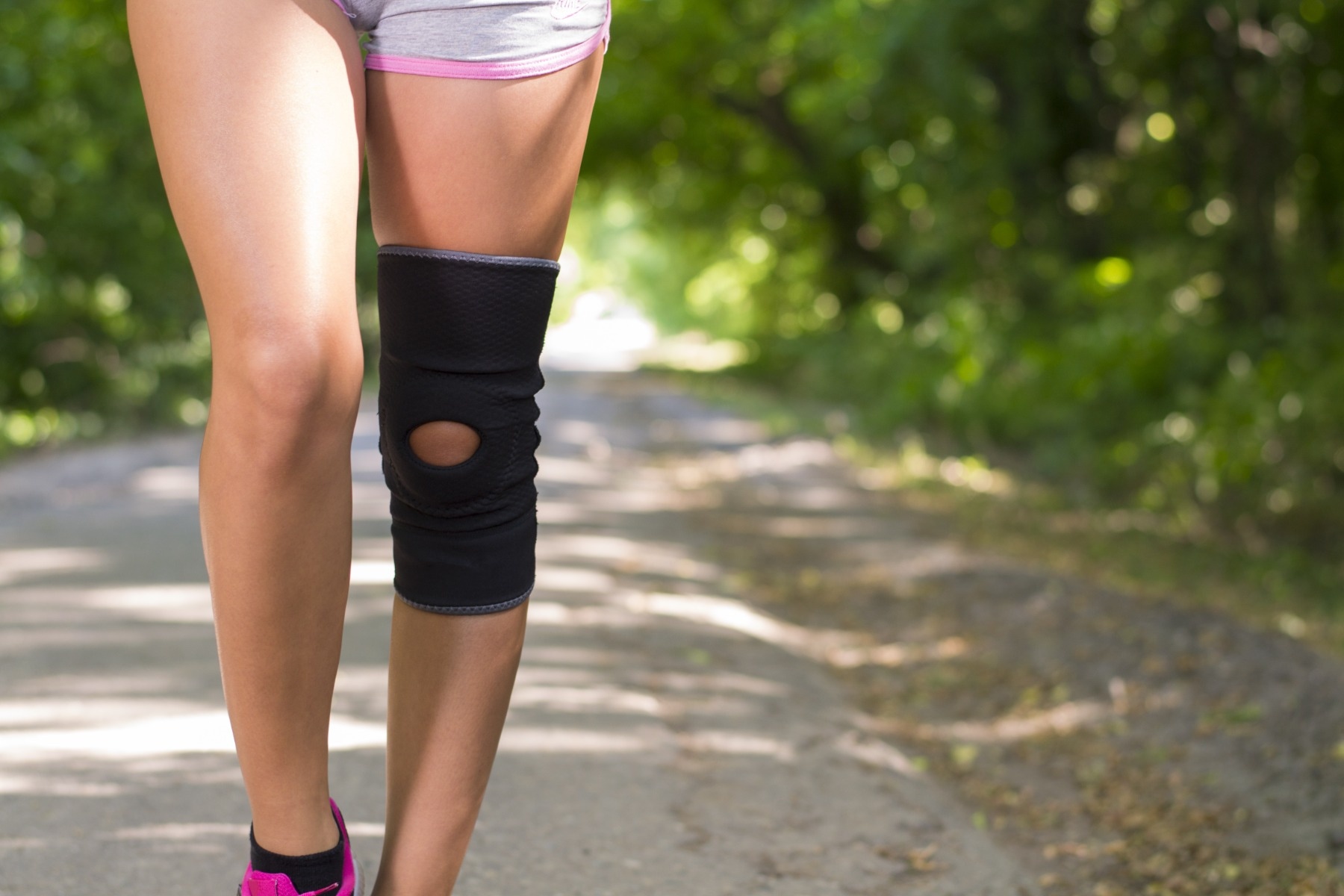 Conclusion
To find which knee brace works best for you, work with a doctor or physical therapist. Professionals will know your injury best and recommend the use of a hinged knee brace to help keep your joint stable or the use of a compression sleeve to help with mild pain.
Remember, you'll want to have a feeling of tightness in your knee when wearing a knee brace. The brace should feel comfortable and provide a level of support necessary based on your individualized needs. However, if the knee brace is too small/uncomfortably tight and you're losing circulation, loosen the straps or choose a bigger size.
If you're interested in alternative types of knee support, talk to your physical therapist about therapeutic taping and read more about the benefits of kinesiology tape!
References
Medical Disclaimer: The information provided on this site, including text, graphics, images, and other material are for informational purposes only and are not intended to substitute for professional medical advice, diagnosis, or treatment. Always seek the advice of your physician or other healthcare professional with any questions or concerns you may have regarding your condition.