Tired of your current workout? Looking for new at-home fitness ideas? How about a game of Bingo?
Jump start healthier habits and get some exercise by playing fitness Bingo! Try one of these two Bingo versions.
Version 1: 1 Week Fitness and Health Bingo
For this version you will need:
Bingo cards
A pencil or pen
This game will be played over the course of a week or two. Print enough copies of this Bingo card for your whole family. Complete activities on the various squares and check them off to get a Bingo, one line in any direction (vertical, horizontal, or diagonal).
Get active with the "Take a 30 minute walk or bike ride" square. Build healthy habits with the "No soda all day" square. And enjoy so many other healthy activities and exercises using this Bingo card.
Get your kids to participate in the Bingo game and reward them with a fun activity, like a movie night, after they get a Bingo! Help your children pick different activities to do. Siblings can do activities together or choose their own favorites.
Set a time limit, like one or two weeks, to play and attempt to get your Bingo. For an added challenge, play "blackout Bingo" where you must cover the whole card to win.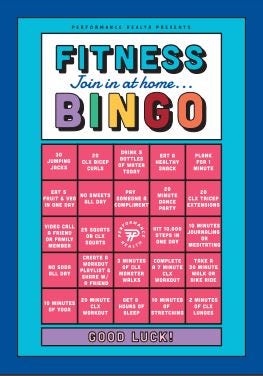 | | | | | |
| --- | --- | --- | --- | --- |
| | | Drink 5 bottles of water in one day | | Hold a plank for 1 minute |
| | | | | |
| --- | --- | --- | --- | --- |
| Eat a total of 5 fruits and vegetables in one day | | Give someone a compliment | | |
| | | | | |
| --- | --- | --- | --- | --- |
| Call or video chat a friend or family member | | | | 10 minutes of journaling or meditation |
| | | | | |
| --- | --- | --- | --- | --- |
| | Build a workout playlist and share it with a friend | | | Take a 30 minute walk or bike ride |
Version 2: 1 Workout Exercise Bingo
This Bingo game focuses on physical activity. You can play it at home with your spouse or your kids. It's a great way for kids to have fun in a PE class too.The Bingo game will be completed during one workout.
For this version you will need:
Bingo cards (master and blank versions)
Pencils or pens
One pair of scissors
How to play:
Print off two copies of the master card and as many blank copies as there are players.
Cut up one version of the master card and shuffle up the squares to form a deck.
Pass out blank cards to all of the other players.
Read the activities off the master card and have players fill out their own cards, writing one exercise in whatever square they choose.
Choose a number of repetition for all of the exercises. We recommend starting with 5-10 reps and increasing as needed.
Flip over the first card in the deck and call it out.
Have each player complete the exercise for the chosen card and cross it off on their Bingo card (For example, if the card is 'bicep curls', everyone does 10 bicep curls and crosses it off wherever they wrote it down on their card).
Continue to flip over cards and call them out.
First one to get a Bingo (one line in any direction) wins!
If you're playing at home, you can compete for bragging rights, picking dinner, picking the movie for the night, or other fun rewards.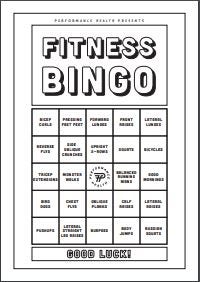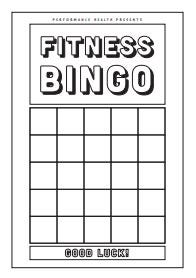 You can review all of the exercises using these YouTube videos linked below, so you're ready to help your kids learn new exercises or demonstrate proper form to your gym students.
TheraBand CLX Bingo Exercises
Grab your resistance band and start playing Bingo now!
Medical Disclaimer: The information provided on this site, including text, graphics, images and other material, are for informational purposes only and are not intended to substitute for professional medical advice, diagnosis or treatment. Always seek the advice of your physician or other healthcare professional with any questions or concerns you may have regarding your condition.