When you don't have a lot of room for a home gym, resistance bands are a great option for exercising nearly every major muscle group in your body.
Heavier resistance bands are often recommended for serious workout enthusiasts who have mastered form and technique during resistance training. But these bands don't always provide enough resistance to meet the needs of elite athletes or serious exercisers.
If your goal is to build muscle strength and endurance using a variety of dynamic and isometric, single and multi-vector exercises, the TheraBand VECTOR is a better option. The dial-in resistance means the device will meet your needs as you grow stronger.
Learn more about how TheraBand VECTOR can provide you with more challenging workout than traditional resistance bands!
What is the TheraBand VECTOR?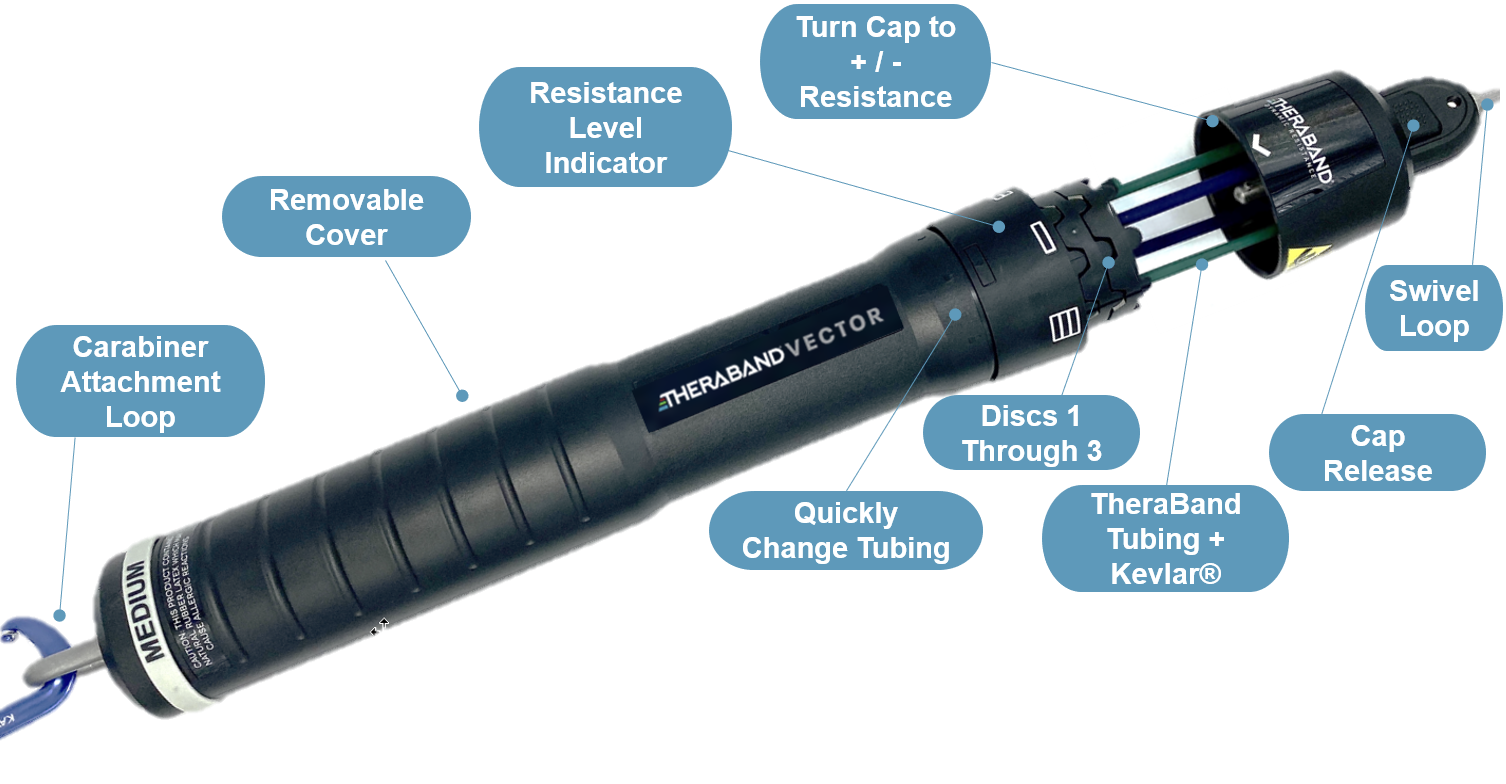 TheraBand VECTOR combines TheraBand resistance tubing and the VECTOR Dial-In Progression System to maximize strength training. Providing the opportunity to use several TheraBand tubes in unison, the Vector allows the body to move horizontally, vertically, rotationally, or a combination of the three. This allows for strength training while you mimic all kinds of functional movements.
Increase or decrease number of tubes (amount of resistance) by turning the cap
Easily adjust in slight intervals from 10 to 110 pounds
Perform single and multi-vector exercises that target both upper and lower body muscle groups to create new challenges
Kevlar in each tube reduces snapback risk
Designed to accommodate users of all ages and fitness levels
Watch the video provided below to learn how to properly use TheraBand VECTOR at home.
The Difference Between Resistance Bands vs. TheraBand VECTOR
TheraBand Resistance Bands
TheraBand resistance bands are designed to add resistance to bodyweight exercises during rehabilitation. Commonly used for immediate recovery after injury or surgery, the resistance bands help strengthen muscles during rehabilitation. Resistance bands come in multiple resistance levels such as light, medium, and heavy. To further adjust the amount of resistance during exercise, you can give more or less slack on the band, as well as combine multiple resistance bands to increase the challenge.
However, the highest level of resistance, the gold TheraBand resistance band, only offers up to 21.3 pounds of resistance at 200% elongation. This level of resistance is not ideal for serious workout enthusiasts and elite athletes.
TheraBand Vector
One TheraBand VECTOR can provide anywhere from 10-110 pounds of resistance.
The base of the TheraBand VECTOR provides 45 inches of pull length while the base of the TheraBand VECTOR X provides an additional 15 inches of pull length. The additional length is for exercises that require a longer range of motion. The resistance training equipment needs to be attached to an anchor point that is capable of resisting loads up to 440 lbs.
| | |
| --- | --- |
| Dial Resistance Range from Approximately 10 to 40 lbs of Resistance | Dial Resistance Range from Approximately 55 to 110 lbs of Resistance |
Why the TheraBand VECTOR Might Be a Better Fit for You Than a Traditional Resistance Band
Unlike traditional resistance bands, TheraBand VECTOR is designed for use with single and multi-vector exercises. The dial-in resistance training system is ideal for traditional strengthening exercises and sport-specific exercises. Resistance bands cannot quickly change resistance levels, and have an increased risk of snap back.. The resistance training system better addresses stability, mobility, range of motion needs of adaptive athletes and patients undergoing functional movement related therapy.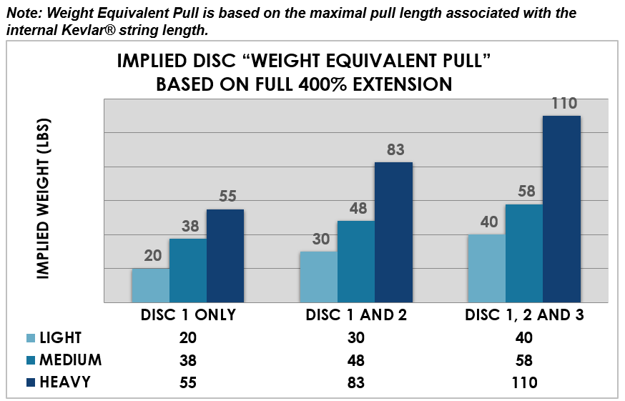 *Note: Based on full extension, at 200% extension initial pull force is closer to 10 pounds.
TheraBand VECTOR Exercise Examples
Football Exercise
90-Degree External Rotation

Extensor Squat

90-Degree Internal Rotation

Chest Press

SA Row (Staggered Stance)

ISO Internal Rotation Shoulder
Download the TheraBand VECTOR App for Additional Exercises
TheraBand VECTOR is the next generation of elastic resistance. A resistance tube system that combines the gold standard TheraBand tubing with the VECTOR Dial-In Progression System allows for single and multi-VECTOR exercises to target movements and create new challenges as you progress.
Learn how to use the TheraBand VECTOR and gain access to a library of single and multi-vector exercises with the free TheraBand VECTOR App! The library demonstrates a range of progressive exercises organized by body part. It also includes set-up, replacement, and use instructions along with proper maintenance recommendations.
Download the app on the Apple App Store or download the app on Google Play.
References
Anonymous. (2019). Everything You Need to Know About Resistance Bands. PrePak. Retrieved from https://bit.ly/2Z9MccF
Medical Disclaimer: The information provided on this site, including text, graphics, images and other material, are for informational purposes only and are not intended to substitute for professional medical advice, diagnosis or treatment. Always seek the advice of your physician or other healthcare professional with any questions or concerns you may have regarding your condition.