Working in a physical therapy clinic? You want to ensure the products you are providing your patients to use are dependable and impactful. Sometimes that means paying a bit more for a quality product, but in many cases, that means it will pay off in the long run with more uses and durability. Do you have everything you need for your patients? When determining what to order next, check out the ten products below to add to your physical therapy clinic.
Key Takeaways:
Learn how the top products in the physical therapy industry will supplement your clinic.
Find out what products are trending in physical therapy clinics.
Discover how to improve your physical therapy clinic with products that make a difference.
Table of Contents
Top 10 Products for Your Physical Therapy Clinic
Shop All Featured Top Physical Therapy Products
Why Your Products Matter
Performance Health helps people feel good, perform better and live their best. In order to do that, we rely on clinicians like you to offer your patients the best, most effective products on the market. In this article, we'll explain how each of our top 10 products for your physical therapy clinic can help you continue having positive patient outcomes. After all, we're passionate about achieving results, and we're sure you are too.
Top 10 Products for Your Physical Therapy Clinic
1. THERABAND® Non-Latex Resistance Bands
Made with the Original Trusted Progression™ System, THERABAND resistance bands are available in 25 yard (22.6m) and 50 yard (45.7m) length rolls and range in resistance from 3 – 12.4 lbs. depending on which option you select. The resistance bands are designed to help users rehabilitate injuries, improve functional living, and enhance athletic performance. By offering this product in rolls, therapists can cut the bands accordingly for each patient. THERABAND has been a trusted leader worldwide for progressive elastic resistance exercise products for over 40 years. The non-latex version is the perfect choice for your clinic if you have patients with latex sensitivities.
2. Merrithew Pilates Rehab Studio 1 Bundle
This multi-purpose machine allows users to exercise sitting, standing, or prone while working on plyometrics, peripheral mobility, or stability. Its travelling pulley system on the vertical frame allows the user to target specific muscles. Plus, when you put the mat converter in place, the Reformer turns into a full treatment table, giving you the capability for hundreds of more exercises. The bundle includes the V2 Max Plus™ Rehab Reformer Bundle, a Jumpboard, an Arc Barrel, a Rotational Diskboard™ Deluxe, and Ankle Straps. Improve your patient's flexibility, stability, and mobility by adding a Pilates reformer to your clinic.
3. Total Gym Encompass PowerTower
Whether you need to offer high-performance athletic training, conditioning, or rehabilitation for your patients, the PowerTower can help. Built with an adjustable design, the Encompass PowerTower supports up to 650 lbs. and accommodates users measuring 6'10" in height. Use it to rehab multiple muscle groups at once with over 200 exercises covering everything from Pilates to resistance training.
4. Richmar HydraTherm
Offer moist heat therapy with a unit that has an electric draining system designed to easily replace water. Sold with an option that has hot packs included, the Richmar Hydratherm also has a foldable side shelf for additional workspace. The HydraTherm is ideal for smaller clinics, as fewer hot packs are stored for use.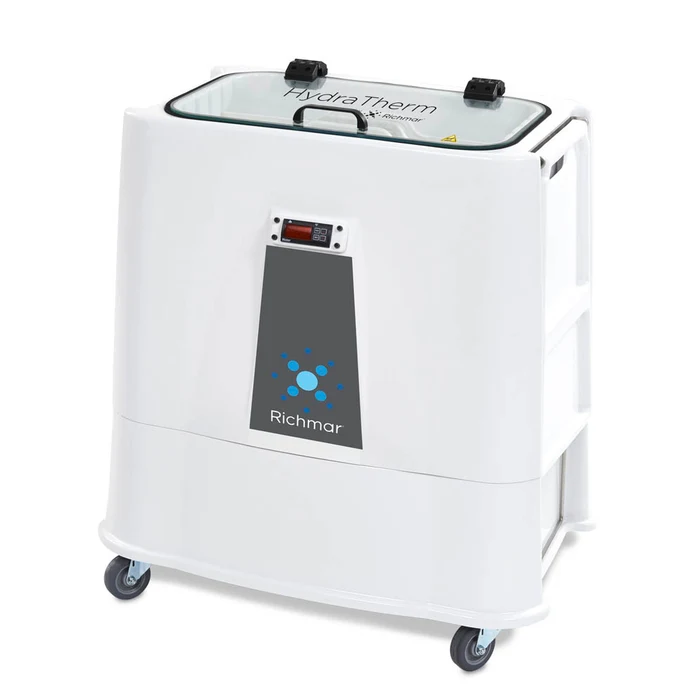 5. Tri W-G Motorized Height & Width Parallel Bars
The Tri W-G Motorized Height & Width Parallel Bars have a non-slip mat platform base to ensure stability while promoting proper gait training and rehabilitative support. It offers easily adjustable height and width, with the ability to accommodate patients up to 600 lbs. Help your patients regain their mobility with these parallel bars.
6. THERABAND Kinesiology Tape
A water-resistant kinesiology tape, the Xact Stretch hexagons indicate when the tape has been stretched to standard benchmarks of 0%, 25%, and 50%. This allows for an easier and faster application, knowing you've got the right amount of stretch for your patient. The latex-free tape can be used for joint support, muscle support, neurologic effects, and circulatory effects. The tape can be bought in precut strips or as a roll and comes in a variety of fun colors.
7. THERABAND PRO Exercise Balls
Ideal for rehabilitation and physical therapy, THERABAND exercise and stability balls provide comfortable, low-impact workouts suitable for all fitness levels. Easy to clean and deflate, the exercise balls are designed to help improve body posture, coordination, cardio endurance, strength, muscle tone, and balance. Choose from a variety of sizes to fit different patient heights and be sure to use a stacker to keep them from rolling all over your clinic.
8. Plyoboxes
Space-saving and stackable, these plyoboxes are covered with ¾ in. of heavy rubber mat on top and constructed from welded steel. Available in various heights, the boxes can be used for plyometric exercises, improving leg power, vertical jump height, and speed. They're a must-have for your PT clinic!
9. Metron Value One-Sided Staircase
Ideal for physical therapy or rehab, this staircase comes pre-assembled with easy-to-grip, molded hardwood handrails. It also has a brace- reinforced underside to support a patient load capacity of 500 lbs. A minimum of 9-foot ceiling height is required for the staircase. Help your patients learn how to safely navigate stairs so they can stay independent at home.
10. Original Home Ranger Shoulder Pulley
The Original Home Ranger Shoulder Pulley can help those suffering from shoulder pain or who have had shoulder surgery, like rotator cuff repair, increase their range of motion. It's the first over door pulley exerciser to incorporate a non-slip safety feature with a door-anchoring web strap. Plus, it's easy to store without taking up much space.
Shop All Featured Top Physical Therapy Products
Recap
Whether you already have a flourishing clinic or are just getting started, Performance Health is here to help you every step of the way. We exist to support patient recovery by providing solutions for clinicians that will enable positive patient outcomes and lower the chances of a costly readmission. As your trusted partner, we add value so you can focus on what matters the most – your patients.
Learn More About Physical Therapy
I Want Career Support from Performance Health!
Medical Disclaimer: The information provided on this site, including text, graphics, images, and other material are for informational purposes only and are not intended to substitute for professional medical advice, diagnosis, or treatment. Always seek the advice of your physician or other healthcare professional with any questions or concerns you may have regarding your condition.