Our January Clinician of the Month, Todd Ellenbecker, PT, DPT, MS, FAPTA, OCS, CSC, USPTA, is a physical therapist in Scottsdale, Arizona, at Rehab Plus Sports Therapy Scottsdale and the Director of Shoulder Rehabilitation and Director of Clinic Research. He also serves as the Vice President of Medical Services for the ATP Tour.
Table of Contents
Dr. Ellenbecker's Must-Have Products
A Career as a Physical Therapist
Having been in the physical therapy field for quite some time, Ellenbecker is currently certified as an Orthopaedic Clinical Specialist (OCS) by the APTA and was certified as a Sports Clinical Specialist (SCS) for 30 years. He is also a certified strength and conditioning specialist. Ellenbecker is considered a master professional for the United States Professional Tennis Association (USPTA) because of the work he has done over the years teaching tennis lessons.
When he received his bachelor's degree, Ellenbecker recalls no Doctor of Physical Therapy or master's degree programs existed.
"I did research as part of my degree working with Dr. George Davies, one of my mentors," Ellenbecker said. "I really enjoyed research and felt the more I knew about research experience, methodology, statistics, and some of those things, would help me in my physical therapy career."
As time went on, Ellenbecker chose to study for his Doctor of Physical Therapy (DPT) to help keep up with the changes in the profession. It allowed him to learn more about other topics that weren't taught in his bachelor's degree, like pharmacology and radiology. Overall, he said it opened his eyes to the evolution of physical therapy that continues today.
Ellenbecker says by balancing his clinical job with the ATP tour, he can work with other therapists who are "genius clinicians" from around the world treating tennis players at the highest level.
"I've learned from them and working with them is quite honestly just a privilege in my career," Ellenbecker said.
As humble as he is, Ellenbecker has a career to be proud of. Aside from being the author and editor of 15 books, he has also published more than 60 peer-reviewed articles in scientific journals.
A Passion for the Profession
Like many in the profession, Ellenbecker got into physical therapy after needing it himself. While studying on a pre-pharmacy track his freshman year of college, he found himself in a physical therapy clinic due to an injury he got while playing on the college tennis team. While there, he watched the therapist at work.
It was after getting back to playing tennis that he decided he didn't want to spend five years taking chemistry classes. Instead, he thought he could still help people in a different way. By working with people, Ellenbecker saw a future in helping people attain a goal and improve their quality of life.
Having spent years prior teaching tennis lessons, he saw a lot of correlation in the work he had already done. For example, just like someone gets better with each tennis lesson, so does someone who goes to physical therapy.
"I like the changes in our profession [over the years] and the fact that it's a continual learning experience," Ellenbecker said.
Being able to research various parts of the profession, work on things like the ATP Tour, and meeting therapists all over the world has really been what has kept him in the profession over the years.
Teaching the Next Generation of Physical Therapists
Ellenbecker helps teach others best practices by conducting research, such as rehabilitation of shoulder impingement syndrome and rotator cuff injuries. The research he has done on THERABAND® products provides evidence and research that causes him to believe in the product and be proud to share that he uses it.
"It's been a great privilege of mine to be on faculty of many meetings and teach at schools and be part of educational seminars," Ellenbecker said.
He believes the speaker at an event must know the most about something, because they had to prepare the information.
"Dr. George Davies, my mentor from PT school, told me right at the start, 'You must do research. It's an important part,'" Ellenbecker recalls. "He was the one that instilled in me clinical medicine, research, and education will allow you to go far in your career."
They are also something Ellenbecker keeps in mind when doing his job today.
Advice for Someone Just Getting Started in Physical Therapy
The biggest advice Ellenbecker can give is to take the opportunities given to you. For him, that meant starting at the lower levels of tennis and working with players. As time went on, he learned as much as he could from coaches. From there, taking on residencies and fellowships, while learning more about neurology, made a difference.
"The beauty of physical therapy is you can do so incredibly many things with it," Ellenbecker says. "You can go into geriatrics and help an older man or woman who has Parkinson's disease in the last years of their life. If you want to go into sports medicine, you can work with a pitcher who's unable to make a living until he recovers from an injury."
He sees the Doctor of Physical Therapy degree as a doorway. Inside, Ellenbecker says there are thousands of things you can do, and it's up to you.
"The idea is that we can do this for many years and continue to get better at what we do in our in our practices," Ellenbecker said.
Ellenbecker's Perspective on the Future of Physical Therapy
One of the first things Ellenbecker recalls embracing through Dr. George Davis was isokinetics. He recalls it was very popular at first, but then no one was using it. Now, they can test muscle function at a high level for people going back to work or back to their sport.
Isokinetics is a technology Ellenbecker continues to learn about and embrace. Another technology he is excited about and has had the opportunity to work with is 3D scapular motion tracking.
"Every physical therapist knows how important the scapula and the scapula thoracic complex is, but one of the difficult things is watching that thing move the scapula," Ellenbecker said.
As technology improves, he said the physical therapy profession will continue to be able to measure things they only dreamed about even ten or 15 years ago. Ellenbecker also sees new opportunities for understanding treatment through using lasers.
"The more research and understanding we have, the more likely it is to be able to integrate that into our clinical medicine," he said.
Working with Performance Health
Ellenbecker was a member of the THERABAND Research Advisory Committee at Performance Health for 20 years. While working with us, he conducted, published, and presented research on upper extremity athletes and shoulder and elbow rehabilitation. "All these things really make a difference as to how I can treat patients," Ellenbecker said.
While he applauds the concept of THERABAND® CLX so you don't have to tie knots, Ellenbecker says one product he thinks people are sleeping on is the THERABAND Professional Resistance Tubing in tan.
"The biggest mistake we make as therapists is we [with our patient] walk over to a piece of equipment that has about ten bands and pieces of tubing tied to it," Ellenbecker says. "The patient reaches out and grabs whatever color looks nice to them, which is usually red or green."
However, with rotator cuff repairs, he believes four to six weeks post-op, patients should be guided to low-resistance training.
Ellenbecker chooses tan because it's the lowest level of resistance, so a patient's upper extremity won't get overloaded. If you're treating patients with lower extremities, the tan will be too light to make an impact, so you'll want to start with a slightly higher resistance level.
THERABAND resistance bands offer standardized levels of resistance, thanks to their Trusted Progression System™.
Who will be our next featured clinician? Nominate yourself or someone you know!
1. Click on the link below
2. Answer the questions on the form
3. Submit a photo of yourself
Medical Disclaimer: The information provided on this site, including text, graphics, images and other material are for informational purposes only and are not intended to substitute for professional medical advice, diagnosis or treatment. Always seek the advice of your physician or other healthcare professional with any questions or concerns you may have regarding your condition.
---
About the Clinician: Todd S. Ellenbecker, PT, DPT, MS, FAPTA, OCS, CSCS, USPTA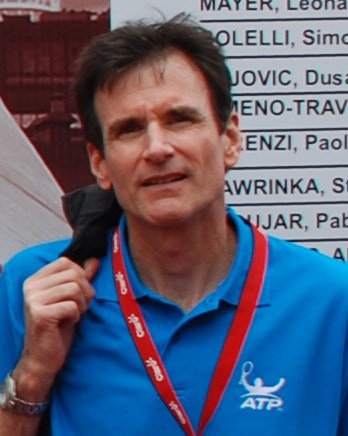 Todd Ellenbecker received his degree in Physical Therapy from the University of Wisconsin-LaCrosse in 1985 and a master's degree in Exercise Physiology from Arizona State University in 1989. He completed his Doctor of Physical Therapy from MGH –Institute of Health Professions in 2006.
In 2022 Ellenbecker was named a Catherine Worthingham Fellow by the APTA. In addition, he is currently certified as an Orthopaedic Clinical Specialist (OCS) by the APTA and was certified as a Sports Clinical Specialist (SCS) for 30 years. He is a Certified Strength and Conditioning Specialist (CSCS) by the NSCA and was awarded their Sports Medicine Professional of the Year in 2003. He is a certified USPTA tennis teaching master professional, and was Chairman of the USTA National Sport Science Committee for 12 years, and serve on the committee now for more than 30 years.
He also currently serves on the Sports Medicine and Science Commission of the International Tennis Federation. In 2007 he received the Ron Peyton award by the Sports Physical Therapy Section and in 2008 was the recipient of Samuel Hardy Educational Merit award from the International Tennis Hall of Fame. He received the Turner A. Blackburn Hall of Fame/Lifetime Achievement Award from the Sports Physical Therapy Association in 2011.
Ellenbecker served as the Chairman of the APTA's Shoulder Special Interest Group from 1996 to 2002, and is a manuscript reviewer for the American Journal of Sports Medicine, and Journal of Shoulder and Elbow Surgery, and has served on three editorial boards: International Journal of Sports Physical Therapy, Sports Health, and Physical Therapy in Sport.
He has conducted, published, and presented research primarily on upper extremity athletes, as well as shoulder and elbow rehabilitation. His main focus of research has been on musculoskeletal adaptations in elite level tennis players and overhead athletes. He is the author/editor of 15 books, over 75 book chapters and has published over 60 peer reviewed articles in scientific journals. Ellenbecker lives in Scottsdale, Arizona, with his wife Gail and is a lifelong tennis player.