For people living with a disability, the simple task of getting showered and dressed can provide a challenge. Fortunately, there are several shower and dressing aids available to those who have reduced mobility and dexterity. Each device is designed to assist with a specific area of dressing or bathing that you may find difficult due to restricted movement.
Learn more about these daily living aids that can make your life easier!
8 Best Dressing Aids
Some people with disabilities might find a dressing stick to be helpful. The hook is used to extend your reach and easily grab onto garments. If you have difficulty bending at the hip or using your hands for fine motor tasks, try no-tie shoelaces. These elastic shoelaces allow you to slip shoes on and off without tying and untying them. From buttoning a shirt to putting on your socks, we offer a variety of assistive devices to help people get dressed independently.
Dressing Aids for Arthritis & Muscular Dystrophy
Deluxe Dressing Stick
Reinforced with a two-prong hook on one end, this dressing stick is used to pull fabric, belt loops, shoestrings, and more.
Measuring 26" in length, the lightweight dowel reduces the risk of injury from bending at the hips.
Stainless Steel Shoehorn
The shoehorn helps keep the shoe open and provides a smooth surface for the foot and the heel to slide into the shoe. It features a sturdy plastic hand grip with a curved hook, helping pull up socks and other garments.
FootFunnel
This hands-free device is an alternative to the long-handled shoehorn that easily loads the foot into the shoe. Simply place the foot into the entrance of the shoe and easily and comfortably slide the foot into the shoe with no bending, twisting, and straining.
Dressing Aids for Wheelchair Users & Multiple Sclerosis
These dressing aids help those with temporary or permanent mobility impairment dress themselves or reach for clothing without assistance. They are also useful aids for people with multiple sclerosis experiencing weakness, fatigue, or tingling.
Sock and Stocking Aid with Built-Up Foam Handles
The flexible contoured plastic shell is attached to built-up foam handles, helping slide socks or stockings on with greater ease.
The non-slip handles are designed to increase grip. For use, simply place the sock or stocking over the plastic trough, insert the foot, and pull the cord's foam handles straight back.
Sammons Preston Reachers
This reacher features an ergonomic trigger and improved handle to allow for easier gripping. The claw provides greater grip power, and the magnet can be used to pick up small metal objects.
Homecraft Stocking Donner
The stocking donner features extra-long handles to apply stockings and socks. It stretches the compression garment so that it is easier to slip up and over the foot and heel. For use with both closed and open toe compression stockings, the handles can be rotated 90°.
Dressing Aids for Parkinson's Disease & Cerebral Palsy
The hand tremors, stiffness, and slow movement associated with Parkinson's disease and the tremors and lack of muscle coordination associated with cerebral palsy can make pulling zippers and fastening buttons difficult. These tools, however, can help with the process of getting dressed.
Button Hooks with Zipper Pull
The formed wire loop of this button hook is inserted through the buttonhole, looped around the button and pulled back through the buttonhole. The small hook on the other end attaches onto hard to hold zipper tabs, making it easier to zip.
Tylastic Shoelaces
With no tying necessary, these thick elastic shoelaces are made to secure your foot in your shoe while providing support. Ideal for use with only one hand, just tie them once and slide them on and off. The shoelaces are available in a variety of lengths and widths.
7 Best Shower Aids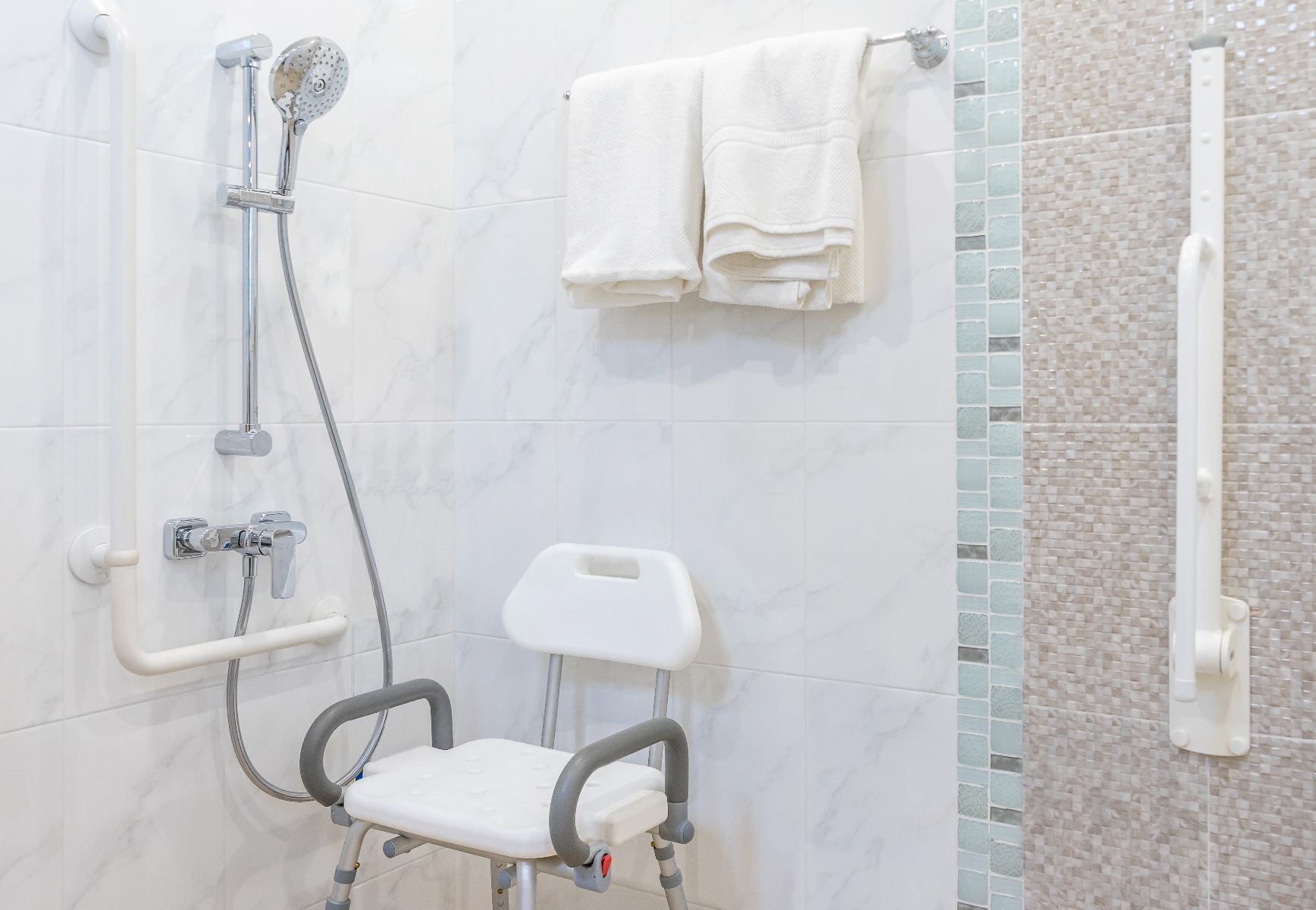 Bathrooms pose one of the biggest safety hazards for people with mobility issues. If you use a wheelchair or have trouble lifting your feet, a shower might be the best option for you. Install grab bars to steady yourself while showering and ensure safe transfers in and out of the bath. You may also need a seat to use while bathing. These shower aids can be used to help reduce the risk of falling in a bathroom.
Shower Aids for Arthritis & Muscular Dystrophy
Bathing or showering can be a challenge for people with arthritis or limited mobility. To help clean the body without bending or stretching, long handled sponges can assist those suffering from joint pain and stiffness. Plus, a shower stool offers a place to rest for people with muscular dystrophy.
Homecraft Tall Shower Stool
Ideal for people who have trouble with balance or grow tired while standing in the shower. This stool features a circular plastic seat, height adjustable aluminum legs, and rubber ferrules that help stabilize the stool during use.
Sammons Preston Bendable Scrub/Sponge
This assistive device features a loofah on one side and a bath sponge on the other. Both the exfoliating loofah and bath sponge are gentle on the skin without sacrificing scrubbing power. The handle is easily manipulated for the desired angle or position by simply bending the shaft of the handle.
Shower Aids for Wheelchair Users & Multiple Sclerosis
For those with physical limitations, getting in and out of the bath or staying upright in the shower might be difficult. With a shower chair and handheld shower head, you'll be able to safely and easily bathe without assistance.
Homecraft Deluxe Massage Shower Spray
Ideal for use when sitting in a shower chair, bench, or stool, this device can be used as a handheld shower massager or mounted as a traditional showerhead. Easy to install, the shower spray fits standard ½" threaded showerheads. Includes options: full body spray, full body spray pulsating massage, and pulsating massage.
Drive Plastic Transfer Bench
Features blow-molded plastic bench and backrest with rubber suction cup feet. The backrest is reversible to accommodate left or right tub entry. The transfer bench is designed to clear a bathtub that is up to 21.5" high.
Shower Aids for Parkinson's Disease & Cerebral Palsy
If you have been diagnosed with Parkinson's disease, there are many hazards to be aware of in the bathroom. One of the first things to think about is installing grab bars near the shower. You may also have difficulty standing for long periods in the shower and would benefit using a chair. These same aids can be helpful for people with cerebral palsy.
Homecraft Chrome-Plated Steel Grab Bars
The grab bars feature a patterned grip to increase grip. They help prevent falls and increase stability. Mount on the wall horizontally, vertically, or at an angle. Designed to resist rust from extended use, each bar supports a weight load of up to 250 lbs.
Homecraft Sure Tread Bath Mat
This non-slip mat features small drainage holes to avoid excess water gathering on the mat. With a ribbed pattern to offer greater stability and traction, the suction cups on the bottom securely hold the bathmat in place.
Homecraft Shower Chair
Designed with a contoured, blow-molded seat and integrated handles for additional support. Height adjustable from 16-1/8" - 22"H in 1/2" increments, the legs feature non-skid feet for added safety. The seat also has holes, allowing water to be drained effectively to help reduce the risk of slippage.
Additional Information
Sammons Preston Complete Hip Replacement Kit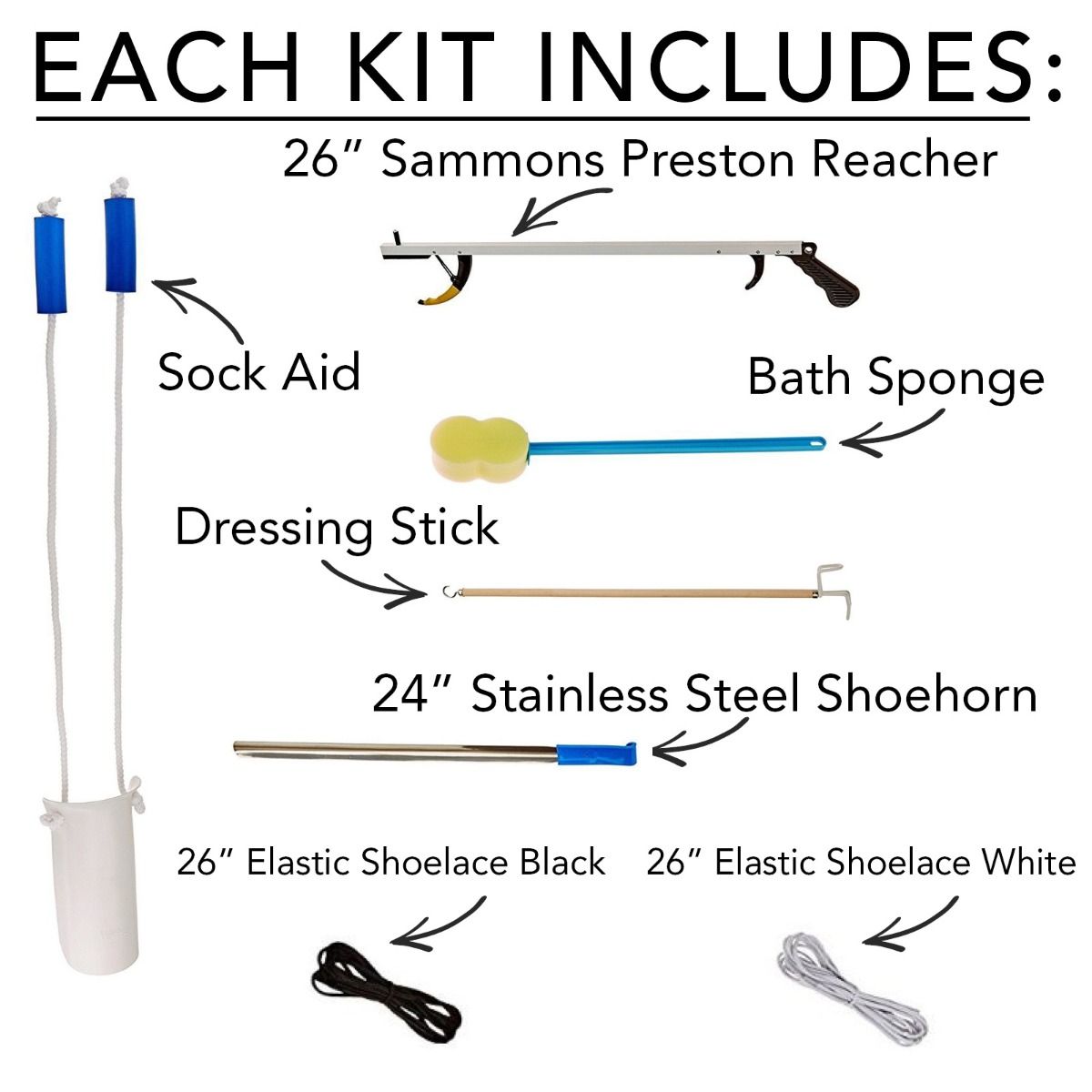 The Sammons Preston Complete Hip Replacement Kit is designed to assist those recovering from hip (or knee) surgery and having difficulty getting dressed and bathed. The assistive devices included eliminate users from having to bend or twist at the waist beyond 90°. It is also full of tools that are helpful for people with disabilities. Get your complete hip replacement kit, which contains a convenient assortment of daily living aids like a reacher, shoehorn, sock aid and sponge.
These assistive devices are tools that help you do everyday tasks and activities more easily and safely. For more information on daily living aids, check out these additional articles:
Medical Disclaimer: The information provided on this site, including text, graphics, images and other material, are for informational purposes only and are not intended to substitute for professional medical advice, diagnosis or treatment. Always seek the advice of your physician or other healthcare professional with any questions or concerns you may have regarding your condition.